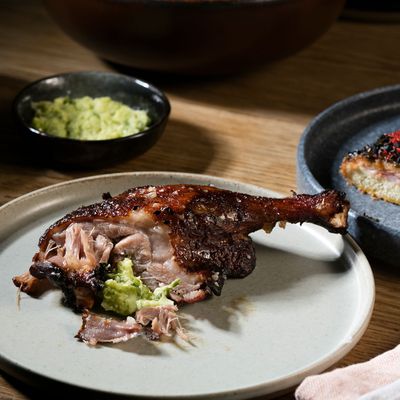 Ferris's duck on the crown entrée can be supplemented with aged duck legs.
Photo: Melissa Hom
These are not the best of times for restless, innovative cooks in the big city, especially in Manhattan, where it takes about as much cash to open a restaurant as it does to run for Congress or mount a decent-size Broadway show. If you're Greg Proechel, who made a bit of a splash a few years back cooking a slightly elevated, off-center brand of cuisine at a trendy Lower East Side bistro called Le Turtle, maybe you'll decide to leave the rat race behind after your initial success and open that neighborhood joint you've always dreamed about. Or you could cash in at a high-profile, but much more formulaic, brasserie-style kitchen uptown. Or maybe you'll find a modest space somewhere in the city, possibly in a boutique hotel with a decent budget and a built-in audience, where it's possible to hunker down, away from the nattering crowd, and conduct your culinary experiments in relative peace.
Proechel's new venture is called Ferris, and if you didn't know it was an actual restaurant, you'd be forgiven for thinking it was a bunker of some kind, or maybe the officers' mess of a trendy new class of Nordic submarine. If there's a sign outside I didn't see it, and to get to the entrance, underneath the lobby of an anonymous-looking structure on West 29th Street called the Made Hotel, you descend a flight of concrete steps. There are 40 seats in the snug wood-paneled room below, half of them set up at the kind of tall counter-style tables you see in the bars at airports or railway stations. There's a bar facing the open kitchen, and with its impressive spirits list (14 Scotch whiskies, 21 rums) and tightly packed tables, the convivial little space feels like it's been designed more for hard pub-style drinking than for serious eating, especially on a cold, windblown early-spring evening.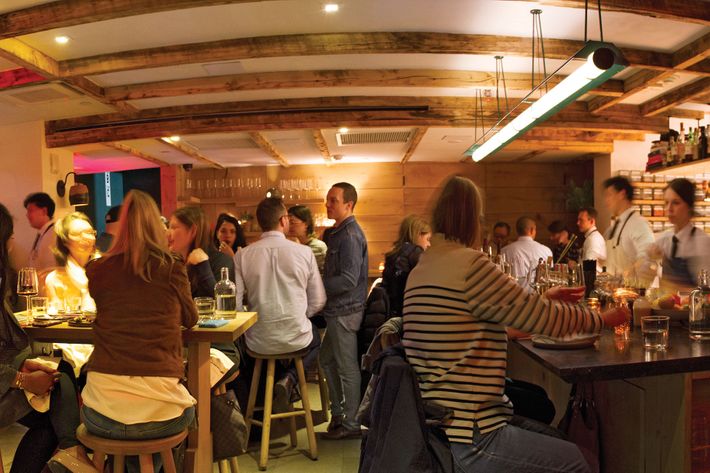 Proechel was known at Le Turtle for his elegant takes on earthy, rib-sticking Continental classics like wine-braised wheels of oxtail, and a famous version of whole chicken for two, which was delivered to the table in a nest of gently smoking hay. When I first visited Ferris several months ago, the cooking seemed to skew in that same classically informed direction. There were helpings of boudin noir crumbled on the plate with cinnamon and choppings of grilled dates, and a smooth, properly boozy chicken-liver mousse stuck with curls of crunchy fried pork-skin "chips" for dipping. The trophy-size centerpiece of our dinner was a cut of côte de boeuf, over-aged according to current fashion (I think the number was 60 days) and dressed with novel things like black-garlic jam and another frothy dip made with onions and whipped buttermilk.
Many of these dishes survive in their original form on the ever-evolving menu at Ferris, but in the past month or two, enticing images have been popping up on assorted websites and Instagram feeds hinting at a new, Asian-themed direction. When I dropped in for dinner a couple of weeks ago, there were triangles of flash-fried "lobster toast," sprinkled with bits of Japanese kombu, and tea-size Japanese "sandos" made with fried cutlets of Ibérico pork pressed between slices of toast that tasted like they'd been transported from a tonkatsu shop in Tokyo by way of, say, Barcelona. There were freshly grilled Vietnamese duck sausages folded in little envelopes of wilted cabbage, and an extravagantly aged beef carpaccio scattered with spoonfuls of uni and served with a thick crust of fried sourdough bread.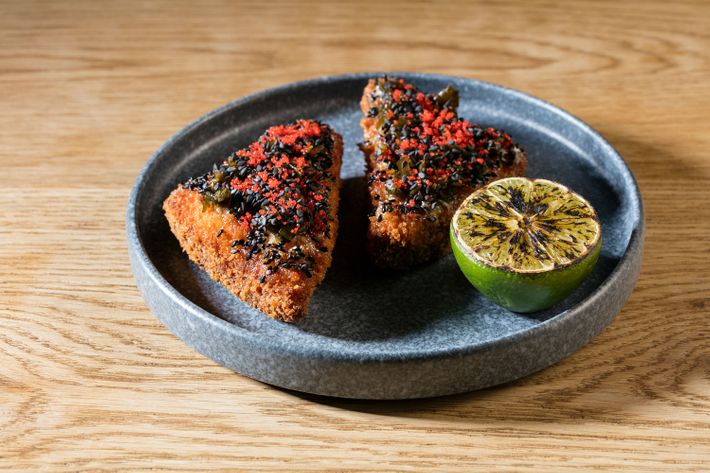 "This place reminds me of eating in Australia," one of my world-weary guests said as we perched on our tiny stools at the bar and watched the bearded, Viking-size chef throw together all sorts of unlikely ingredients drawn, like in the trendy restaurants of Sydney or Melbourne, from Southeast Asia, China, and Japan. The lobster I'd ordered on my first visit was plated, seasonally but not very successfully, with squash and pumpkinseeds; now it rests on a bed of julienned hearts of palm, among other things, all mingled together with crushed macadamia nuts and a tangy white curry. In addition to the big-ticket côte de boeuf option, you can now order a beautifully cooked crown of duck for two, which consists of two crispy-skinned duck breasts dusted with a housemade five-spice powder and brought to the table, in familiar Korean bo ssäm style, with bowls of dipping sauce (whipped egg yolk, a version of hoisin) and fronds of pickled cabbage.
Like other members of this two-fisted, umami-obsessed generation of cooks, Proechel has a tendency to push a little too hard on the heavy-flavor-bomb combinations. My grilled bok choy was drowned in a soggy flood of brown butter and anchovy-heavy bagna cauda, and the chunk of hake I ordered one evening was obscured in a similarly brackish puddle of clam broth. You'll find plenty of indigestion relief on co-owner Charles Seich's beverage list (in addition to all the whiskeys and rums, I counted 13 amari and digestifs), and the desserts have clearly been designed with a kind of communal palliative smoothness in mind. Our rich, milky chocolate mousse was stuck here and there with slivers of jasmine-flavored meringue, and the warm cardamom pound cake is obscured in a great cloud of whipped cream. For maximum relief, however, call for the yuzu frozen yogurt, which the chef finishes with olive oil and slices of green, baby-size Waka Momo peaches flown in from Japan.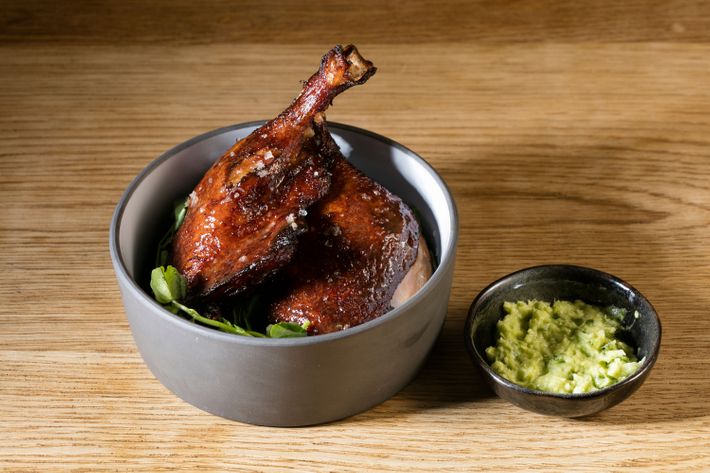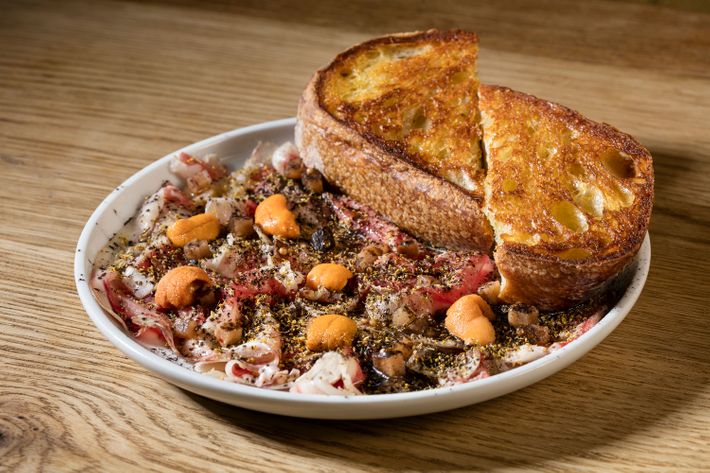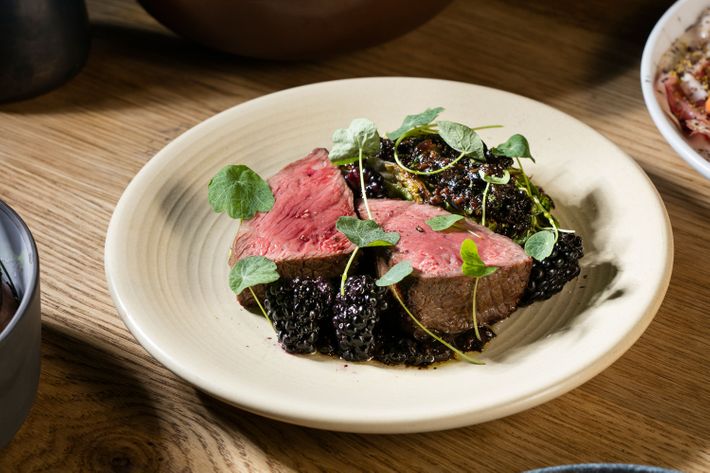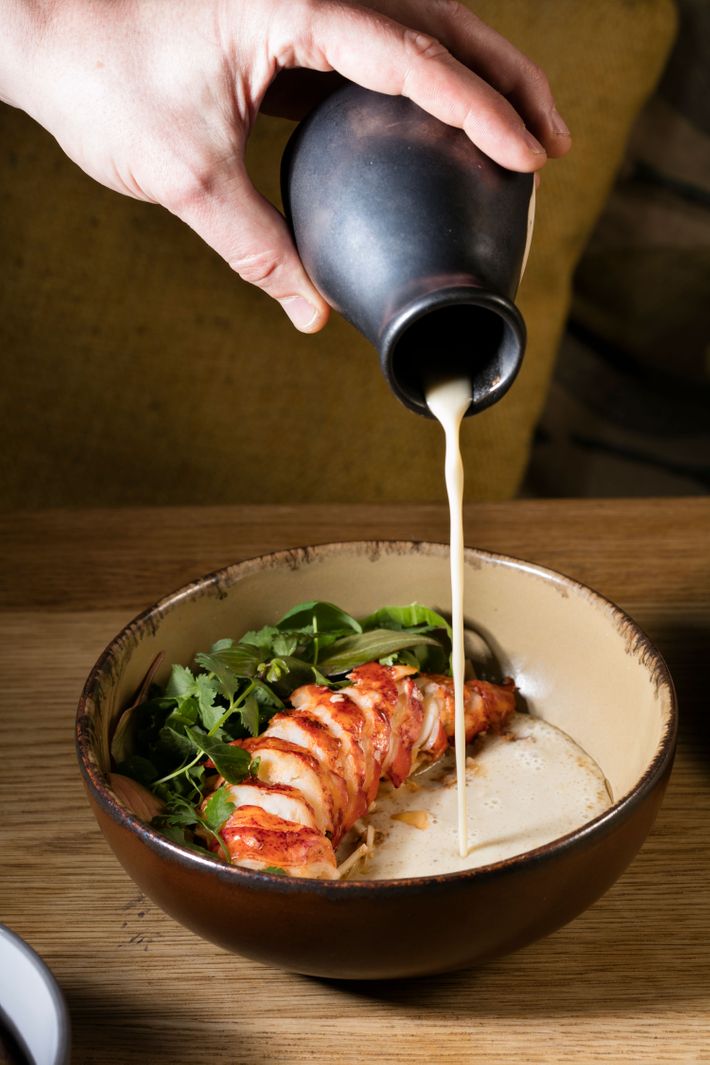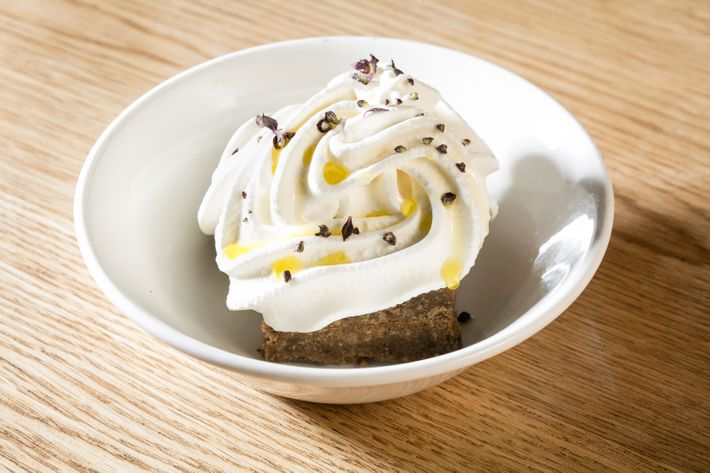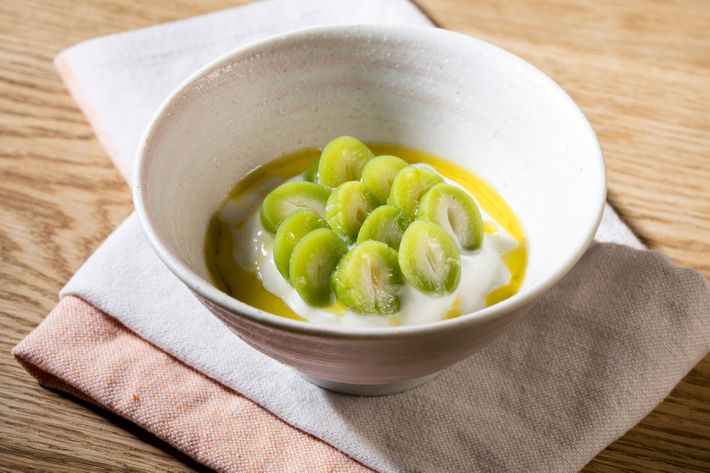 Ferris
44 W. 29th St., nr. Sixth Ave.; 212-213-4420; ferrisnyc.com
Open: Dinner nightly.
Prices: Appetizers, $9 to $16; entrées, $24 to $82 (côte de boeuf $5.25 per ounce).
Ideal Meal:  Pork "sando," lobster toast, Vietnamese duck sausage and/or blood sausage, lobster or duck crown for two, yuzu frozen yogurt.
Note: There are rumors circulating that a version of Proechel's famous whole country chicken from Le Turtle appears every few weeks as a menu special.
Scratchpad: The quarters are snug, and it can be hard to hear yourself think above the din, but two hearty stars for the drinks and the best of the satisfying, inventive cooking.
*This article appears in the April 30, 2018, issue of New York Magazine. Subscribe Now!