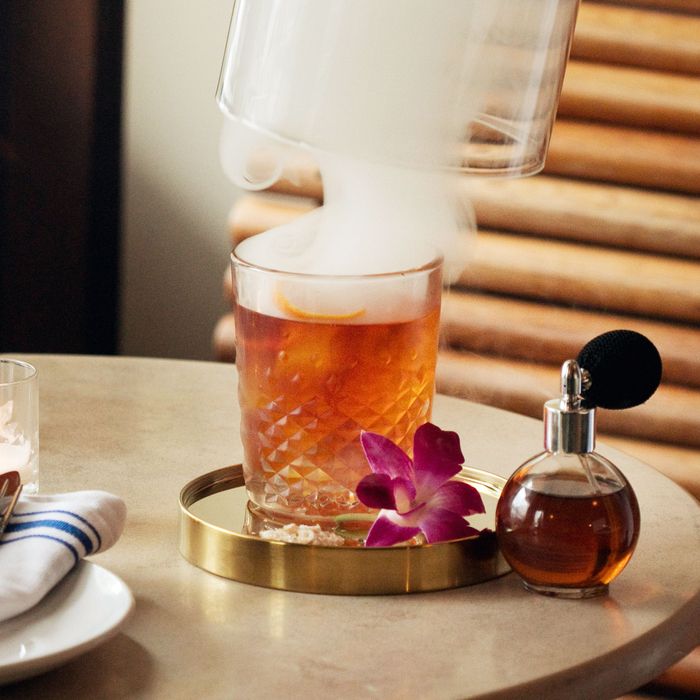 Getting theatrical at Bar Freud.
Photo: Melissa Hom
Over-the-top garnishes, theatrical presentations, elaborate and fanciful tasting menus: In more ways than one, New York's cocktail scene has entered its baroque period. If neo-speakeasies' studious embrace of rye Old Fashioneds and stiff Martinis was analogous to the no-nonsense gray suits and crisp styling of Mad Men, this new era of presentation and experimentation might be closer to the comic-book excess of Legion. That is to say: Bars right now are just more fun, and because the bartenders feel freer to experiment, the drinks they serve are more unexpected. Here are a dozen new drinks to try to wrap your head around sooner rather than later.
Saffron Sazerac
Where: Bar Freud
How Much: $14
Albert Trummer has never shied from theatrics; he's lit his bar on fire and served drinks in syringes. If you order the Saffron Sazerac at Bar Freud, the bartender flambés sugarcane extract with housemade absinthe, pulling the flaming booze between glasses like they do with tea in Malaysia. Once the fire's died down, a saffron elixir and house bitters are added to the glass.
Currents & Coils
Where: Patent Pending
How Much: $16
Banana is, somewhat justifiably, generally regarded as an ingredient that spells disaster in cocktails, yet it's showing up in lots of drinks at trendy bars. There's this oddball concoction of malted milk, a basket of fruit (coconut, banana, pineapple, and lime), coffee, and Venezuelan and Guyanese rum. For Nitecap's Frozen Bamboozle, Natasha David says her "secret weapon" is Bacardi Banana. At Decoy, the banana-bread daiquiri is made with both banana booze and banana-bread syrup. The most common ingredient in the banana brigade is Giffard Banane du Brésil, used in Mother of Pearl's Blue Collar Bird, Diamond Reef's Tough Pony, and Dante's Unlikely Negroni. The last is a how-does-it-work drink also made with pineapple drinking vinegar, coconut liqueur, and Thai chili tincture.
Filthy Dirty Martini
Where: Grand Republic Cocktail Club
How Much: $13
The briny, salty, big Dirty Martini is the steakhouse drink of the 20th century, and it's recently cropped up on trendy menus, like at Diamond Reef when it opened and later at Greenpoint's Grand Republic Cocktail Club.
Marsala & Cognac
Where: Banzarbar
How Much: part of a $95 tasting menu
The fortified wine Marsala, of all things, has popped up on menus around town, including on the tasting menu at Banzarbar. It's mixed, to great effect, with cognac for a smooth drink that finishes the two-hour experience.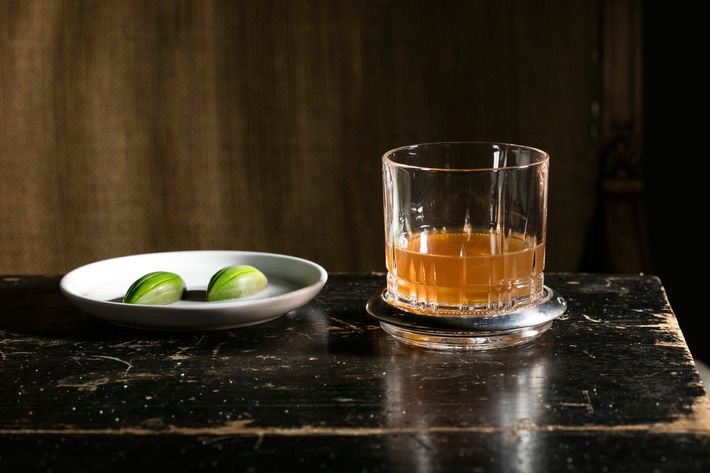 Strawberry Daiquiri
Where: Diamond Reef
How Much: $12
There might be no neater timeline for this bar evolution than Diamond Reef's frozen strawberry daiquiris. Diamond Reef being a bar owned by protégés of the late daiquiri-loving Sasha Petraske; the fruity variation being the drink that confused people into thinking that daiquiris were a sickly sweet mess. Here, it's amped up with fino sherry and a floater of extra rum.
Mojito
Where: Tokyo Record Bar
How Much: $14
The mojito is breezy and easy; at Tokyo Record Bar, it's given a total makeover. Rum and lime are out, sake and yuzu are in. Mint is replaced by peppery shisho, and wasabi gives it more bite.
Cocktail Omakase
Where: Straylight
How Much: $60
The five drinks served during Juku's two-hour cocktail omakase are bartender's choice, but they include a seemingly simple concoction of rye, Bonal (a gentian-root-and-cinchona-infused aperitif), and grapefruit bitters. The theatrics come in the form of a very over-the-top garnish of an entire torched orange peel that's presented in the glass like a whirlpool.
"Amaretto" Sour
Where: Nitecap
How Much: $15
The Amaretto Sour is a deep-cut from the grandparents' drinks vault. Nitecap's version subs out amaretto for Crème de Noyaux (its lesser-known cousin also made from apricot kernels), lemon juice, egg white, orange-flower water, Lustau Amontillado Sherry, Apricot Eau de Vie, and Reposado Tequila.
Fennel Pollen
Where: Mace
How Much: $15
The fennel pollen in the Fennel Pollen is deployed via mist, for a drink that could also be called Apple Five Ways: It's made with the apple brandy Calvados, cider, and rectified Granny-apple juice, along with the more unusual inclusions of apple-cider vinegar and apple butter.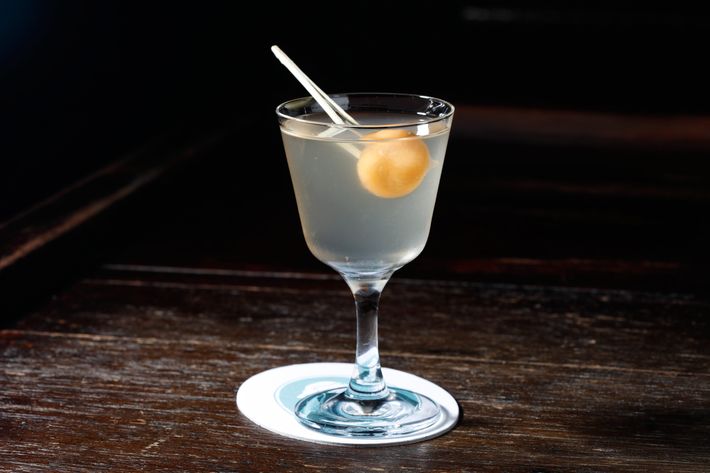 Smoke and Melons
Where: the George Washington Bar
How Much: $16
A play on the ubiquitous passed dish of prosciutto and melon, this cocktail is made with a base of Cavaillon melon–flavored vodka that's infused with the cured meat. The melon-ness is amplified by cantaloupe (a sunny globe rests in the drink, speared by a couple of toothpicks), and Manzanilla sherry rounds it out, but the drink is really refreshing, and the prosciutto is more of a backbeat.
Wake and Bake
Where: the Aviary
How Much: $24
Leave it to the Aviary to make a cocktail out of the everything bagel: The Wake and Bake arrives in a branded, poofed-up bag that looks like the pillow-shaped bag fresh off of your friend's vaporizer. Scented with coffee and a toasted everything bagel, it's a play on the Manhattan made with rye and orange.
Light My Fire
Where: the Woodstock
How Much: $10 (or $15 or $20 with higher-end liquor)
It's as much what's in this retro bar's cocktails as how they're presented in flashy glassware and designed to be photographed. The Light My Fire is a candy-purple concoction of tequila, curaçao, lemon, blueberry, and habanero served in a light bulb served on a bed of ice that's lit by a blue light.