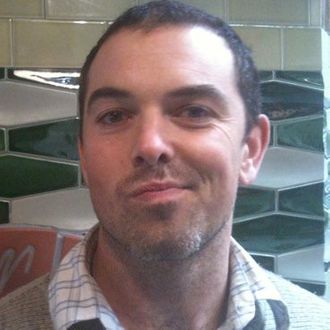 "This was the right time," his restaurant group says.
Photo: Boot & Shoe Service via Facebook
The 30-plus women who say they were sexually harassed by chef Charlie Hallowell, one of the Bay Area food world's most prominent names, scored a major victory this week: He'll be the first big-time restaurateur accused of misconduct to sell one of his places. The San Francisco Chronicle reports that Hallowell is selling Boot & Shoe Service, one of three Oakland restaurants he runs, to Jen Cramer, an employee who used to manage Pizzaiolo (another of Hallowell's spots), and her husband Richard Clark, a former manager at baking savant Chad Robertson's Tartine Manufactory.
They're expected to assume 100 percent ownership within two months, the Chronicle reports — enough time to get the financials figured out. They're applying for a small-business loan and taking investments from family and friends. The name and concept (upscale pizzeria) won't be changed, they say. "We're trying to make the transition very seamless," Cramer explains. "We're trying to preserve everything that makes the restaurant great." This means the current chef, Bradley Ceynowa, and menu will stay as is.
Boot & Shoe Service was the restaurant that saw seven managers resign en masse last January after Hallowell took a leave of absence, but refused to relinquish ownership of his company. Cramer says it's been a bumpy road since ("A lot of the staff is new, and we're focusing on training"). Hallowell's restaurant group hired a female COO in March, and now in a press release says it's "the right time" to hand Boot & Shoe over. She adds that their focus will simply shift to "our other two restaurants, Pizzaiolo and Penrose, as well as our future expansion plans."
Earlier this month, the New York Times reported that Mario Batali was starting to look for ways to divest from his restaurants, so as to create "a post-Mario world" at Batali & Bastianich Restaurant Group. But so far, he hasn't. John Besh, Ken Friedman, Mike Isabella, and other men accused of misconduct are also presumably still making money off of their restaurants.
The only other ousted food-industry owner at this point is Jeremy Tooker, founder of San Francisco's Four Barrel Coffee. After employees accused him of various kinds of sexual misconduct, he divested the following day. There was even talk of making the third-wave roastery employee-owned and rebranding it as "the Tide." (Très San Francisco, but the name ultimately stayed intact.) Either way, #MeToo backers can cheer the news that at least one other culinary VIP will no longer benefit financially from the businesses where he abused his power.