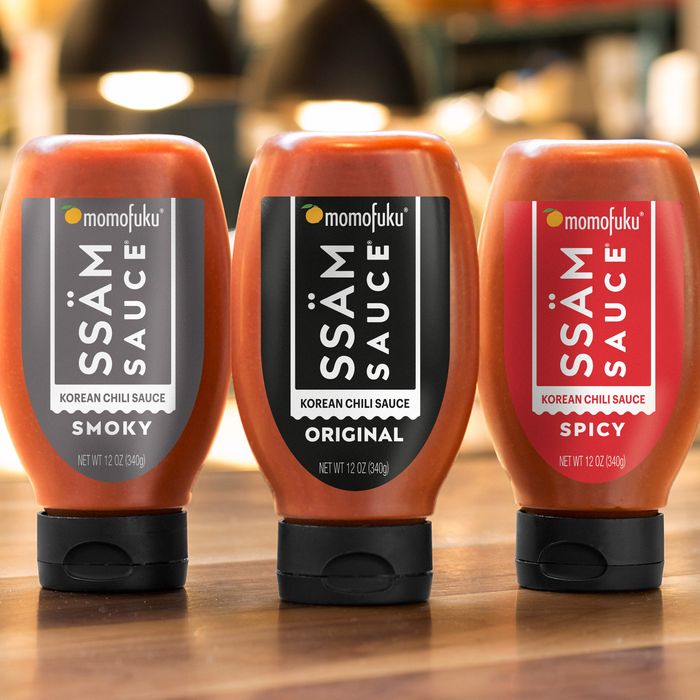 The spiffy glass bottles were swapped for a UPS-friendlier plastic alternative.
Photo: Kraft Heinz
If you love Fuku's fried chicken (and who doesn't?), you're no doubt familiar with Ssäm Sauce, the piquant Korean condiment that David Chang claims also improves pizza and French fries, and supposedly "even makes Sriracha better." For the other 300-some-odd million Americans, though, who can't swing by an actual Fuku location (or New York–area Whole Foods), their only Ssäm access has been via Momofuku's online store.
But Chang's empire is growing like wildfire these days — he's got a Netflix series, a new L.A. restaurant, and soon, a major media company. So perhaps fittingly, his next mission, according to Bloomberg News, is getting a bottle of Ssäm inside every American fridge: Momofuku has partnered with ketchup king Heinz to blanket the country in its sweet-and-spicy sauce. Starting today, a 12-ounce bottle can be acquired on — yep, you guessed it — Amazon for the not-so-cheap price of $7.19, and it's eligible for free one-day Prime shipping. For nationwide distribution, Momofuku's culinary lab says it "collaborated closely" with Kraft Heinz's month-old food-start-up incubator, Springboard, to "scale up" the original recipe.
Chang's world seemingly grows more ambitious every day. Today, news broke that the original Fuku (located at 163 First Avenue, the space where Momofuku Noodle Bar first opened) will close, on April 30, and decamp to bigger digs in Nomad, and will do a blowout next weekend with $6 chicken sandwiches, $1 fries, and $3 Hite beers. (The storefront will reportedly remain a Momofuku concept lab.) Despite being as pivotal a figure as anybody in society's shift toward gourmet tastes and artisan food, Chang has never hidden his love for mass-produced products, whether that's Bud Light beer or Domino's pizza. The Heinz partnership, in that context, makes perfect sense.