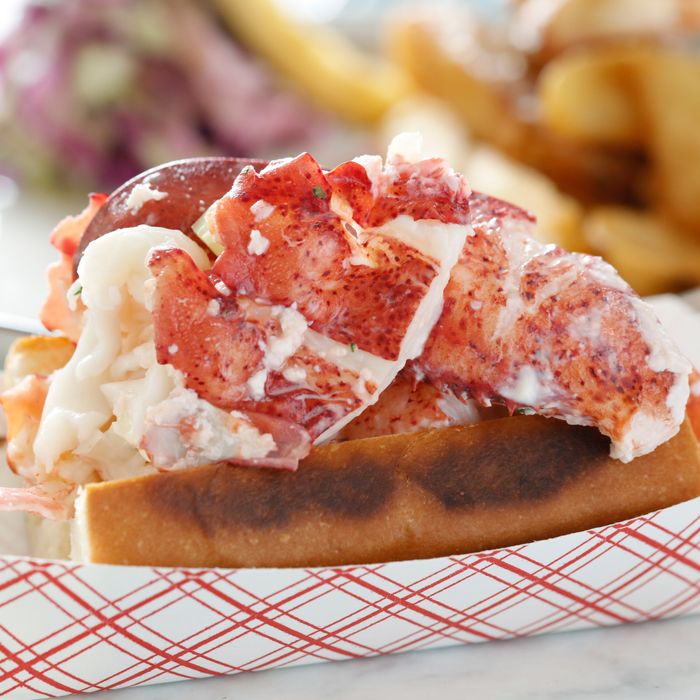 One Boston restaurant is forced to charge $49 for a lobster roll.
Photo: Melissa Hom
A perfect storm of high global demand and literal storms — all those nor'easters — has caused the price of lobster to skyrocket, which is bad news if you tend to celebrate warm weather with as many lobster rolls as possible. New England's March and April have been unseasonably snowy, and Canada's low temps are keeping its lobster fisheries frozen over. As a result, the amount available in recent months has nose-dived, even though demand has not, especially in China. All in all, the situation has caused this spring's hard-shell prices to creep up to $15 a pound, or about double their usual price, and a full $9 more than a pound of lobster cost as recently as last November.
In short: Federal law caps the number of boats that can enter Maine's lobster fisheries at this point in the spring. Many boats that could have gone out earlier in the season didn't because of the storms, so America currently has an overreliance on Canadian lobster. Of course, Canada's fisheries, being farther north, are still icy themselves. Hence, the general shortage.
The Boston Globe surveyed seafood prices around town, and the cost of many lobster dishes is now "off the charts," the paper reports, as chefs look for a way to — ahem — "claw back some of the margins." Chef Chris Coombs tells the paper, "In my career I've never seen $15-a-pound lobster prices." He removed lobster entirely from the menu at Boston Chops, but has kept it at Deuxave, where a roll now sets you back $49, instead of the usual $22. Another North End restaurateur says it costs $47 right now to prepare his lobster rolls, counting labor — a hard pill to swallow since he's still charging $29.
Experts expect that warmer weather will soon start "righting the ship" (with lobsters, the lure of nautical puns is irresistible), but the timing of this crisis is interesting because it comes right on the heels of multiple record-setting years for U.S. lobstermen. For six years straight, they've caught more than 100 million pounds in Maine alone — after having never, um, cracked nine digits.