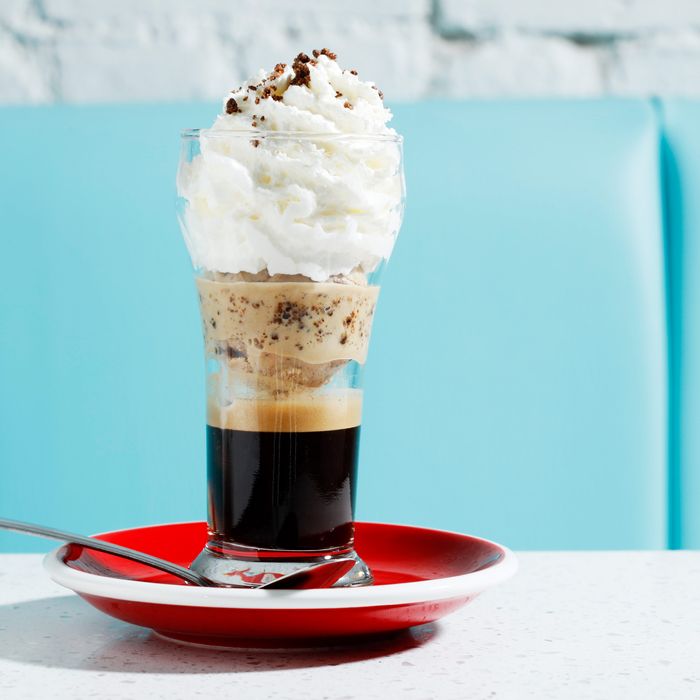 The café liégeois, a sort of parfait meets sundae made with espresso, coffee-crunch ice cream, wafer cookie, and coffee "soil."
Photo: Melissa Hom
Among all of New York's great ice-cream shops, OddFellows pushes hardest against the conventions of frozen treats. Sam Mason opened the Williamsburg location with a chorizo-caramel ice cream, found a signature flavor in miso-cherry, and doesn't hesitate to create unusual combinations like tobacco, smoked chili, and huckleberry. (Yes, that's one flavor.) The physical stores emphasize originality, too: As Mason and business partners Mohan and Holiday Kumar have expanded, each location has allowed for a different idea of just what OddFellows can be. The second shop, in the East Village, is all about ice-cream sandwiches, while a forthcoming Bushwick location will include a soda fountain. And today on Houston, the group opens Coffee & Cream, a combination ice-cream shop and café that serves, you've might have guessed, ice-cream-and-coffee drinks that go far beyond milkshakes and traditional affogati.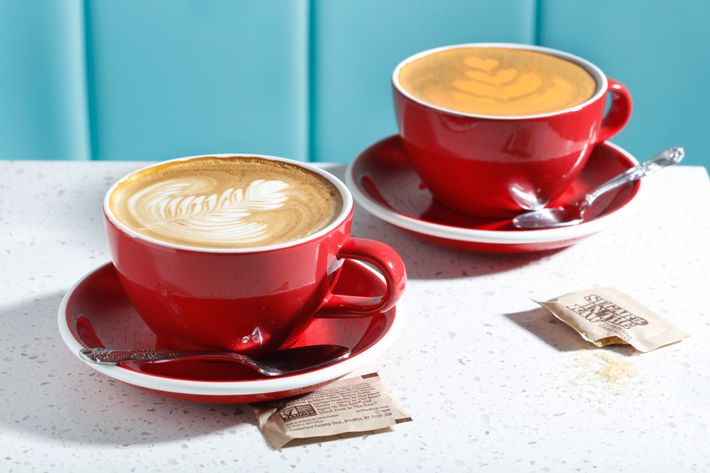 "The locations all tend to call for something different. You can't just plug and play," Mason says. This particular idea is one that Mohan says they've had in the cards for the last two years, as they looked for the right barista to make it happen. That person is Andy Mullins from Nobletree Coffee, who gives his espresso some OddFellows twists: Mullins uses milk infusions as he would if he were making ice cream. So you can get your latte with milk flavors like burnt marshmallow or toasted sourdough, the latter creating a drink, Mason says, that tastes "like espresso spread on toast." There are syrups, too, like smoked raisin and vanilla-cinnamon, to sweeten your caffeine.
You'll also find an espresso bar, a selection of 12 rotating ice-cream flavors, and pastries, from Bien Cuit, Sans Bakery, and Du's Donuts, which has contributed a miso-cherry doughnut.
The main act, though, is the shop's Coffee & Cream menu. Everything in that section is made with both coffee and ice cream, and in typical OddFellows style, nothing is all that straightforward. Even the simple espresso con panna isn't just coffee with whipped cream, but comes with a flavored cream that will rotate regularly. (Saffron-cardamom-pistachio is the debut flavor.) There's also a coffee-and-cream soft serve that will change, depending on what kind of espresso they're serving, so that the coffee and ice cream always complement one another.
There is also a café liégeois that Mason says is "like a parfait," a composed dessert made with coffee-crunch ice cream, coffee soil, whipped cream, and wafer cookie. Like the selection of scoops, both the coffee and ice-cream specialties will change in all sorts of unexpected ways. "Our conceptual menu is massive," Mason says.
Here, a look at more of the coffee creations from the shop.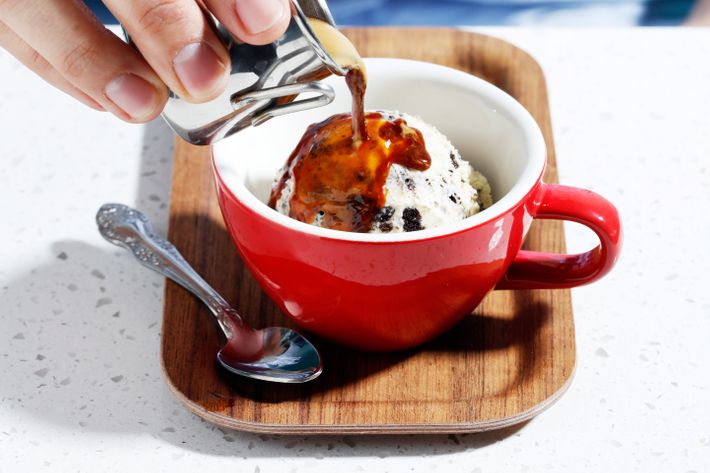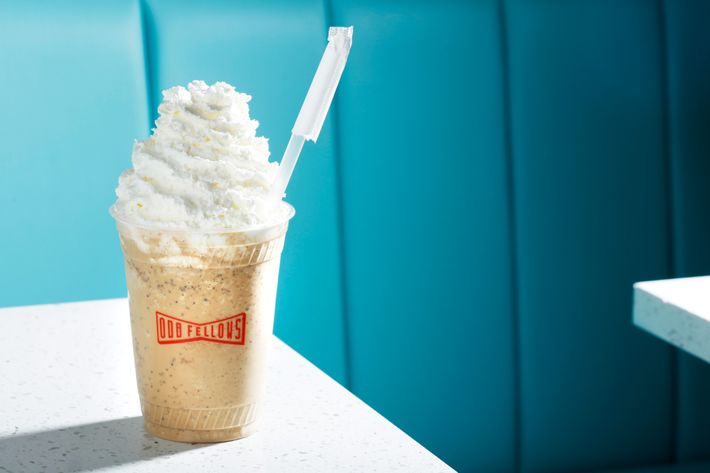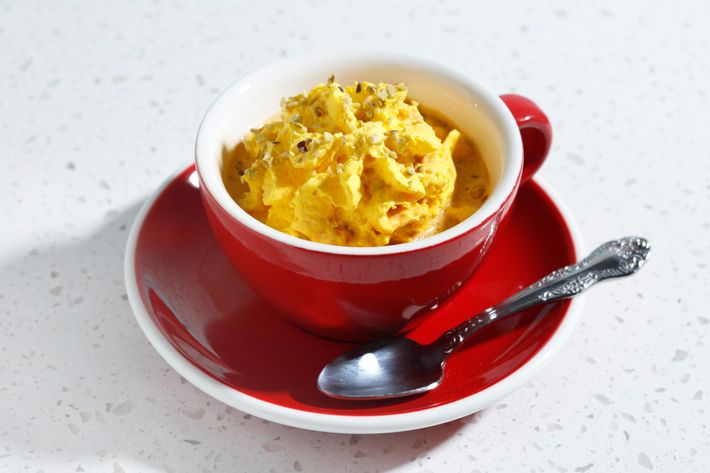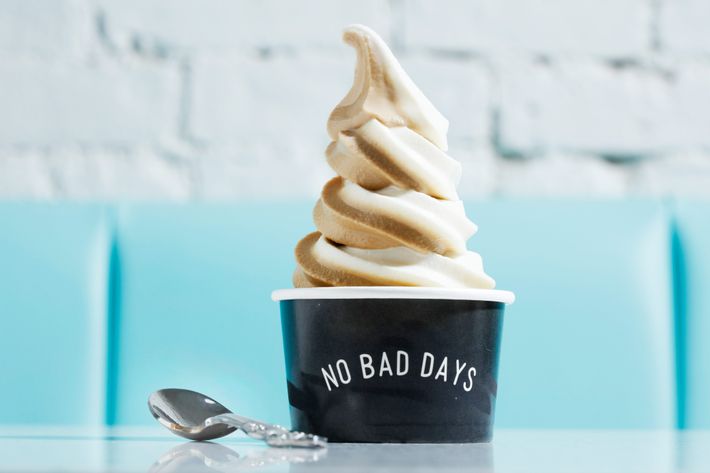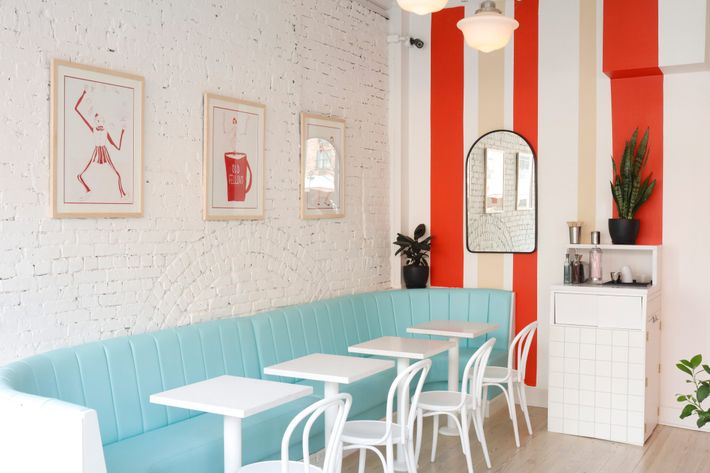 Coffee & Cream by OddFellows Ice Cream Co., 55 E. Houston, nr. Mott St.; 646-756-4377‬