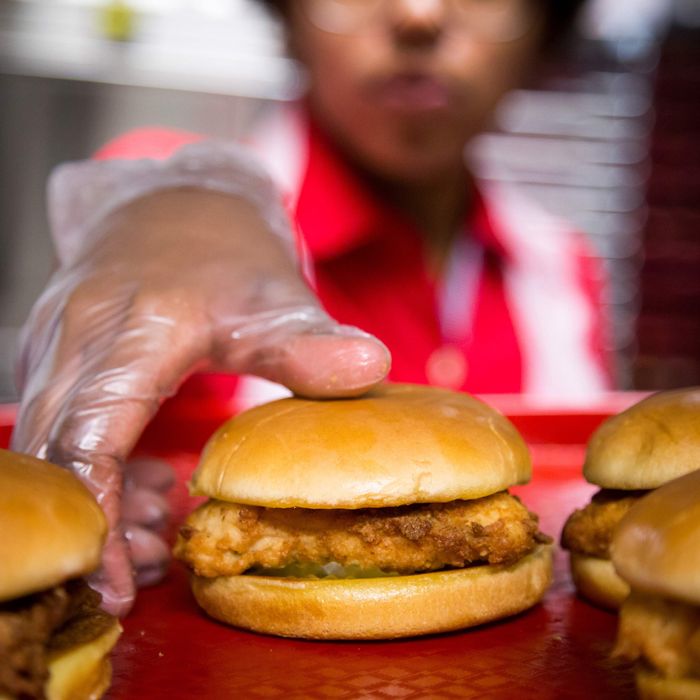 Peanut oil is only part of the formula.
Photo: Michael Nagle/Bloomberg via Getty Images
Unless I develop a severe allergy to chicken or peanut oil — and even if I do — I will never not want Chick-fil-A. No amount of controversy, health-grade scares, political snafus, or generally bad news about the restaurants has managed to scare me away yet. And clearly, I am not alone in thinking this, since the southern chicken chain is in an extended period of unprecedented growth, while even high-minded chefs are trying to remake restaurants in the fast-food chain's mold.
This is all, it's worth pointing out, in spite of the chain's extremely Christian values. Publicly, Chick-fil-A now says that it treats everyone with "dignity and respect," but even with a stain of far-right conservatism on their public image (and a history of supporting causes that promote intolerance), the company's meteoric growth hasn't slowed.
According to a recent BuzzFeed report (via restaurant consultancy Technomic), Chick-fil-A is on track to eclipse the likes of Burger King, Taco Bell, and Wendy's over the next two years. If that happens, it will be the third-largest fast-food chain in the world (behind only McDonald's and Starbucks). To put the company's success in perspective, BuzzFeed points out that an average Chick-fil-A location pulls in $4 million in annual sales, compared to $2.5 for a McDonald's. (And remember: Chick-fil-As are all closed on Sundays, meaning they make that while operating six days a week.) Last year, the company reported $9 billion in sales, up more than $1 billion in 2016. With that kind of money, the restaurant chain is opening about 100 new stores per year, including new locations in Manhattan. (A fifth location opened near Grand Central in March.)* Just last week, in fact, the company launched the largest Chick-fil-A (ever) in New York's Financial District, and devoted customers — jaded New Yorkers, no less — swarmed.
None of this surprises me because I've been a dedicated Chick-fil-A customer for over a decade. I grew up in Marietta, Georgia, a midsize, middle-class town that's home to about 60,000 residents and ten Chick-fil-As. It's also about 30 miles away from Chick-fil-A's headquarters in Atlanta. My high school sat directly across the street from a Chick-fil-A, and I am not overstating things when I say that I'm one of the many, many Southerners (and a southern expat at that) in whom Chick-fil-A inspires steadfast loyalty.
Other fast-food chains seem focused on social-media-baiting gimmick items (Taco Bell's fries, Starbucks's Instagram Frappuccinos) or food priced so cheaply, there's no way it could be good for you. But Chick-fil-A has always thrown most of its weight behind improving the customer experience. Visit any Chick-fil-A and instead of overworked, underpaid people in their 20s and 30s, you'll find enthusiastic high schoolers who also happen to be eligible for a cut of the millions of scholarship dollars the company awards its team members each year. They are also trained to be hospitable in a way that would make even Danny Meyer proud: They happily bring food directly to customers' tables and always respond to "thank you" with "my pleasure" (never "you're welcome"). Beyond the restaurant, Chick-fil-As tend to be very embedded in the local community, hosting or catering events at nearby schools or charity organizations.
The unwavering hospitality is so consistent that fans can't even fathom a customer having a bad experience:
It is little wonder, then, that even chefs who might have previously shunned the very idea of "fast food" — due, in no small part, to the industry's ongoing problems and issues — want to open restaurants that take inspiration from Chick-fil-A's entire enterprise. David Chang and Mark Ladner have famously opened one-note restaurants like Fuku, which is even centered around chicken sandwiches, and Pasta Flyer, where diners can get a bowl of spaghetti and meatballs or fettuccine alfredo to go. Danny Meyer just announced a new taco stand; there's the Greek-food chain, Souvla, in the Bay Area; and Luke's Lobster remains one of the originators of the movement. Even if they don't all specialize in chicken, these operators are simply aspiring to do what Chick-fil-A has always done: Serve one thing, really well, and do it in a way that makes customers feel valued.
*This post has been corrected: The Grand Central NYC location is open, not in the works.