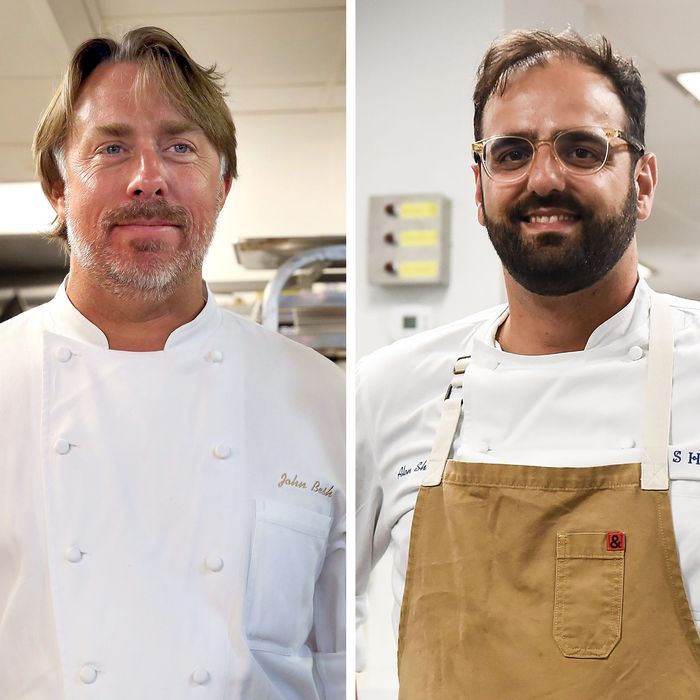 Both said they want to "recognize the significant achievements accomplished together."
Photo: Getty Images
John Besh's serial harassing may have cost him his executive-chef job, but it won't keep him from getting full control of Shaya, the Besh Restaurant Group Israeli joint run by Besh's protégé Alon Shaya that was named James Beard's Best New Restaurant in 2016.
Since Besh's misconduct allegations surfaced, he and Shaya have been locked in a bitter legal feud over who owns the restaurant itself, and also which side can keep using the name. In a trademark-infringement complaint, Shaya charged that he was being "forced to fight in court for the rights to my own name." Besh's lawyers countered that Shaya never had the naming rights in the first place, and that his relations with the company had been fraying for some time.
Things continued getting uglier, with the company essentially accusing Shaya of being an absentee chef, but yesterday the two sides reached a settlement, ending the battle: The since-renamed BRG Hospitality (to remove that in-your-face "Besh") will retain full control over the restaurant, and also receive the rights to its name. Chef Shaya will also have "no further involvement or affiliation" with Shaya or the other two Besh restaurants with which he was involved, Domenica and Pizza Domenica.
Given that agreement, it sounds like the settlement didn't work out that great for Shaya, but the complete terms weren't disclosed. The New Orleans Advocate notes that both parties ultimately issued statements that "struck a conciliatory tone." Besh and business partner Octavio Mantilla praised Shaya "for his services and partnership over the past decade," adding that they "look forward to seeing where his many talents will lead him." Shaya's statement was equally boilerplate: "I am thankful for all the support and opportunities the BRG team has provided over the years. I'm looking forward to the next stage in my career with an appreciation for the hard work and great team it took to get here."
What's funny is, we already know what that next stage is: Shaya recently announced that later this spring, he's opening his own Israeli restaurant, called Saba. It will also be on Magazine Street, about a mile from Shaya.