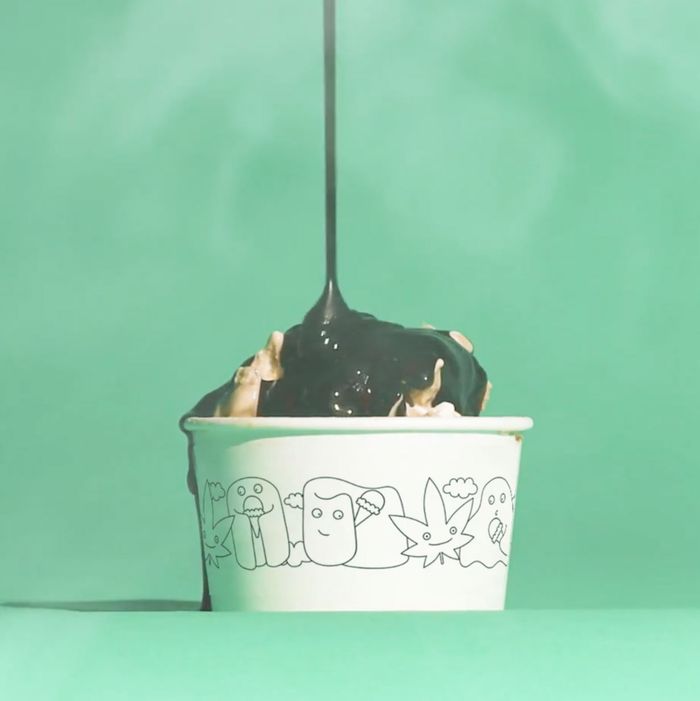 Van Leeuwen's CBD Sundae.
Photo: Courtesy of Van Leeuwen
If you haven't tried it yourself, you've probably at least heard your wellness-minded friends talk up CBD, the cannabinoid that helps you relax without getting you high (unlike its psychoactive sibling, THC). That quality has made it popular among people who want to experiment with marijuana while still carrying on with their daily lives — which is why you can now find some worthy CBD-infused foods and drinks. And with 4/20 coming up this week, it's high time to get your CBD fix around the city and on the web. Here are ten places to start.
CBD Fudge Sundaes
Where: Van Leeuwen at 175 Ludlow Street
Price: $6
This Friday, the Van Leeuwen ice-cream shop on Ludlow Street will host a one-day CBD pop-up. The vegan-ice-cream favorite will join forces with the Alchemist's Kitchen and duvet- and blanket-maker Buffy for a CBD-fudge-sundae extravaganza. That means, visitors can buy sundaes spiked with CBD oil and enjoy them while sitting on a literal pile of comforters. It's every high-functioning stoner's dream.
The Daily Hit CBD Oil
Where: CAP Beauty
Price: $96
CAP Beauty has become a big name in New York's wellness scene, and it makes sense that it was among the first to hop on the CBD bandwagon. Late last summer, the company launched a proprietary CBD oil dubbed the Daily Hit that's also laced with mushrooms and various adaptogens, in an effort to "boost your body's ability to handle the stressors of daily life." Fans also say the oil has plenty of culinary uses, and that you can add it to things like salads, soups, and steaks.
By Chloe CBD Brownies
Where: Sweets by Chloe
Price: $5
Speaking of CAP Beauty, the shop recently announced a collaboration with vegan restaurant chain By Chloe. From 4/20 to 4/22, CBD enthusiasts can drop by Sweets by Chloe (185 Bleecker Street B) and purchase CBD brownies baked with CAP Beauty's Daily Hit. We're betting these are going to sell out fast.
CBD Soda and Water
Where: Cannabinoid Creations
Price: $24 to $120
So, you want to drink your CBD. Well, thanks to Michigan-based Cannabinoid Creations, you now have that option. The company sells an entire line of "pharma-grade" CBD Hemp Sodas, featuring flavors like cartoon cereal crunch, grape limeade, and honeydew melon, as well as hemp-infused water that promises to both hydrate you and ease your anxiety. Sodas start at $28 for a four-pack, while the hemp water can be purchased for $24 per pack.
Pot Luck Cocktail
Where: 5th&Mad
Price: $16
Midtown bar 5th&Mad will serve CBD-infused Pot Luck cocktails this weekend. The drink mixes CBD oil with gin, Midori, citrus juice, and simple syrup, resulting in a cocktail that's both herbaceous and tangy. The whole thing will set you back $16.
CBD-Infused Coffee and Treats
Where: Caffeine Underground
Price: Varies
Bushwick's Caffeine Underground sells the aptly named Flower Power coffee, ranging in price from a $6 cup of joe to a $7 mocha, as well as a line of CBD treats, including caramels, lollipops, and jams.* The coffee shop also hosts CBD educational seminars, as well as musical events and open-mic nights.
CBD Candy
Where: Weed World Trucks
Price: Varies
We know you're curious about those Weed World Trucks driving around Manhattan — you know, the neon-green ones emblazoned with strains like "Bubble Kush," "Strawberry Cough," and "White Widow." Are they legal? Turns out, their candies contain not a trace of actual marijuana, but rather follow the legal route of hemp-derived CBD. The main goal of the trucks, as noted by Thrillist, is not necessarily to get everyone high, but to push for marijuana legalization through the pamphlets that they give out alongside the CBD lollipops. Candies run $5 a (lolli)pop, or five for $20.
CBD Gummies and Coconut Oil
Where: Clover Grocery
Price: $50 and $30
The array of products at this wellness mecca has been called "confusingly esoteric" by the New York Post, but what's clear is that this Greenwich Village spot is a one-stop shop for some of the most popular CBD products currently on the market, including the super-fancy Lord Jones CBD gumdrops ($50) and CBD coconut oil from Ojai Energetics ($30). The rest of their half-dozen CBD products are for body and skin, if you want to get it into your system that way.
Hemp Oil Chocolate
Where: Lulu's Chocolate
Price: $10
This Sedona, California–based vegan chocolatier sells a line of hemp-oil chocolates made with 78 percent heirloom cacao and 40 mg of CBD each. To "activate and accentuate" the effects of the CBD, the company has added extra terpenes, the essential oils that give each strain of marijuana their telltale scents. You can order the Chocolate Botanical Delights by the box or the case at the Lulu's Chocolate website.
Craft Beer With a Side of CBD Oil
Where: Craft Beer & Smoke Shop
Price: $55 to $75
Beer aficionados love this Williamsburg-based craft-beer shop. Nearly every review notes the shop's wide range of covetable brews, from Evil Twin to Grimm to KCBC, and the friendly and knowledgeable staff. But the shop is also known for carrying CBD oils fit for vaping, alongside other important 4/20 equipment and cigars.
* This post has been updated to reflect the fact that a Flower Power Coffee shop in Glendale is not affiliated with the coffee line of the same name.