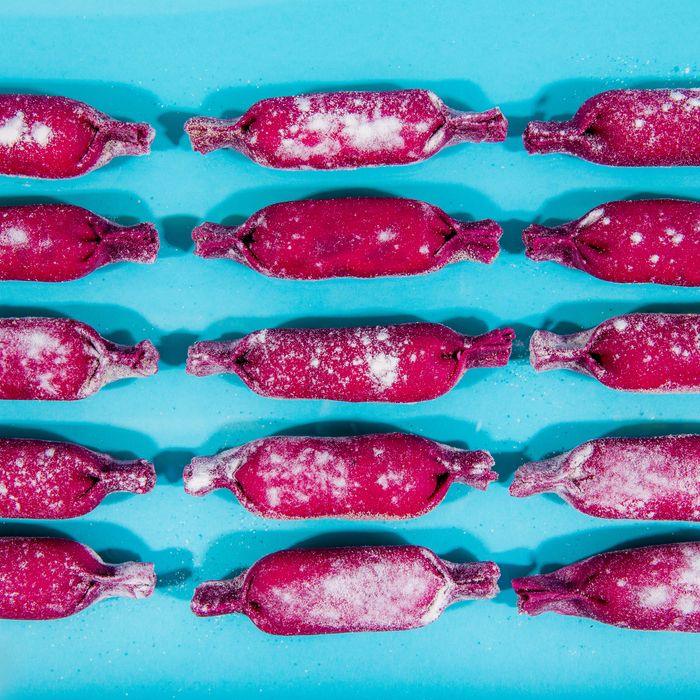 They're taking over!
Photo: Jed Egan
There's a good chance you've never heard of caramelle. It's a stuffed pasta, and if you think the name sounds like it could be a candy bar, that's no accident: The once-obscure pasta shape takes its name from the caramel wrappers its appearance mimics. Think of it as ravioli's younger, more playful cousin, and thanks to its versatility, it has suddenly become a favorite shape for some of New York's most cutting-edge Italian chefs.
When Don Angie opened last fall, the restaurant's chefs found an unexpected signature dish in its zebra-stripped caramelle. Other influential Italian restaurants have caught on. Williamsburg's Barano debuted a version with dough stained pink by beets, Legacy Records opened with it on the menu, and pasta maven Michael White's Osteria Morini added it to the menu in March. Faro has had it on the menu since shortly after opening in 2015. Pasta master Missy Robbins says she, too, may add the pasta — with an almond and ricotta filling — to her menu at Lilia soon, but is still tweaking it.
"It's funny, a lot of people are embracing these Instagram shapes of pasta — exploring other shapes beyond ravioli, tortellini, tortelli, those classic shapes," says Andrew Carmellini, who serves a fonduta caramelle with prosciutto at his restaurant Locanda Verde. "A lot of the funky shapes don't work as well because they're too doughy or have too many folds. They maybe look better than they eat. Caramelle is one of those shapes that we do and have used because they eat really well."
In one way, it's easily among the most playful pasta — chefs can play up its candy-wrapper origins with bright colors — and the shape's relative obscurity gives it an advantage in a city where you can't walk two blocks without tripping over some orecchiette. The saturation of neighborhood Italian restaurants means chefs need more than ravioli to stand out. "We try to find weird shapes or unknown shapes, as part of what we do," says Angie Rito, co-chef of Don Angie. Barano's Al Di Meglio admits that it's the same for him, adding, "I'm always looking for a different shape. Everybody has bucatini, everybody has ravioli."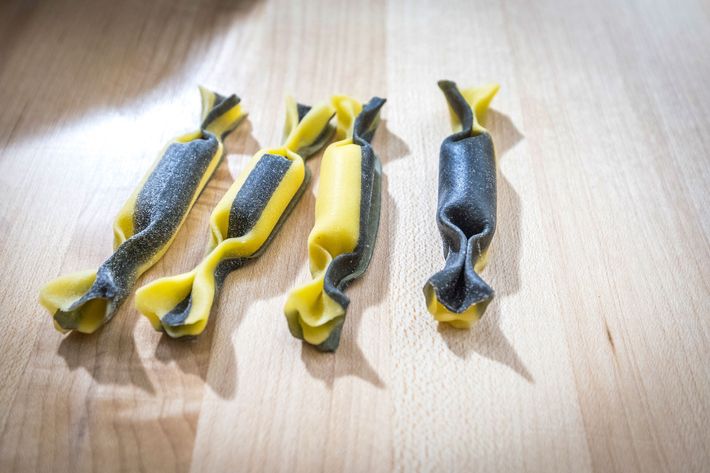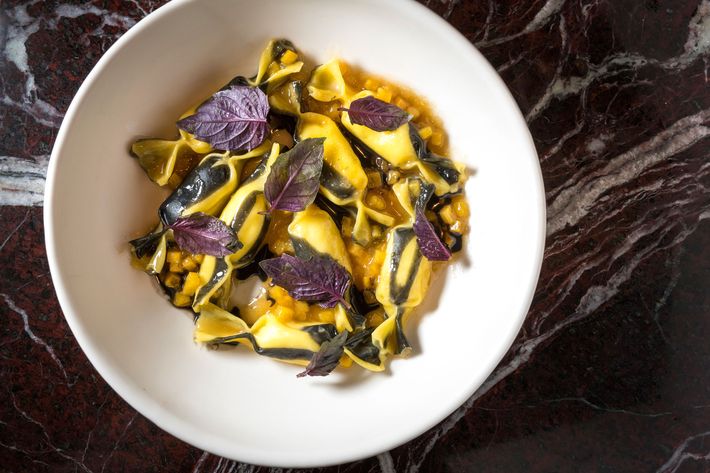 Yet as Carmellini says, caramelle's appeal goes beyond its looks, or its relative obscurity: Rito loves the contrast you get from soft filling, a thin dough, and the slightly thicker twists at the end. Carmellini likes a creamier filling because of the extra pinch or fold; Robbins describes it as "sort of fun, elegant," and likes the texture from the ends on either side. Faro's Kevin Adey prefers bite-size caramelle packets, so "you can fit the whole thing in your mouth, and the filled part kind of explodes." Di Meglio says the ever-important "filling-to-pasta" ratio is also exemplary: "I never felt like you got enough filling in a ravioli, and so basically I started playing with this shape, a lot of years back," he adds.
While caramelle has suddenly popped up on lots of menus, it isn't entirely new to New York, or the States. It was mentioned in a 1994 New York review by Gael Greene, as well as a 1996 Nashville Scene article about eating in this city. Robbins says she cooked it "probably 14 years ago at Spiaggia" in Chicago, calling that version "one of my favorite dishes ever," and White stuffed it with short rib at Marea back in 2013. But the pasta now seems to be having its time in the sun. It was featured in Flour + Water, the 2014 cookbook for the San Francisco restaurant of the same name, as well as Aliza Green's thorough Making Artisan Pasta from 2012.
Green says she's not sure where she first had the pasta, except that it was at some restaurant in Italy, maybe at Enoteca Pinchiorri in Florence back in 2000, but she believes it's a pasta shape that's firmly at home in restaurant kitchens. It's not in the English translation of the Encyclopedia of Pasta, or, Green says, the Le Ricette Regionali Italiane (which has gone through 27 editions in Italian) or the comprehensive La Cucina Italiana. In fact, caramelle's origins don't seem to be widely known, especially Stateside, but all signs point to Northern Italy and more specifically Emilia-Romagna. So says both Meglio and Carmellini, who calls it a "holiday pasta" you see around Parma and Modena during Easter. (Adey says he's heard it's from Tuscany and associated with Epiphany Day.) Professor David Alexander's "Geography of Italian Pasta" points to Emilia, too, but when asked for more information, he responded: "Sorry to disappoint you, but although I am Italian and writing this from my home in Italy, I don't have the requisite information. Here in Tuscany we look studiously away from what goes on on the other side of the Apennines!"
But even if caramelle is a surprisingly contentious topic in Italy, here in New York it's clearly been embraced by chefs of every stripe. Here's where you'll find it in the city.
Barano
Price: $19
Al Di Meglio's version is a play on beet and goat-cheese salad: The pasta is dyed with red beets, stuffed with goat cheese and Feta, and served with roasted yellow beets, nigella seed, and burnt orange.
Don Angie
Price: $22
A server might warn you that this is one of "our sweeter pastas," but you'll wonder why that matters when the pasta pops in your mouth. The two-toned dough is zebra-stripped by black sesame, filled with creamy buffalo-milk ricotta, and served with brown butter, diced melon (before this, persimmon), black-sesame purée, and fresh opal basil.
Faro
Price: $25
This lux black-trumpet mushroom and lobster caramelle is served with sauce Américaine, made with brandy, onions, tomatoes, fish stock, and more.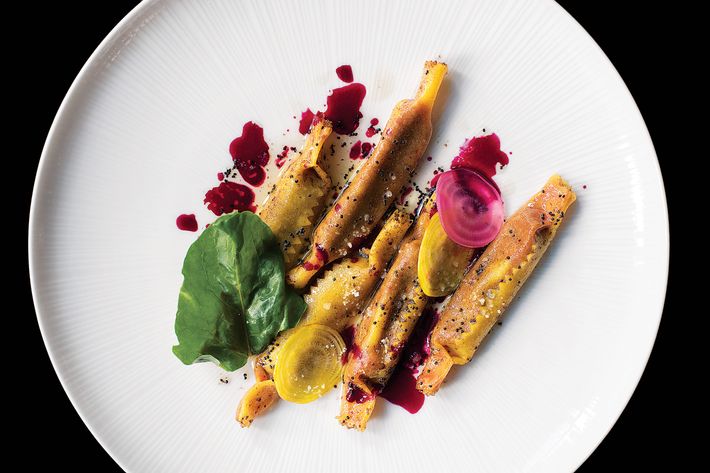 Legacy Records
Price: $22
They're extra long at the newest restaurant from the group behind the ultrahip Charlie Bird and Pasquale Jones, who serve theirs stuffed with ricotta and decorated with thinly sliced beets, poppy seeds, and sage.
La Nonna Ristorante & Bar
Price: $22
In Williamsburg, it's all about the ground veal, mortadella, mascarpone, and a sauce made of brown butter and sage.
Osteria Morini
Price: $24
Plump and with serrated bows on either side, they're filled with candy-appropriate chestnut and apple, plus ricotta, then served with goat-cheese fonduta.
Tartina
Price: $16
If you live uptown and want your caramelle fix closer to home, this Morningside Heights restaurant has you covered with its mozzarella and ricotta-filled version in a butter, walnut, and radicchio sauce.