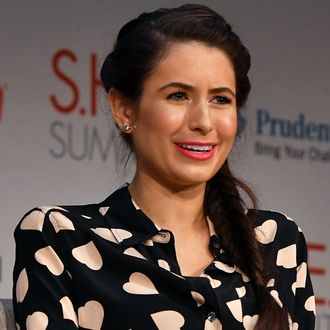 She says ESquared's Jimmy Haber felt "spurned."
Photo: Slaven Vlasic/Getty Images
Chloe Coscarelli has hit back in the ever-escalating war between her and By Chloe, the vegan fast-casual sensation she started in 2015, then split with messily last year. Since the breakup, the former Food Network star has been tangling in court with the growing chain's co-founder (and now sole operator) ESquared Hospitality. Last year, she was dealt a major blow when an arbitrator ruled that the restaurant group could "terminate" ties with its namesake chef for her "gross negligence" on the business side. (Among ESquared's claims was that her misconduct had forced CEO Jimmy Haber to invest $10 million of his own money to keep By Chloe afloat.)
Coscarelli, meanwhile, has claimed that ESquared made business deals behind her back, and even pushed her to serve meat. Today brings another development in the form of a lawsuit: Coscarelli now alleges that ESquared and BCHG (the LLC that owned the original location and now, according to the suit, "owns certain vegan restaurants that still bear the name 'by Chloe,'") "have continued to willfully exploit Chloe's name, fame, and image for their own benefit, with no right whatsoever do to so," and accuses both ESquared and By Chloe of copyright and trademark infringement, "false suggestion of association," and 11 other misdeeds stemming from the continued use of her name.
There's more: In detailing the fallout of the business relationship, the suit also alleges Haber — whose ESquared runs other restaurants like the BLT Steaks and Primes, and whose daughter Samantha Wasser started By Chloe with Coscarelli — sent "threatening messages to Chloe and her family." From the complaint:
Haber began sending threatening messages to Chloe and her family, and demanding Chloe meet with him alone so he could share private feelings he said he had toward Chloe and about their relationship. Spurned again, and reeling from rejection, Haber used ESquared to seize control of BCHG, effectively excluding Chloe from all business operations. Haber then commenced an arbitration proceeding against Chloe claiming more than $7 million in compensatory damages plus punitive damages from Chloe for allegedly interfering with the business.
ESquared has since responded to the suit, issuing a statement to Eater that reportedly calls it an effort "to undermine the company." Meanwhile, in Coscarelli's absence, the company has gone full-speed ahead with By Chloe, which is now up to ten locations and recently closed on a $31 million funding round.
This post has been updated with new information throughout.