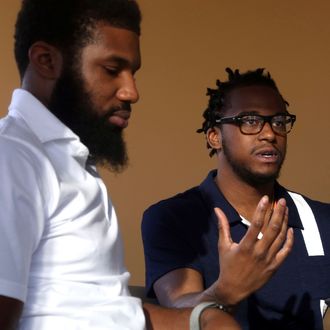 Rashon Nelson and Donte Robinson talking about their horrible Starbucks experience.
Photo: Jacqueline Larma/AP/REX/Shutterstock
The two men whose Philadelphia Starbucks visit last week concluded with an evening in jail have spoken to the press about the incident. Rashon Nelson and Donte Robinson — lifelong Philadelphians and childhood friends who are both 23 — showed up at the store on Thursday afternoon for a business meeting, and within minutes, things had gone south. They got arrested for "trespassing," as other customers looked on in shock, and Starbucks's own CEO has called what transpired "reprehensible."
In the duo's first media interview since being arrested, Nelson tells the Associated Press that he initially brushed off hearing that he couldn't use the bathroom unless he bought something, and didn't think much, either, of an employee approaching to ask if they "needed help." The two said no, and that they'd just keep waiting at their table until their business associate arrived. A couple of minutes later, three police officers showed up and arrested them.
The reason they were there was to meet a local businessman (Andrew Yaffe, who's white) in order to discuss a potential real-estate deal. The three of them initially chose a Starbucks across town, but later it got changed to this café located in Philly's Rittenhouse Square, a posh neighborhood that's richer (by average household income, anyway) than Manhattan's Soho. Nelson and Robinson grew up in a "gritty southwest Philadelphia neighborhood," the AP reports, but this Starbucks visit occasioned their first-ever arrest.
Police Commissioner Richard Ross has argued that Nelson and Robinson were both disrespectful to the officers, but they argue that they didn't resist arrest. Although Robinson says he did push back at first: "We were there for a real reason, a real deal that we were working on," he tells the AP. "We put in a lot of time, energy, effort … We were at a moment that could have a positive impact on a whole ladder of people, lives, families. So I was like, 'No, you're not stopping that right now.'" Robinson continues: "When you know that you did nothing wrong, how do you really react to it? You can either be ignorant or you can show some type of sophistication and act like you have class. That was the choice we had."
The incident made Robinson think "about his loved ones," and how, as he was being handcuffed and transported to jail, things had taken such a screwed-up turn. Nelson, meanwhile, wondered if he'd "make it home alive." "Anytime I'm encountered by cops, I can honestly say it's a thought that runs through my mind," he tells the wire service. "You never know what's going to happen."
The two men also appeared on today's Good Morning America, where they told anchor Robin Roberts that the incident at Starbucks crossed the line to "what's right is right and what's wrong is wrong."