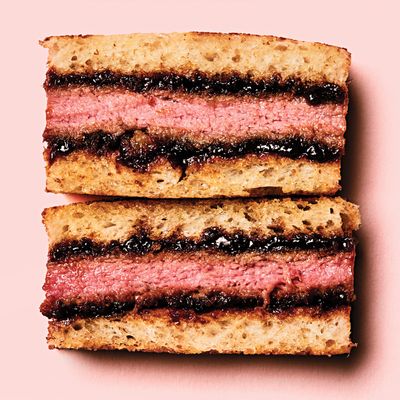 Ferris's Ibérico katsu sando.
Photo: Bobby Doherty
Once a month or so, the Underground Gourmet takes stock of all the excellent (and not so excellent) food we've shoveled down our gullets to bring you this — our slightly random, completely subjective, 100 percent delicious top-ten new things to eat and drink.
1. Ibérico Katsu Sando at Ferris
$12; 44 W. 29th St., nr. Sixth Ave.; 212-213-4420   
If you're up on the latest fancy-sandwich trends, you know the hottest thing going right now is the Wagyu katsu sando. A katsu sando (or Japanese cutlet sandwich) is traditionally made with pork or chicken, but that is not stopping some folks from substituting gazillion-dollar-per-pound Wagyu beef, dunking it in egg, rolling it around in bread crumbs, tossing it into the deep-fryer, and slapping the thing onto the customary crustless milk bread. Ferris chef Greg Proechel's U.G.-budget-friendly answer to the movement achieves a remarkably similar effect by forgoing the high-grade beef for a super-tender cut of Spanish pork known as the presa, which is about as well marbled as Donald Trump's bathtub. The bread is lightly toasted and slicked with tangy-sweet katsu sauce, and the Ibérico pork is cooked to a juicy medium-rare, but what makes this katsu sandwich so compelling are the subtle gradations of varying texture: crisp, soft, crisp, soft, repeat.
2. Pork-Chop Sandwich at Momofuku Nishi
$18 at lunch; 232 Eighth Ave., nr. 22nd St.; 646-518-1919  
Speaking of katsu sandwiches, there's a terrific new, supersize Asian-Italian hybrid model of sorts at Momofuku Nishi (even if chef Josh Pinsky and his lieutenant, Nick Tamburo, stubbornly refuse to call it that). Eschewing the usual dainty tea-sandwich proportions, this one is built more along the lines of a Defonte's hero. The kitchen coats its cutlets in panko and serves them sticking out the sides of Japanese milk bread with iceberg lettuce and garlic aïoli, which on the surface may not sound like much. But God is in the details (and the condiments): Before the meat's fried, it's brined in a buttermilk-kimchee purée; afterward, it's glazed with a sticky B&G pickled-pepper mixture.
3. Frites at Frenchette
241 W. Broadway, nr. Beach St.; no phone
Is it possible for French-fry gurus Lee Hanson and Riad Nasr to improve upon the textbook crisp and golden frites they created at Balthazar? These are slightly fatter and a lot creamier inside, so we say "yes!" Get them with steak-frites or duck-frites or as a $9 side, and remember to ask for a hit of the stupendous house German mustard for dipping.
4. Pizza al Taglio at PQR
$4.50 to $10; 1631 Second Ave., nr. 85th St.; 646-449-0889
A big selling point at this Roman-style slice joint is that, thanks to some advanced dough-making techniques, the pizza is easier to digest than the regular stuff. It's so good, though, we'd eat it even if it gave us gout or the grippe, never mind a touch of dyspepsia.
5. Guava Tart at Cosme
$16; 35 E. 21st St., nr. Broadway; 212-913-9659
How do you follow an act like Cosme's corn-husk meringue? Well, you probably shouldn't even try. You should just quit while you're ahead and retire to a tropical island. But this new guava-curd tart blitzed like a bowl of spaghetti with grated cheese is a contender. It's like a Cuban pastelito de guayaba meets Steve's Key-lime pie.
6. Rigatoni alla Buttera at Coco Pazzo
$10, lunch only; 160 Prince St., at Thompson St.; no phone 
This is the fiendishly rich and calorific dish (rigatoni, tomato-cream sauce, crumbled sweet and hot Italian sausage) that made the name Pino Luongo a byword among the Italian-food cognoscenti and also became kryptonite for the Underground Gourmet's weight-loss schemes. Pasta mavens are happy it's back at the new iteration of Luongo's '90s-era megahit restaurant. The U.G.'s tailor, who specializes in letting out trouser waistbands, is pretty excited about it too.
7. Lu Rou Fan at Té Company
$14; 163 W. 10th St., nr. Seventh Ave. S.; 929-335-3168  
Per Se vet Frederico Ribeiro takes on the Taiwanese pork-over-rice dish and nails it like a Taipei night-market master. He got some pointers from his wife, Elena Liao, his Taiwanese in-laws, and a tutorial from his sushi-virtuoso friend, Eiji Ichimura, regarding the rice.
8. Fried-Shrimp Sandwich at Cervo's
$19, brunch only; 43 Canal St., nr. Ludlow St.; 212-226-2545
Maine rock shrimp are floured, fried, tossed in chile sauce, then tucked with raw white onion rings into a She Wolf roll swabbed with saffron aïoli. If there are no New Orleanians around, go ahead and call it a po'boy.
9. Ops Bread at Ops
346 Himrod St., nr. Wyckoff Ave., Bushwick; 718-386-4009
If you've ever had the wood-fired bread served with the beans and greens at this cozy Bushwick pizzeria, you might have thought how sweet life would be if only you could take home a souvenir loaf. Now you can. Baker-pizzailo Mike Fadem has bumped up production of this magnificent staff-of-life, offering it to customers at $4 a pop thereby creating a low-key sideline business. Bonus tip: On Mondays, when the restaurant is closed, you can pick up a loaf at Ops' next-door neighbor, Variety Coffee Roasters.
10. Mochi Fior di Latte at Don Angie
$5; 103 Greenwich Ave., at 12th St.; 212-889-8884
A trompe l'oeil ball of mozzarella (mochi wrapped around ice cream drizzled with olive oil and sprinkled with sea salt) that picks up where former Otto pastry chef Meredith Kurtzman's olive-oil gelato left off.
*A version of this article appears in the April 16, 2018, issue of New York Magazine. Subscribe Now!