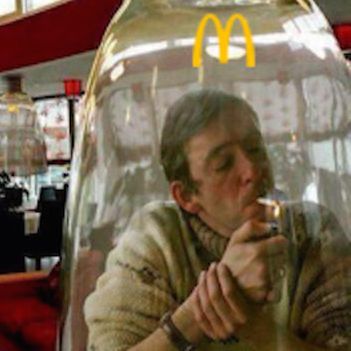 The days leading up 4/20 are crammed with outrageous pot news and gimmickry, but this is really something else: People have been sharing a fake story about McDonald's going pot-friendly so fervently that the Associated Press has had to step in and debunk it.
The story in question claims that a handful of Colorado McDonald's locations have converted their children's PlayPlaces into "marijuana friendly smoking areas." Each store's remodeled space boasts "15 smoking pods in which customers can smoke a joint, bong, or pipe without being harassed or bothered by people who are offended by it," the article claims. The totally ludicrous-looking pods (pictured above) purportedly are branded with the Golden Arches, and come outfitted with a ventilation tube so that minors won't get a secondhand marijuana high.
The AP's Fact Check team traced the story to a fake-news site called Now 8 News, where the McMarijuana story has 141,000 Facebook shares. (The story even seems to have made the rounds once before, in 2015.) The story has also popped up on a variety of other hogwash sites (Daily Buzz Live, Demic Media, whatever NotAllowedTo.com is).
Back in the real world, Colorado does now offer businesses licenses that allow customers to smoke weed on premises, but it goes without saying that McDonald's doesn't have — nor does it plan to apply for — any of them. Needless to say, McDonald's was still compelled to officially deny this Colorado story: Spokesperson Khim Aday tells the AP that he "can confirm 100 percent that this is not true."
Still, it's a good time to remind people that McDonald's can drop a solid weed joke when it wants to: