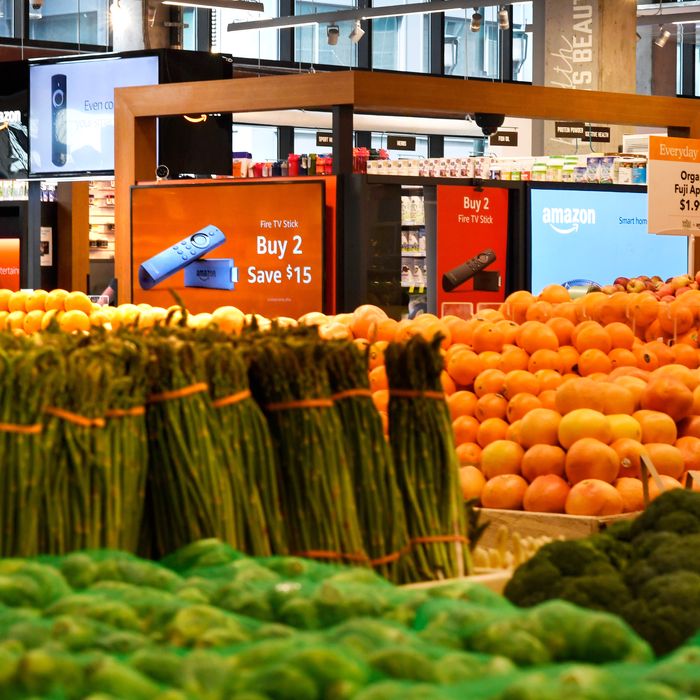 Amazon to Whole Foods shoppers: Remember who's the boss.
Photo: Aaron Ontiveroz/Denver Post via Getty Images
Whole Foods rewards program, we hardly knew ye: After about one year in existence, the grocer is planning to discontinue the service at the start of next month. The future of Whole Foods discounts, Jeff Bezos has decided, will be as an exclusive perk for Amazon Prime account holders. Amazon broke the news in an email warning current members that they've got until May 1 to redeem any unused rewards and digital coupons before they expire — right alongside their actual online accounts, which will shutter then, too.
The change is being teased on the Whole Foods website as well. "A few of the features on our website have been retired — find out more below," it says on a new FAQ page for rewards, digital coupons, and online accounts, before requesting that you "stay tuned" because "something great is cooking with Amazon. We can't wait to tell you about it." Underneath a pic of some nice-looking fruit, it adds: "Starting May 2, 2018, we're retiring the Rewards Pilot Program, Digital Coupons within our mobile app and website, as well as in-store loyalty programs such as Whole Body Benefits."
Of course, no one can call the move a shock. It's exactly what Amazon promised to do last August when it took over. The upside is, if you're a Prime account holder then congratulations: You'll soon start getting discounts on organic avocados and antibiotic-free turkeys, and maybe even deals like free maca-root powder with every in-store purchase of an Echo.