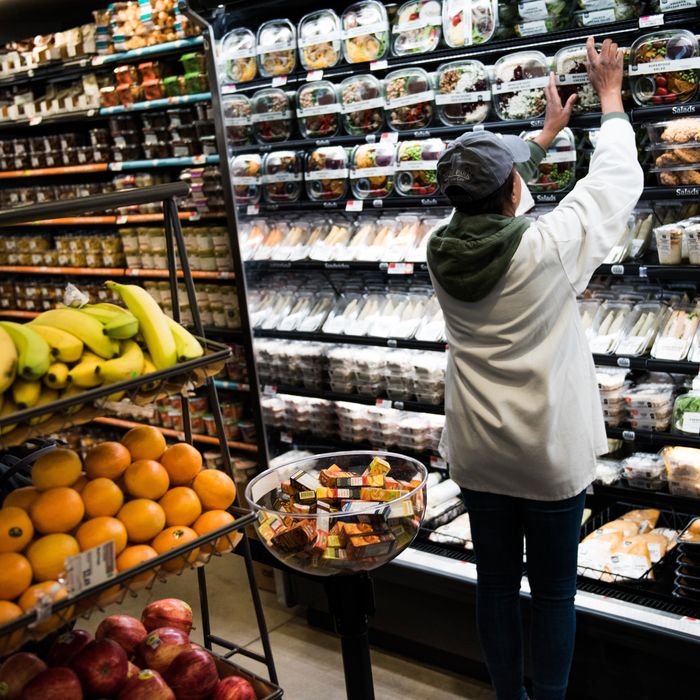 Photo: Mark Kauzlarich/Bloomberg via Getty Images
Ever since Amazon's purchase of Whole Foods, tensions have flared between the grocery giant and its vendors, as the chain attempts to replace its long-standing regional buying model with a more centralized system that's more efficient and cuts costs. Smaller suppliers complain that it pushes them aside (literally in some cases — maybe you've noticed more Tropicana on the juice aisle). But the national brands don't sneak by scot-free either, and their griping has apparently been an additional headache for Whole Foods. The company has been aware for months that everybody's angry, and now CNBC reports that on March 19, Whole Foods will hold a vendors' summit where they can air their grievances.
Whole Foods reportedly notified them of the meeting last Saturday via email. CNBC says the tenor was peacemaking: to "reassure the brands of relations after Whole Foods' sale to Amazon." Amazon actually didn't initiate this switch to a more centralized purchasing system, but as the new boss, it certainly has the power to make it better. That's what the summit aims to do, but vendors also tell CNBC that they're upset by Whole Foods' decision to offer "limited communication" about the situation until now.
The world of grocery-store supply is complicated, but the vendors essentially have two main complaints about the new system. The first is over new fees that they're being charged. In an email to suppliers a few months ago, Whole Foods said it plans to "streamline" things to "ensure all our suppliers are supported and set up for success," then added: "To successfully run this program, we need your financial support." Under the new system, anything store-related — from handing out free samples to checking inventory — now has to go through a Stamford, Connecticut–based retail-services firm called Daymon. (Whole Foods used to let suppliers handle this themselves, or hire someone else to do it.) Bigger brands, i.e., those that sell over $300,000 worth of goods per year, will have to discount their products by 3 to 5 percent to help subsidize the program. Then, regardless of size, every vendor has to pay fees if it wants Daymon to conduct in-store product demonstrations — fees that smaller companies say they can't afford.
The second complaint is that this setup hurts brands' reach. It imperils the relationships many of them have with for-hire brokers who help ensure their products' visibility, not just at Whole Foods but at grocery stores all over the country. (Brokers' role will be filled by Daymon.) Also, if they want new products in stores, it's now decided by Whole Foods' corporate mother ship in Austin, rather than case by case in regional offices.
Whole Foods hasn't explained why it's doing any of this yet, but as CNBC points out, the switch means more data. By centralizing inventory management, Amazon will have control over every aspect of the grocery-selling process after items arrive in Whole Foods stores.