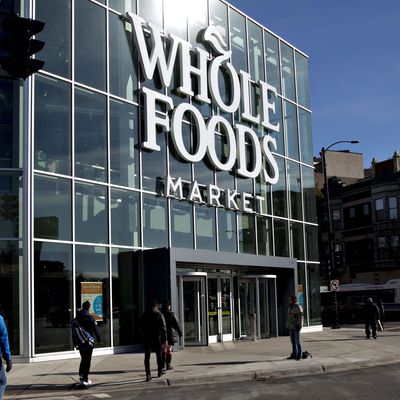 Surely it will apply to organic avocados.
Photo: Daniel Acker/Bloomberg via Getty Images
As Amazon and Whole Foods continue merging into a single, e-organic mass, it's left layoffs, tears, and more than a few Alexas in the wake. But there's at least one group that this union will undeniably benefit: Amazon's Prime members. Already, Whole Foods has dangled 5 percent cash back on all groceries purchased with the Prime Visa rewards card, discount roses for Valentine's Day, and a steal of a Thanksgiving turkey deal.
Now, CNBC has noticed two signs at a store in Austin — Whole Foods' headquarters — advertising a particularly new perk for shoppers who are also members of Amazon's perks program:
One floor-stand sign says that Prime members save an extra 10 percent off "hundreds of sale prices." The other, marked "Prime Member Deals," informs account holders: "Blue signs mean special deals just for you. Yes, you."
Whole Foods claims that the discounts "are not official," and CNBC adds that the signs themselves appeared in the store late Wednesday, but were MIA the next morning. "We're not testing this offer at any of our stores," Whole Foods also tells CNBC. So it's unclear what the point here was, actually, but given the proximity to the corporate offices, a good bet is that Whole Foods is about to start trialing these discounts.