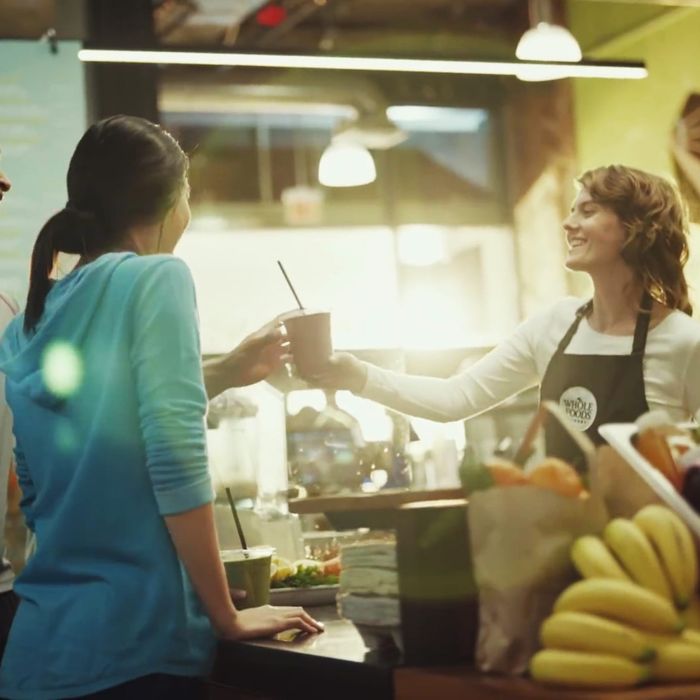 A still from a national ad, which you'll probably be seeing a lot more of.
Photo: Whole Foods Market via YouTube
March will not be remembered as the month inner turmoil finally improved at Whole Foods. The vendors have started revolting; old executives are fleeing, claiming that their new e-commerce overlord isn't even trying to communicate future plans for the chain; and today comes word that those departed employees are about to have company: The grocery chain has reportedly just eliminated a number of jobs in both its marketing and graphic-design departments, saying it needs to "better align staffing" to "support the needs of the business."
It's unclear exactly how many jobs got cut, but the layoffs are companywide, and theoretically affect at least one position at every store. The announcement was made yesterday, via conference calls at the regional-branch level. Business Insider heard a recording of the call the Northeast president made; leadership reportedly did some number-crunching and realized that various local or regional tasks were redundant. Axed jobs include stores' in-house graphic artists, plus all of the regional-marketing positions below associate coordinator.
Employees will get two weeks' severance for every year they've been with the company, but Business Insider reports that graphic artists will have to stick around until July 2, as Whole Foods is apparently "not yet ready to replace its signage."
The company tried softening the blow by saying publicly, through a rep, that this decision "was not made lightly," and that it will work "closely" with "impacted" employees who haven't had enough yet and still want jobs at Whole Foods. Odds are good that there are openings for more shelf-stockers, so long as these workers don't mind crying on the job.