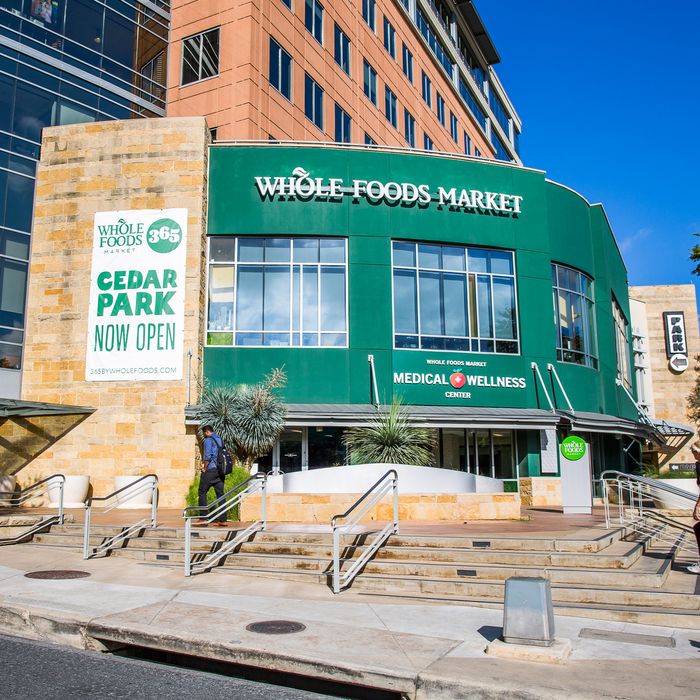 It's been a "rough start" for the crew down in Austin.
Photo: Drew Anthony Smith/Getty Images
The Wall Street Journal reports today that top-level Whole Foods brass have started to abandon ship. Since Amazon's acquisition last summer, at least 12 executives and senior managers have reportedly called it quits. That exodus includes the people who oversee Whole Foods' bakery, produce, sustainability, and local-foods divisions, many of whom reportedly "bristled" at having to answer to the Seattle tech company's young execs.
Sources also tell the Journal that the former execs complained that Amazon kept them in the dark about pretty much everything, from the full plan up its sleeve for integrating Whole Foods to how it proposed fixing the grocer's laundry list of problems. They describe Amazon as "insular" (CEO John Mackey reportedly forced a retreat on staff for the purposes of meditating on "Amazon's higher purpose"), and one recently departed executive just leaves it at, "Culturally it's been a rough start."
Depending whom you talk to, the departures of so many veteran high-level employees could either erase Whole Foods' institutional memory of the old, carefully crafted human touch, or clean out the people responsible for a number of the grocery chain's recent foibles. The assumption that Whole Foods' recent mishaps with inventory and vendors are Amazon's doing isn't necessarily one that workers themselves agree with (the changes were instituted pre-Amazon, though they still say that their new boss is sorta screwing the pooch on resolving these issues). Whatever the case, the sudden staff vacancies raise concerns that Whole Foods' corporate office will ultimately end up stuffed with Amazon loyalists, whether Amazon intended on doing that or not.
Steve Kessel, Amazon's executive overseeing Whole Foods, and Mackey tell the Journal in separate statements that this is silly hearsay and that there's no bad blood. Both sides are "off to a great start" and "look forward to many years of future success together," claims Kessel, while Mackey, who's described the buyout as falling in "love at first sight," assures the paper that his team has "maintained our distinctive culture while embracing many of Amazon's leadership principles."