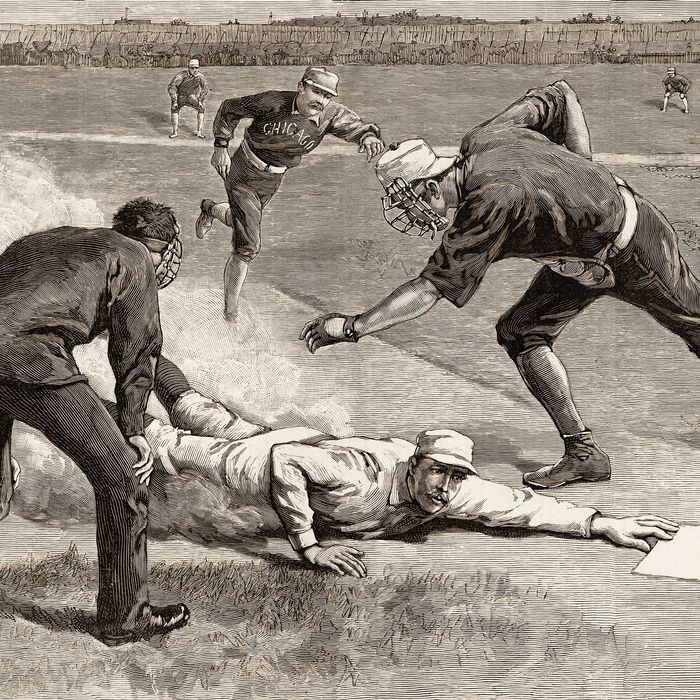 It's always a great day to take the afternoon off.
Photo: Getty Images
Spring is really, actually here, and that means baseball is here, too. Tomorrow is Opening Day for Major League Baseball — the earliest in the league's history — and that means you should make some plans to skip out on work (or school?) and catch the first games of the year. For New York's teams, the Mets will host the Cardinals at Citi Field at 1 p.m., and the Yankees start their season in Toronto with a 3:30 game. Every other team in the league will play at some point, too, and you'll find plenty of fans at bars all over the city. Here are 15 Grub-approved spots where you can take in the action.
Standings
Among New York's best sports bars, this East Village staple still tops the list, especially because it always shows games with the sound on, as the sports gods intended. On Thursday, it also has free hot dogs to go with the always-excellent list of rotating draft beers.
Shorty's
This Philly-centric chain of bars plans on having all the games on (including, of course, the Phillies, who will host the Braves) in honor of Opening Day as well as its usual lunch specials (read: cheesesteak).
Kettle of Fish
When not hosting Packers fans or boasting its status as a favorite haunt of Jack Kerouac, this Greenwich Village bar is always a reliable place to catch a game in relative comfort. Stop by starting at 3 p.m. to grab a sofa or barstool and watch Opening Day games.
Blondies Sports
On the Upper West Side, you're not going to do much better than Blondies Sports for Opening Day. Grab a seat in front of one of its myriad of TVs, settle in, and order a basket of wings.
Stan's Sports Bar
True Yankees fans know that you have to head to the Bronx on Opening Day — even if the actual team will be in Canada to face the Blue Jays. So swing by this longtime Yankees fan bar instead.
McFadden's Citi Field
The Mets, however, will be in town. So get to Queens and drop by McFadden's at Citi Field. Doors open at 9 a.m. on Opening Day, so you can pregame the Mets' 1 p.m. game for a good four hours if you really want to go for it. Expect some sweet giveaways throughout the day, too.
Mikkeller
Another option for anyone who's Citi Field–bound is the very new Mikkeller Brewery that just opened at the stadium. The brewery's doors will open at 10 a.m. on Thursday and close 12 hours later, so there's plenty of time to stop by after work. (Better news: The bar is open to the public, so you won't have to worry about buying a ticket to the game.)
Pine Box Rock Shop
North Brooklyn baseball fans can drop by this Bushwick bar (where, ahem, this Grub author hosts a weekly trivia night) starting at noon on Opening Day, where all the early games will be on. There will also be two beer specials: one featuring $4 Witte pints from the Baseball Hall of Fame–adjacent Brewery Ommegang and an $8 IPA tallboy and shot special featuring Finback Brewery from Queens.
Warren 77
If you're working in Fidi or Tribeca, take an extended lunch break and grab a day drink and a bite at what's perhaps the area's most stylish sports bar. Doors open at 11:30 a.m.
Brooklyn Pub
This self-professed "greatest pub in Brooklyn" is at the very least a great place to catch the Opening Day games across seven TV screens if you're in the Windsor Terrace, South Slope, or Sunset Park area. The neighborhood bar opens at 3 p.m.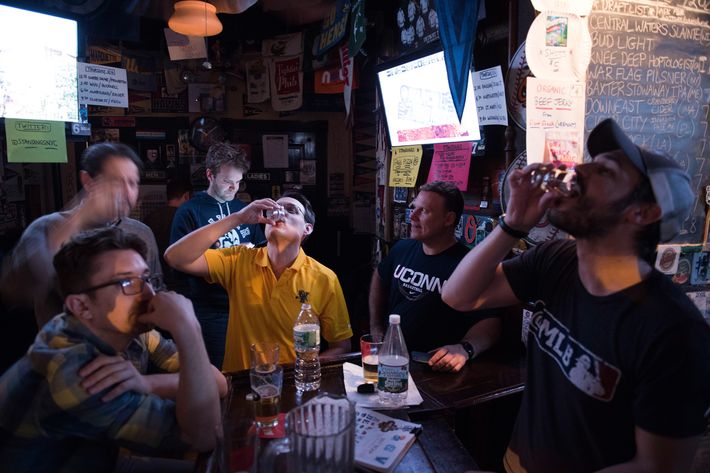 Finnerty's
San Francisco transplants looking for a place to root for the Giants can drop by New York's go-to Giants bar. The Giants take on the Dodgers at 7:30 p.m. (East Coast time), but the bar will give away Giants-themed prizes that it's keeping under wraps until game time.
Professor Thom's
Now that the Riviera is no more, Red Sox fans should know that the place to be on Opening Day is Professor Thom's in the East Village. The Sox take on the Rays starting at 4 p.m.
Rocky McBride's
Astorians who aren't looking to trek out to Flushing can worship at the altar of the Mets from this no-fuss, drink-special-heavy pub on 23rd Avenue. Then come back on Easter Sunday to sample its $8 Peeptinis.
Kelly's Sports Bar
If you ask the folks at Kelly's, they'll tell you that every other Cubs bar is a pretender. They're the original New York City Cubs bar, and they had that title before the team won the World Series. In any case, drop by on Thursday to watch the Cubs go toe-to-toe with the Marlins at 12:40 p.m. Doors open at noon.
Foley's NY
Finally, if you appreciate the history of the game as much as the game itself, then feel free to while away the afternoon at Foley's in midtown. Not only will it have the games on, but you can spend all of the commercial breaks taking in the bar's outsize collection of memorabilia.