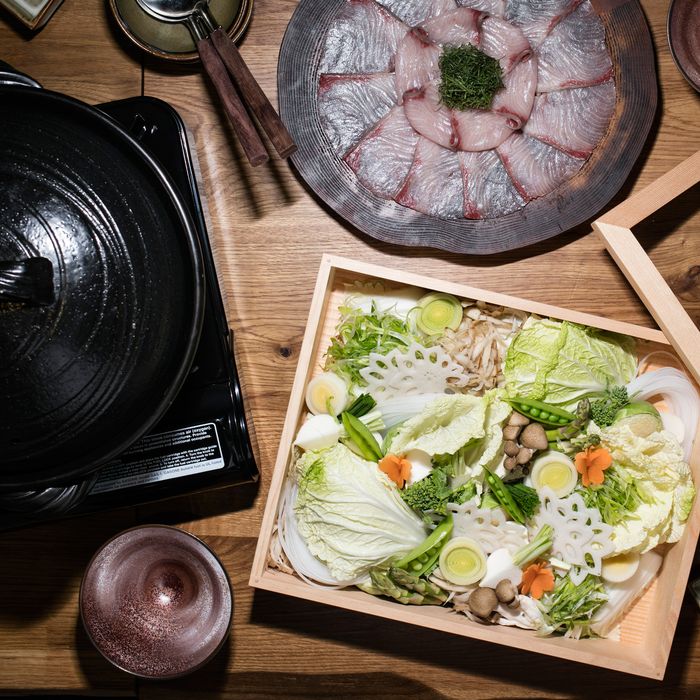 Mifune's shabu shabu.
Photo: Melissa Hom
Every month in New York, there are a bewildering number of new dishes to eat, drinks to imbibe, and food-themed events to attend. Often, the hardest part is just figuring out what's really worth your limited time. So Grub kicks off each month with a curated collection of dishes, drinks, and events that should absolutely be on your agenda. Make your plans now.
1. Get fancy shabu shabu with a few friends.
Hot-pot omakase? Upscale Japanese restaurant Mifune has debuted a shabu shabu tasting menu, joining Cocoron spinoff Macaron Shabu Shabu in offering a very high-end version of the festive meal. At Mifune, the $80 dinner will feature three courses leading up to the main show: Five seasonal amuse-bouches like crab mousse and monkfish liver with firefly squid, five sashimi such as sea bream and scallop, and a washugyu filet mignon. The hot pot itself is a bonito broth, served with wild Amberjack, burdock, leek, carrot, noodles, and more. It's followed by the restaurant's Japanese-style risotto (have to get that starch) and a refreshing shiso sherbet.
2. Eat at New York's newest pho specialist.
Pho fans have flocked to Hanoi House and Madame Vo in the East Village, and now Queens has its own notable house of pho in Pho Metro. Though removed from the buzz of Flushing, it was humming (if not filled) on a recent Friday. For good reason: Metro serves good pho, and four styles. The anise comes through clearly in the pho dac biet's ($8.50) sweeter broth; the ribbons of tendon are chewy and the thin, leaner meat is properly pink. The pho ga's ($8) chicken broth is appropriately soothing, and the cooks clearly can grill as evidenced by the charred, tender beef wrapped around cigars of lemongrass ($8.50) and the barbecue pork in the bun thit nuong ($8). A liquor license is currently pending, but the young people running the show are eager and excited.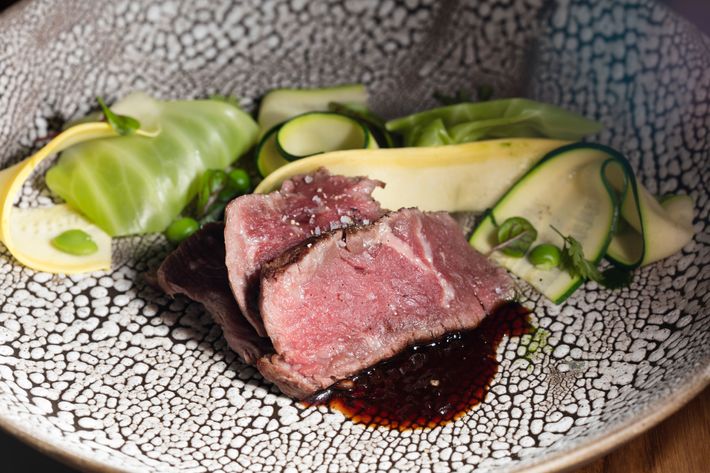 3. Hit Atla's new late-night hours
It's no secret that Atla is a great place to eat: Adam Platt named it his Best New Restaurant, and the Underground Gourmet just detailed the café's first tacos. And now Enrique Olvera and Daniela Soto-Innes give us another excuse to go: a new late-night service from Thursday through Saturday. That means, also, new drinks (all $16) from beverage director Yana Volfson, like the ExPresO Martini (vodka or mezcal, Licor 43, Montenegro, Tun Daja) and Face Plant (sotol, green chartreuse, Velvet Falernum, cucumber, and lime). Closing time is 2 a.m., plenty of time for a few drinks.
4. Listen to Dave Chang talk about his new Netflix show.
Momofuku man Dave Chang has a new show on Netflix called Ugly Delicious, so it's only natural he'll drop by the 92nd Street Y this month. On March 6 at 8 p.m. ($35, there are still plenty of tickets left) the chef will talk with Academy Award–winning director Morgan Neville and Eater NY editor Serena Dai to talk Viet-Cajun cuisine, Neapolitan pizza in Tokyo, and food's power to connect people. Somebody bring him Domino's!
5. Learn about the role of African-American cooks in the White House.
The role of African-Americans in American cuisine is sadly undervalued and often disregarded. If you're interested in this country's food history, you'll want to check out the Thursday, March 1, talk (tickets are $10 to $40) with the author Adrian Miller. Tomorrow from 6:30 p.m. to 8 p.m. at at the Mount Vernon Hotel Museum & Garden, Miller will explore the food workers, from chefs to servers, who have fed every president's family. He'll explore how their experiences relate and contributed to our food culture more broadly, and dishes like Samuel Fraunces onions the Brazilian way and Inauguration Punch will be served.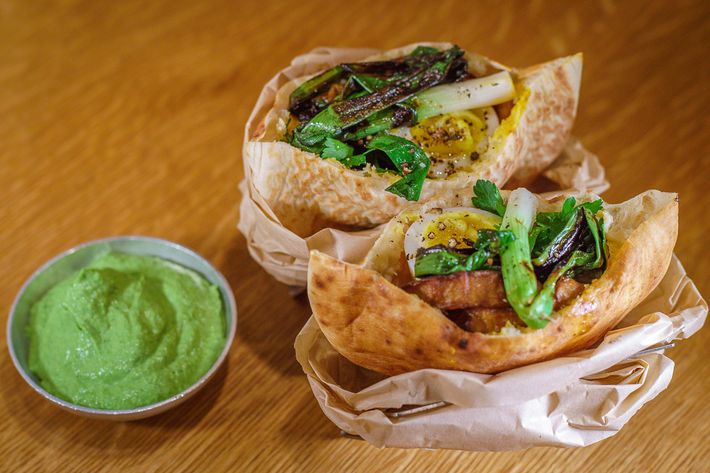 6. Eat an Israeli breakfast sandwich.
New Yorkers love breakfast sandwiches, but the one served during Nur's new brunch won't be your usual bacon, egg, and cheese. It's the Israeli classic called sabich, a pita traditionally stuffed with fried eggplant and hard-boiled egg. Here, it comes with tahini. Nur will start brunch on Saturday, March 10, when it'll roll out a $42 family-style meal sans menus and, incidentally, meat. Instead of taking orders, they'll pass out mezze like kubbeh nayeh herb salad, sabich with green tahini, a Jerusalem bagel with lima bean dip, and more. Along with brunch cocktails, they'll also serve Turkish coffee and a Moroccan tea service. Most seats will be reserved, so sign up.
7. Start your weekend with a Korean feast.
Over in the West Village, Korean ramyun restaurant Jeju will expand its brunch service to include Saturdays. For $45, you get a fixed meal of nine, evenly portioned dishes including pork bossam with Jeju romanesco sauce, bibimmyun with poached egg, egg custard with garlic olive oil, and fried chicken. There are no noodles, but you can always go back for dinner.
8. Take an ice cream class with one of New York's best.
It is March, which means that, in the not too distant future, the weather will be warm. Instead of just eating ice cream every week this summer, why not up your ice-cream-churning skills? On Thursday, March 15, at 7 p.m., Ample Hills founder Brian Smith will kick off his "masterclass series" (book it here, $110) with a lesson in all things peanut butter. During the PB Jamboree, you'll learn how to make Ample Hills' peanut butter cups and peanut butter ice cream. Essential skills, really, for any frozen-dairy freak.
9. Drop by an exciting new Filipino restaurant.
Scramble for the sisig! New Jersey restaurant Mama Fina's House of Filipino Sisig has expanded to the East Village. Located at 167 Avenue A, it serves traditional pork sisig as well as versions made with squid, tofu, and other proteins. The menu is rounded out by garlic fried rice, pork sisig sliders, lumpia Shanghai, and more. For those downtown looking to get their Filipino fix, it's an exciting new option.
10. Hang out with a Queens food writer as he talks about his new book.
Joe DiStefano has devoted the last 18 years, his entire writing career really, to covering the many cuisines of Queens. With the photographer Clay Williams, he's put his knowledge of his home borough to paper in The World's Borough: 111 Places in Queens That You Must Not Miss. On March 5, DiStefano and Williams will talk about the book and borough at drop by Brooklyn bakery Butter & Scotch, which will serve a special drink, the 7 Train Sling. (It's made with gin, Luxardo Amaretto, orange liqueur, pineapple, and lime, and costs $8.) On March 4, the two and their editor Karen Seiger will do an event at the Queens Museum where they'll talk about places featured in the book. Snacks will be provided by Dumpling Galaxy, Leo's Latticini, and Schmidt's Confectionery. Books will be available for purchase at both.
11. Have dinner at a Daniel alum's pop-up.
If you pay attention to pop-ups, you should recognize Oxalis. After showing up here and there in Brooklyn, Nico Russell (who worked at Daniel) will bring his food to Manhattan for March. It'll take over colors NY on Saturdays and Sundays, with four dinners ($95, tickets and walk-ins) of five to seven courses. As for what's on the menu, that's a secret. Menus don't get released until the night of, but the pop-up's Instagram recently teased some very nice-looking steak. In the past, Russell has served steamed cod with potato and buttermilk, charred cuttlefish with fennel and salted tomato; and caramelized whey mousse with summer fruits.