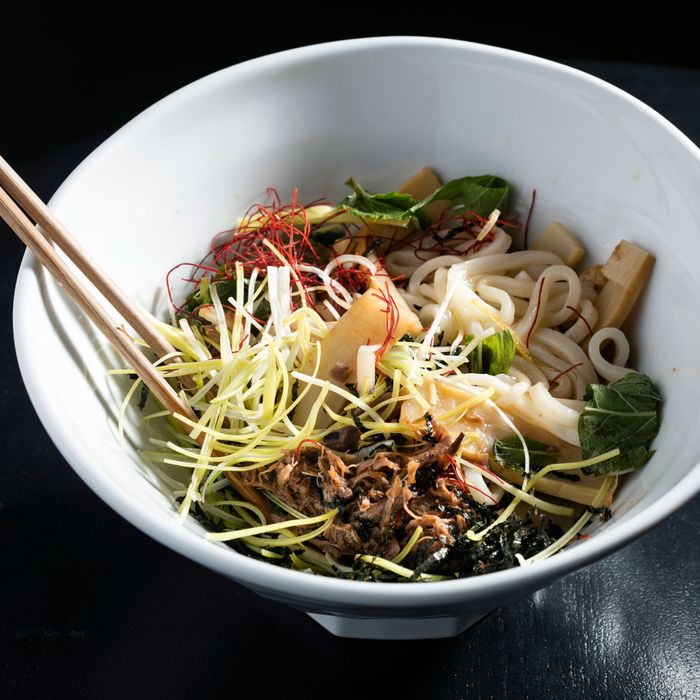 Karasu's lamb udon mazeman.
Photo: Melissa Hom
Every month in New York, there are a bewildering number of new dishes to eat, drinks to imbibe, and food-themed events to attend. Often, the hardest part is just figuring out what's really worth your limited time. So Grub kicks off each month with a curated collection of dishes, drinks, and events that should absolutely be on your agenda. Make your plans now.
1. Drop by Llama Inn for its new Japanese-Peruvian tasting menu.
Llama Inn serves Peruvian food unlike anywhere else in town, and starting April 10, chef Erik Ramirez will serve a Tuesday tasting menu inspired by Nikkei cuisine. Dubbed the "Mr. Roboto Tuesday Tasting" ($110), it's a seven-course dinner of Japanese-Peruvian-inspired dishes like toasted quinoa tofu with caviar and chancaca (a raw-sugar syrup), mackerel and octopus causa nigiri with potato purée subbing for rice, and miso with banana and algarrobina (black carob).
2. Head to Karasu for udon noodles with lamb ragu.
Fort Greene's Karasu offers a lot of reasons for you to come back, and with a new spring menu they've given you a few more. To start, there's a ruddy-looking red miso soup ($6) and chirashizushi ($22), with salmon and pickled vegetables among other things. If you're in the mood for noodles, there's a lamb mazeman with chewy udon noodles ($22), lamb ragu, and fresh mint and shiso. Pair it with the tart and refreshing Hawkeye Highball, made with Japanese whiskey and house green-apple soda. During happy hour, it's only $7 and otherwise it's $14.
3. Or eat mushroom pho at New York's best Vietnamese restaurant.
The East Village's Hanoi House serves the best Vietnamese food in town, but chef John Nguyen never stops cooking up new dishes. Now, for his fans who love soup but are veg-heads, he's offering a nontraditional, meat-free pho ($15) with a dried kombu seaweed and mushroom broth. Seasoned traditionally, it's served with yet more mushrooms (yellow oyster, shiitake, and shimego), morning glory, and the usual rice noodles. Speaking of noodles, Ichiran has brought its solitary ramen eating chambers to Manhattan with a new location at 132 West 31st Street.
4. Have a drink, eat an egg roll, and buy some pastries — all for good causes.
Every Monday in April, the Standard's Narcbar will be taken over by a different Brooklyn bar. Each will serve its own drinks, set the tone with its own playlist, and — most important here — a donation will be made to the ACLU. First up is Honey's, followed by Dirty Precious, Mood Ring, Jupiter Disco, and, finally, Doris. Drinks for all are still being planned, but Honey's Arley Marks will serve ones like the Kvass Kollins (oak-barrel-aged gin, house kvass, aquafaba, lemon, honey, and an edible straw). Pinch Chinese will launch its own monthly chef collaboration series, and to kick it off they've teamed up with Matt Hyland for a sampler platter ($18) of egg rolls that riff on Emily's Colony pizza (pepperoni, pickled chili, and honey with marinara dipping sauce); pan-fried dumplings with bacon, kimchee, sesame, and miso queso; and clam rangoons that are fried, stuffed, and with Calabrian chili. All proceeds will go to City Harvest. Lastly, at Cafe Altro Paradiso, pastry chef Natasha Pickowicz will host her second annual bake sale benefiting Planned Parenthood with all the participants from last year (Superiority Burger, Le Coucou, etc.) along with lots of new ones like Atla, King, and Mah-ze-Dahr. Great sweets for a great cause, what's not to like?
5. Feast on pork at Elmhurst's most exciting new Thai restaurant.
Elmhurst's Thai Town is still as hot as the spiciest larb. The latest addition to the neighborhood's scene is Lamoon, the neighborhood's only restaurant dedicated to the cuisine of Chiang Mai. It takes over what was the home of Ploy Thai, and the owners given the space new life and lots of color. The murals on the wall evoke Brooklyn's Ugly Baby, though not at all in a derivative way. Dishes tend to be pork-centric, like the aromatically seasoned ground pork sausage called sai aua ($12) and khao jun jin, rice with ground pork, pork blood, and chili ($7).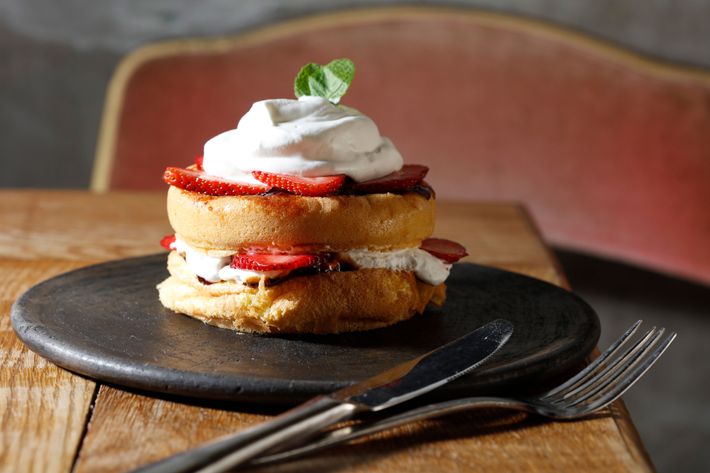 6. Have a Oaxacan brunch in Brooklyn.
The brunch boom is not over. Ever-more restaurants serve brunches that are actually interesting, and the latest to do so is Gowanus's Claro. It will keep its Oaxacan focus in the morning, bringing dishes like its memelas (one with chorizo and egg for $13; another with wild mushrooms and goat cheese crema for $17) to the a.m. There are also some newer additions, like chilaquiles ($16) — de rigueur, but they're the breakfast of champions — and shrimp tamales ($17). Also on the menu is marquesota ($9), a dry bread often used for dipping and here served with pasilla jelly and crema.
7. Learn about the late, great writer Edna Lewis's legacy.
Edna Lewis was one of the 20th century's most important chefs and food writers, who fought for recognition of the fundamental contributions of black cooks to American cuisine. On April 17 at the 92nd Street Y ($29; tickets here), Washington Post food editor Joe Yonan, acclaimed Savannah chef Mashama Bailey, and the National Conference of State Legislatures' Nina Mbengue-Williams will talk with writer Sarah B. Franklin about their experiences with Lewis and her lasting contributions to American food culture.
8. Have a roast pork sandwich at a new Brooklyn deli.
A new arrival to Bushwick, Carmenta's looks like a parm descendant with a cleaner aesthetic tailored for the age of Instagram. (See the neon sign in the shape of an eggplant emoji.) The space feels a bit sparse with its high ceilings, white tile floor, and uncluttered shelves. But the food, or at least some of it, is promising: There's the requisite combo and a meatball parm, but also the roast pork sandwich that Philadelphians lust over. The sandwich is so oily its wrapper, after a short walk, will be slick, but the meat is moist, there are quarter-moons of cherry peppers, and the bitterness of the broccoli rabe and nuttiness of the aged provolone play very nicely together. Along with the sandwiches, there are a few homemade pastas as well as sides like arancini and pickled eggplant.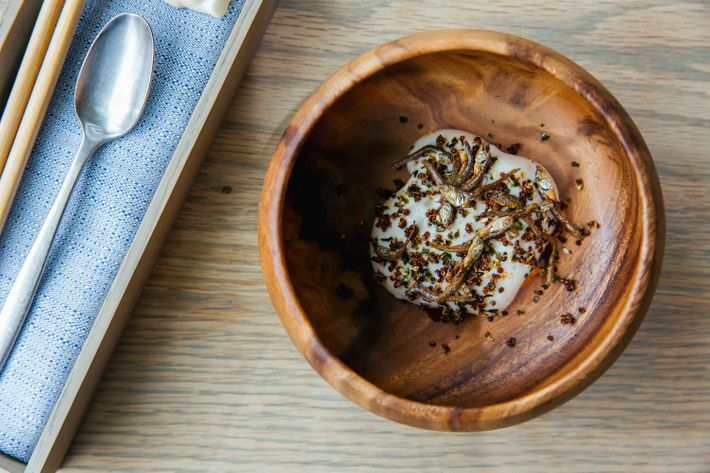 9. Go to a crawfish boil run by a pitmaster from the famous Ubon's BBQ.
Just in time for, hopefully, warming weather, the outdoor Gowanus barbecue spot Pig Beach will host its first crawfish boil on April 28 and April 29. The mudbugs will be brought straight from Mississippi by Craig Verhage of the famous Ubon's BBQ, who will prepare them in water with beer, aromatics, potatoes, corn, and sausage. The $30 ticket will get you a pound of crawfish, seasoned after cooking, along with with potatoes, corn, and sausage. Picnic tables for parties of ten are available for $300, and reservations can be made by emailing info@pigbeachnyc.com.
10. Have lunch at New York's latest fancy food court.
Outdoor market operators Urbanspace have now opened their second permanent indoor food hall. Also located in Midtown East, Urbanspace at 570 Lex features some vendors from their Vanderbilt food hall (like Bushwick pizzeria Roberta's, Ippudo spin-off Kuro-Obi, and Japanese-inspired tacos stand Takumi) but most are, actually, fresh. Rockaway Clam Bar has brought its fried shellfish from the beach, Trapizzino is now serving its sandwich pockets to suits, and Bao by Kaya has found its first permanent home for its cow bao and popcorn chicken.
11. Check out a fancy new cocktail bar in Chinatown.
Move over, the Aviary? In Chinatown, Stray Light has opened under combination izakaya and omakase sushi counter Juku. The drinks are heady and also expensive (running from $15 to $27) and include the Miyata ($15; Strawberry Campari, lemon, and soda water) and the White Geisha ($16; gin, sushi rice, myoga, Cointreau, banane, and sesame). The staircase down glows bubble-gum pink, and the actual bar reads like what you might imagine the Vermont lodge of an eccentric, stained-glass-loving millionaire — maybe one who had a youthful penchant for psychedelics — would like.
12. Have a beer at a new German bar downtown.
What was Spritzer's Corner is now the remodeled and slightly different Grünhaus. There're still communal tables and tons of beer (a rotating selection of 30 on tap, plus bottles and cans) to drink at them. But while Spritzer's was a gastropub, there's more of a German bent here à la Williamsburg's Spritzenhaus. That means out with burgers and in with the sausages ($9–$13), in varieties like krainerwurst and buffalo, plus sides like Belgian fries ($6) and soft pretzels ($4).