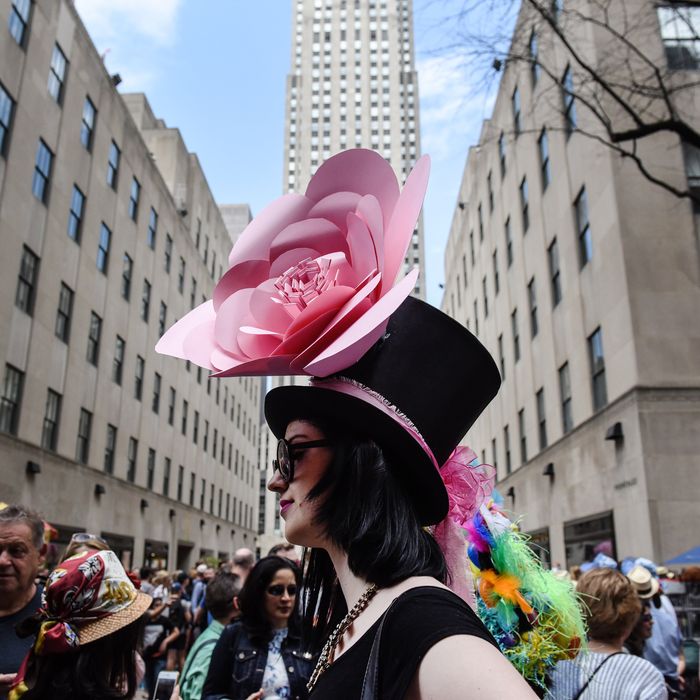 Fashion!
Photo: Stephanie Keith/Getty Images
Events to check out this weekend, March 29 to April 1.
1. Dance, then drink. Or the other way around.
Tell the world "I'm sophisticated but also like to have fun" by hitting one of three Despacio parties at the Knockdown Center today through Saturday. It's eight hours of vinyl-only tunes DJ'd by James Murphy and Soulwax's David and Stephen Dewaele. When you get thirsty, the Four Horsemen will also be on deck, serving up natural wines.
2. Check out a new venue with the help of Mura Masa.
This week, new music spot Sony Hall was unveiled in the former Diamond Horseshoe (home of Queen of the Night). The bathroom still glows purple and opulent fixtures are intact, with a new disco ball to make it all glitter when you dance this Friday night to a DJ set by producer and multi-instrumentalist Mura Masa.
3. Laugh for a cause.
Tonight Never Again: A Night to Benefit Stoneman Douglas High School brings together comics and entertainers, including Mike Birbiglia, Lena Hall, Seth Herzog, Michelle Buteau, Jo Firestone, Dave Hill, and more. It was rescheduled due to weather, so here's another chance if you missed it the first time around.
4. Then try not to get fooled.
The April Fool's Comedy Show actually happens on Saturday, March 31, that's how you know it's not a mean prank. Head to the Hulu Theater at Madison Square Garden (yep, that's the theater's new name) for a lineup including Mike Epps, Tony Rock, George Wallace, and Jay Pharoah. There are two shows, at 7 and 10:45 p.m.
5. See life reflected in a new photograph show.
Being: New Photography 2018 at MoMA is a stunning collection of works by 17 up-and-comers, focusing on perception and personhood.
6. Explore human connections in a seven-and-a-half-hour play that feels like much less. (Really.)
Tony Kushner's Angels in America is back on Broadway, 25 years after it first opened in New York. Under the direction of Marianne Elliott in a production originating at London's National Theatre, it's a star-studded affair, with Nathan Lane, Andrew Garfield, and Lee Pace in lead roles. It's also magnificent, and invigorating. (And, you should know, it's performed in two parts: You can choose days where one part is performed, or days where the first part is performed as a matinee, and the second part is performed in the evening.)
7. Check out some sweet rides.
Beginning tomorrow and running through April 8, the New York International Auto show at the Javits Center brings together automobile-lovers, open-road dreamers, and people who just want to Instagram themselves in front of a cool car. Featuring four floors of the newest vehicles, including futuristic concepts. Trippy!
8. Stuff your face with something delicious at Smorgasburg.
Spring means Smorgasburg, and this weekend the outdoor markets in Williamsburg and Prospect Park are open, with some new vendors in the mix. Show up for Japanese shaved ice from Bonsai Kakigori, donburi bowls from Yoshimoto Fish Company, deep-fried cookie dough courtesy of Big Mozz and DO, as well as herb-slathered grilled lobster from Lobsterdamus, who this year is making the trek from Los Angeles.
9. Don your best bonnet for the Easter Parade.
On Sunday around 10 a.m., the city's most sartorially savvy converge on Fifth Avenue, marching uptown from 49th to 57th street while showing off boldly designed headwear. The best spot for watching is somewhere around St. Patrick's Cathedral, but it's much more fun to glue some Peeps to a hat and join in.
10. Then take it to an Easter Drag Brunch.
Narcbar in the Standard East Village hosts a Drag Bunny Bingo Brunch on Sunday, with queens, dance, and food by Narcissa's John Fraser. There are two seatings at noon and 3 p.m. And if you happen to be around Bryant Park on Friday and Saturday at noon, Kreuther Handcrafted Chocolate will be hiding eggs filled with special prizes throughout the area. But only one person will find the egg with a golden ticket — redeemable for a dinner for two at the Michelin-starred Gabriel Kreuther. Good luck!