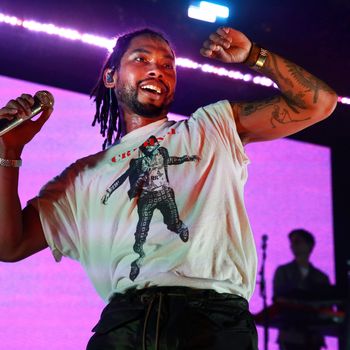 Spend a night with Miguel.
Photo: Matthew J. Lee/Boston Globe via Getty Images
Events to check out this weekend, March 22 to 25.
1. Hear works from rising literary stars.
The 2018 Whiting Awards winners were announced last night, and this evening at 6:30 p.m. you can hear all ten of them — Anne Boyer, Patty Yumi Cottrell, Nathan Alan Davis, Hansol Jung, Rickey Laurentiis, Antoinette Nwandu, Tommy Pico, Brontez Purnell, Esmé Weijun Wang, and Weike Wang — read at Housing Works, introduced by Alice Sola Kim, a Whiting 2016 fiction winner.
2. Get ready for some reads.
Haters Roast: The Shady Tour comes to Town Hall on Friday, featuring comedy queen contestants from RuPaul's Drag Race on the dais. There are two shows at 8 and 11:30.
3. Experience South African history through a play.
It's the final days for The Fall at St. Ann's Warehouse, which follows a cast of seven student leaders as they recount a tumultuous protest movement on the campus of the University of Cape Town. Shows go though Sunday.
4. Hear a discussion of decaying fruit. 
In the early to mid-'90s, artist Zoe Leonard saved her fruit peels, sewed them together, and displayed them in a Lower East Side studio, letting them decay in a meditation on the loss and mourning resulting from the AIDS epidemic. Strange Fruit is now on display in the Whitney as part of Leonard's retrospective, with a panel of speakers converging on Saturday to discuss its relevance today. The event will also be livestreamed.
5. Find some new art to love.  
The Affordable Art Fair takes over the Metropolitan Pavilion through Sunday, showcasing contemporary works from 300 local, national, and international artists with prices running from $100 to $10,000. Tickets are $10, with free admission Friday from 6 p.m. to 8 p.m.
6. Chill out with some chill tunes.
This Friday at Terminal 5, and Saturday at Brooklyn Steel, stay warm with the sultry R&B of Miguel. For something more psych-pop, MGMT are at the Kings Theater on Friday, and Brooklyn Steel on Sunday and Monday.
7. Get jazzy and spirited.
On Saturday, the NYC Craft Distillers Festival at the Bowery Hotel adds 1920s-style jazz bands to over 60 craft spirits from distillers like Widow Jane, Gin Lane 1751, and Cooperstown Distillery at the Bowery Hotel. Period wear is encouraged, but you'll probably be fine if you come armed with a good Charleston.
8. Drink some damn-good beer.
On Sunday, the culty Denmark-based Mikkeller Brewery opens its first East Coast location (and the first in the U.S. outside of San Diego), a 10,000-square-foot brewery, bar, and dining space attached to Citi Field, with 60 rotating taps to enjoy before or after a Citi Field event. Or during, if the event happens to be very disappointing.
9. Laugh at a Grammy-winning comedian.
Make that four-time Grammy-winning comedian. The great Weird Al Yankovic flexes his musical-satire muscles with two intimate nights of original music (no parodies), Thursday and Friday at the Apollo.
10. March for your life.
On Saturday, beginning at 11 a.m., there will be approximately 838 March for Our Lives events to end gun violence around the globe, including Manhattan's march — which kicks off at Central Park West and 72nd Street — and the Coney Island Anti Violence Collaborative March, happening on the boardwalk. Find events to attend and more information here.