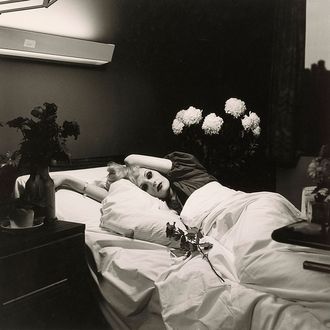 Candy Darling on her Deathbed
, 1973, gelatin silver print, collection of Ronay and Richard Menschel.
Photo: The Morgan Library & Museum/© Peter Hujar Archive, LLC, courtesy Pace/MacGill Gallery, New York and Fraenkel Gallery, San Francisco
Events to catch this weekend, March 15 to 18.
1. Celebrate St. Patrick's Day early.
Begin the festivities tonight with a free traditional and contemporary Irish music concert at St. Patrick's Cathedral. Tomorrow, head to Feinstein's/ 54 Below for ONE: The Songs of U2, by storyteller and Irish native Maxine Linehan, and on Saturday hit the parade, which begins at 11 a.m. and marches up Fifth Avenue to 80th street. Then, if you feel like it, find a pub.
2. Get a double dose of Hannibal Buress.
On Thursday night, you can conceivably catch comedian Hannibal Buress twice, if you plan correctly: alongside Hamilton's Alex Lacamoire, actress Emily Mortimer, and the Resistance Revival Chorus at Catie Lazarus's Employee of the Month comedy talk show at Gramercy Theater, and at the Highline Ballroom, at the Joe Budden–hosted Oh, What a Night! For more comedy this weekend, including the Kondabolu Brothers, and a live Las Culturistas podcast taping, see our roundup.
3. Hear a long-lost Kurt Weill children's ballet. 
Zaubernacht (Magic Night) was written when Kurt Weill was just 22 and left behind when he escaped Nazi Germany. It was later brought to America and bequeathed to Yale, where it was promptly misplaced for 50 years. This version, performed on Thursday and Sunday at the Museum of Jewish Heritage with the Knickerbocker Chamber Orchestra and choreography by the Jody Oberfelder Projects, interprets allegories with a modern twist.
4. See a modern play.
And one that's not. An Ordinary Muslim, the debut play by Hammaad Chaudry, is a potent work exploring family and cultural dramas of British-Pakistani Muslims, while Martin McDonagh's wickedly funny Hangmen follows a local celebrity hangman after he finds out his occupation has been abolished. Both shows close March 25.
5. Take a trip to Asia, without leaving New York.
From March 15 to 24 Asia Week celebrates Asian art through talks, auctions, and exhibits at over 60 locations. And at Vanderbilt Hall in Grand Central Terminal the free Japan Week, presented by the Japan National Tourism Organization, runs through Saturday. It features culture, food, and this year 3-D trick art, or large-scale interactive works.
6. Travel internationally through film.
Starting tonight and running until March 25, the Queens World Film Festival brings works from 36 nations to the Museum of the Moving Image and Kaufman Astoria Studios, along with panels and educational initiatives. The MoMI also co-presents two screenings: Thank You and Goodnight with director Jan Oxenberg present and After Louie with director Vincent Gagliostro in person.
7. Experience history through the works of a Lower East Side chronicler.
Photographer Peter Hujar never achieved the notoriety of his contemporary Robert Mapplethorpe, but his works depicting the gay LES were prolific and profound. See this traveling retrospective at the Morgan Library, 30 years after his death from complications of AIDS.
8. Live your best life at a concert.
Learn a new skill, and catch a show on Friday when the House of Vans hosts skating workshops and skate-deck tutorials for women of all ages. Later in the evening, doors open to the public for a free show (with RSVP) by Bully. Over at the Barclays Center that night, DJ Khaled takes the stage with Demi Lovato, so drink your almond milk, and get ready to be inspired.
9. Pretend you're Joe Pesci in My Cousin Vinny
Have an immersive dinner experience at Riverpark's Sunday Cinema film and food series, this weekend screening My Cousin Vinny with an accompanying meal of buffalo-milk burrata, shrimp-and-grits scampi, and tiramisu ($55).
10. Spend your Sunday with meatballs and mac and cheese.
Sunday is the day for stuffing yourself, first at the Brooklyn Meatball Takedown happening from 2 p.m. to 4 p.m. at Brooklyn Bazaar, then at the Mac & Cheese Smackdown at the Brooklyn Expo Center, which offers two sessions from 2 p.m. to 8 p.m.