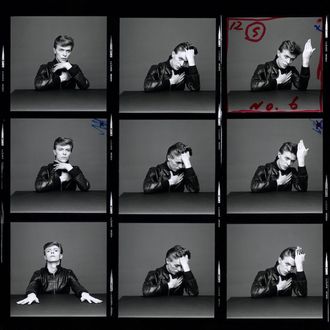 The Brooklyn Museum debuts its "David Bowie Is" exhibit this weekend.
Photo: Sukita/The David Bowie Archive
Check out these events to catch this weekend, March 1 to 4.
1. Happy Holi! Celebrate the Hindu spring festival at the James Beard House on Friday, when Junoon's Akshay Bhardwaj, Hemant Mathur from Sahib, and Navjot Arora from Chutney Masala in Irvington, New York, cook a meal full of traditional Indian flavors in honor of the festival of colors.
2. If you'd just rather drink in celebration, midtown's Rahi is offering the Rang Barse cocktail of pineapple juice, banana liquor, rum, coconut cream, and topped with a swirl of color food dyes, named after the famous Holi song.
3. This Saturday is the annual Philip Glass–curated Tibet House Benefit at Carnegie Hall, in support of preserving Tibetan culture. This year's performers include Glass, Patti Smith, Angel Olsen, Carly Simon, Stephin Merritt, and Blood Orange.
4. Tomorrow, the long-awaited exhibit "David Bowie Is" opens at the Brooklyn museum, organized from the artist's personal archive. Until March 4, nearby venue the Way Station will also offer Bowie-themed programming, from Bowie burlesque to Bowieoke, which is as fun to say as it is to do.
5. This weekend begins Her Story, Her Voice, four weeks of female performers for Women's History Month at the Iridium. Singer-songwriter Anna Nalick kicks it off with two shows tonight and tomorrow.
6. German singer and actress Ute Lemper is at Café Carlyle with Rendezvous with Marlene, based on a phone call she had with Marlene Dietrich in 1988.
7. At the Bell House on Friday, comedian Jen Kirkman tapes I Seem Fun; The Diary of Jen Kirkman Podcast. Who wouldn't want to hear someone's diary, live?
8. On Sunday, art-book delivery service [Reads] will host a Sichuan-inspired vegetarian dinner with author Jenny Zhang for her book Sour Heart at Magick City in Greenpoint. Co-hosted with Stet, a site dedicated to emerging writers, attendees will also receive a copy of Zhang's book.
9. The 16th year of the Orchid Show at the New York Botanical Garden begins on Saturday, featuring thousands of gorgeous specimens in a series of living sculptures by Daniel Ost, one of the world's leading floral artists.
10. And if you haven't heard, this Sunday is the Academy Awards. No matter who you're rooting for, we've got the party for you. Enjoy.