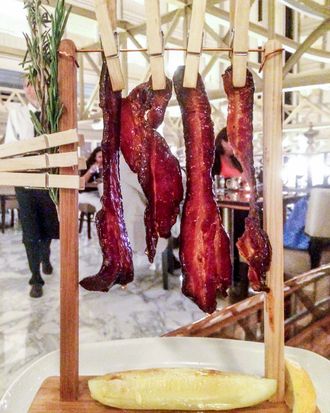 Why won't critics say nice things about this?!
Photo: The Washington Post/Getty Images
It could be because they choose to promote spoonfuls of wine, $125 buffets, objectively overcooked steak, and absurd "bacon towers" hung from a clothesline, but the Trump International Hotel's collection of restaurants and bars have somehow yet to impress D.C. food critics. The hotel's Benjamin Bar & Lounge and David Burke's outpost of BLT Prime opened in September of 2016, and hotel management is now complaining that media have either skipped them entirely, or have only written stories about the spots' supposed faux pas (or their litany of lawsuits).
Director of sales and marketing Patricia Tang tells the Washington Post's Tim Carman that the hotel's restaurant events can't even make the local papers' weekly events roundups. "Not just dessert night, but also cheese night, holiday events and other activities around the hotel," she says. Meanwhile, hotel managing director Mickael Damelincourt this week upped the ante by suggesting that a full-on media conspiracy is afoot. On Tuesday, he tweeted his outrage at being excluded from an Eater D.C. list of the city's best desserts:
Carman looked at how "excluded" the Trump Hotel actually is from the city's restaurant coverage: BLT Prime got a 2.5-star write-up from the Post's Tom Sietsema, but was ignored by pretty much everybody else, he notes. It definitely did not make the Washingtonian's 100 Very Best Restaurants list. (In fact, the magazine's critic Ann Limpert has never even filed an official review.) Also, no mention in Gayot's top ten D.C. restaurants or Yelp's best D.C. steakhouses. And neither BLT Prime nor the Benjamin Bar made Zagat's or the Post's rundowns of best desserts in the city.
Tang contends the reasons are "obvious": that journalists "are determined to attach us to the White House, even though we have nothing to do with it." Critics counter that D.C.'s dining scene is extremely competitive these days, and that it takes more than "yet another chain steakhouse in a hotel" and $100 Martinis to impress critics, regardless. Perhaps a new restaurant by José Andrés would have piqued food writers' interest a bit more?