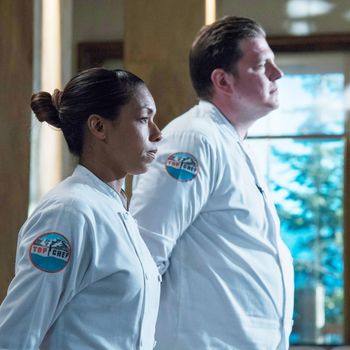 Tense.
Photo: Bravo/Paul Trantow/Bravo
Together, we have climbed the scenic mountains of Colorado, and we have forded its majestic streams, and in just a few short moments — sponsored by the equally majestic San Pellegrino — we will have ourselves a new Top Chef. That is the thing about Padma; she never breaks a promise.
Here to represent the South Side of Chicago: Adrienne Cheatham, who spent all season looking for her culinary voice, and has now found it! "I create elevated southern cuisine," she reflects. "Now that I know that and am confident and secure in that, it's going to take a lot to get in my way."
Also here to represent the South Side of Chicago: Joe Flamm, a longtime favorite except for the time he was briefly eliminated. But now he is back! "I'm ready to go, I'm ready to get in there, I'm ready to crush it!" he cries, the Braveheart of Italian cuisine. Whoever wins here tonight, the city of Chicago has clearly already won.
With the clouds fluttering ominously above Aspen, the warriors are summoned again to the mountain top, presumably to be sacrificed. "Let's go get bloody!" says Joe Flamm, as the drums of battle rattle in the middle distance.
Atop the mountain, Tom and Padma lay out the final challenge: create a four-course meal and then serve it side-by-side to a table of famous people. Speaking of famous people, here come all our old friends, back from the dead, like in a dream ballet. Even Alaska Laura is here! (I think.) Anyway, each chef gets to pick two non-winners as sous chefs. By knife draw, which is how decisions work in Colorado, Adrienne goes first. She picks Chris, for his Southern cooking. Joe Flamm takes Joe Sasto, for his pasta. Adrienne goes with Carrie, because she is "creative and fun to work with," and then Joe Flamm drafts Fatima, because she is "super-talented." No one even picked Alaska Laura! (I think.)
Adrienne explains her plan, which is to kick things off with a little spoon bread with sea urchin topped with a tuile, which is a net made from flour-water, but the twist is that she's never gotten it to work at altitude before. After that, she's envisioning charred octopus with black grits, and then a meat thing, and a banana-yuzu pudding to avoid baking at altitude.
"My version of Italian cuisine is layering flavors, reinforcing the flavors throughout, and taking food that looks simple but at the same time eats in a way that's really technique-heavy," says Joe Flamm, who will make Italian food. He'll open with reverse vitello tonnato — tuna crudo with veal aioli, and pasta, and also chewy brown sugar cake, and everyone nods enthusiastically. "I know for a fact Joe Sasto is in love with Joe Flamm," Fatima offers. "But I love Joe Flamm the most. If this is a competition of loving Joe Flamm, I win." (This is the most naked display of genuine affection I have ever seen on television, except for YouTube videos of corgis.)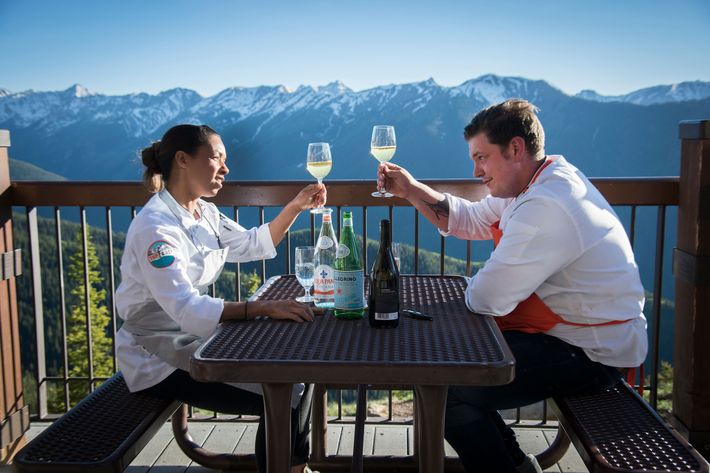 At Whole Foods, Joe Flamm comes in under budget but Adrienne is slightly over, so he picks up a few things on her behalf. "I know it's the finale but I'm not trying to beat anybody because they don't have their stuff," he says. "I'm going to win for my food or I'm going to go home for my food."
Would you buy a competitor her cornmeal? Truly, this show asks the big moral questions.
Back in the kitchen, Joe Flamm gets to work butchering his pig head. Did you know pig heads are almost always female? I didn't! This one is named Nora.
Somewhat less graphically, Adrienne gets to work on her spoon bread, and Carrie gets to work freaking out about the quality grits. "I'm terrified! Why do I have to cook the grits!" frets Carrie, cooking grits. "It's just grits," Adrienne reassures her. Meanwhile, Joe Sasto kneads gray-green pasta dough made with grano arso flour, and everyone agrees "that color is just fuckin' wild, bro!"
But oh, there is trouble atop the mountain. The first trouble is that Adrienne's tuiles are not tuiling, for reasons she cannot understand. The second trouble is that Joe Flamm's torta della nonna — which isn't really torta della nonna, by Italian standards, but is still a torta that a nonna could make, theoretically — tastes bad. "You've just got to make it taste better," advises Joe Sasto. Advice after my own nonna's heart.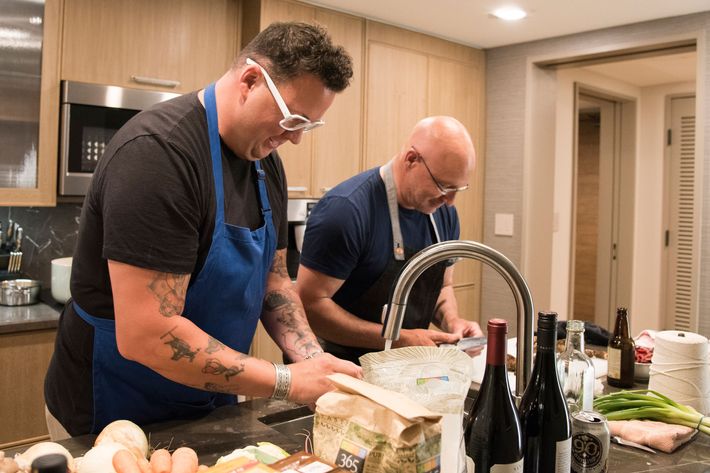 Joe and Adrienne head back to the ranch, where Tom and Graham Elliot have prepared a romantic dinner for the four of them. Surprise! "We felt like cooking," bubbles Tom, stuffing a bass. Over lamb T-bones, they offer pearls of wisdom, such as "taste everything" and "live in the moment." Having imparted such knowledge, Tom and Graham disappear into the hills.
As the sun rises over the snowcapped peaks, Adrienne gives her old mentor Eric Ripert a quick call to find out why her tuiles aren't working. "Did you whisk it in zee pan?" he asks, cheerily. She did not. "Ahhhhh, you have to whisk it!" This is usually the problem in my life, I find. Either that or seasonal depression.
On that note, let's cook! Joe Flamm's pig-head stock smells very piggy, but in a good way, and Adrienne's whisked tuiles finally work, just as Eric Ripert promised. To capture the overcooked spirit of most black-eyed peas, Adrienne decides to mash some of them, in honor of people who are less good at cooking than she is. Fatima is still struggling with Joe's grandma cake, on account of the altitude — in her defense, she was notably eliminated before the altitude-baking challenge — but there is no time to dwell on such uncertainties, because it's time for the first course.
A fleet of waiters newly freed from Downton present the options: Adrienne's spoonbread, sea urchin, and buttermilk dashi, topped with a sprinkle of ham, caviar, and a wheat tuile, versus Joe Flamm's "tonno vitellato," composed of raw tuna with veal aioli, smoked wagyu powder, and capers. "They're both stunning," raves Curtis Duffy, but it's Adrienne's "provocative" spoonbread-urchin combo the chefs can't stop talking about. "It's very sensual!" gushes Graham Elliot. "The spoonbread was so tender," marvels Tom. "Honestly, what she put together is a flavor combination I've never had before," offers Nilou Motamed, and I think it is safe to say we have all been forever changed by this experience.
Next up: Joe Flamm's grano arso tortellini stuffed with pig head, apple, black truffle, and served in braising-liquid broth, against Adrienne's blackened octopus with squid-ink grits and fennel chow-chow. "This is insane," sputters Tom, at a loss for words. Adrienne's octopus is "beautiful," if a little lacking in the fat department, but Joe's tortellini en brodo is a symphony of flavor.
"Day-um," Gail opines.
"Just perfect," Tom whispers.
"It really does look like river stones!" Jonathan Waxman offers.
Luckily, there are some (mild) issues with the meat course, so we still have things to talk about. "With Joe's dish, I was just torturing this meat," says Nilou Motamed, sawing at his roasted beef rib eye with roasted asparagus and smoked bone-marrow sauce. Then again, his asparagus "was magic," according to Gail, who would know. Not to be outdone, Adrienne's Cheerwine-braised short rib over black-eyed peas with ham hock and Cheerwine-bone marrow bordelaise is dry. (The problem is that she partially mashed her peas.)
Big news: Joe Flamm's grandma cake comes out totally fine, what with the blueberry thyme sauce and the chocolate shards and the whipped ricotta on bottom. Nancy Silverton says "Mmmmm." Is Adrienne's banana pudding with yuzu, banana spears, and vanilla wafers banana-y enough? Because Gail is really losing the banana.
Overlooking the mountains, Joe and Adrienne turn to alcohol.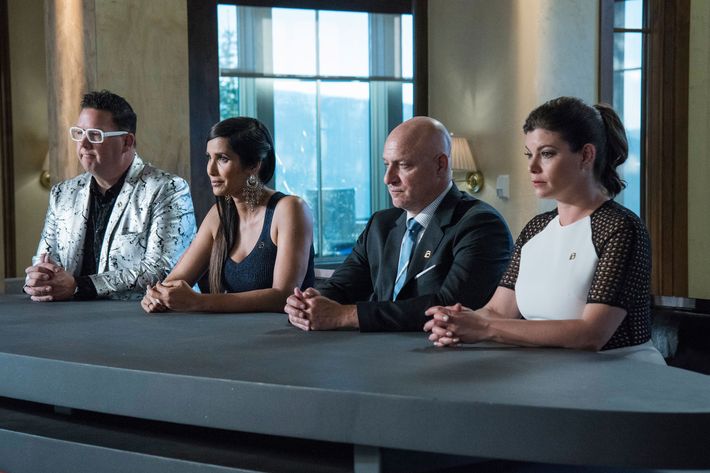 At last it's off to one last Judges' Table. "That first course of yours was probably the best thing I ate all season from anybody," Padma tells Adrienne, moved to tears by memories of her tuile. Gail says she is still thinking about Joe's pig broth. (I understand. I am also still thinking about my dinner tonight; it was noodles.)
"This was exciting!" says Tom, before launching into a monologue about the journey of a chef, or of a winner. "It's hard to say there's only one winner, because you're both winners," and he means it, is the thing. Padma will do the honors: in this particular case, the one actual winner is Joe Flamm. "Oooooooooooohhhhhh!" gasps Joe Flamm, bearishly.
"Would I have preferred to win? Yeah," says Adrienne, through the tears of mixed emotions. "But I have no regrets." And so together, strengthened by what we have witnessed here, back down the mountain we must go.