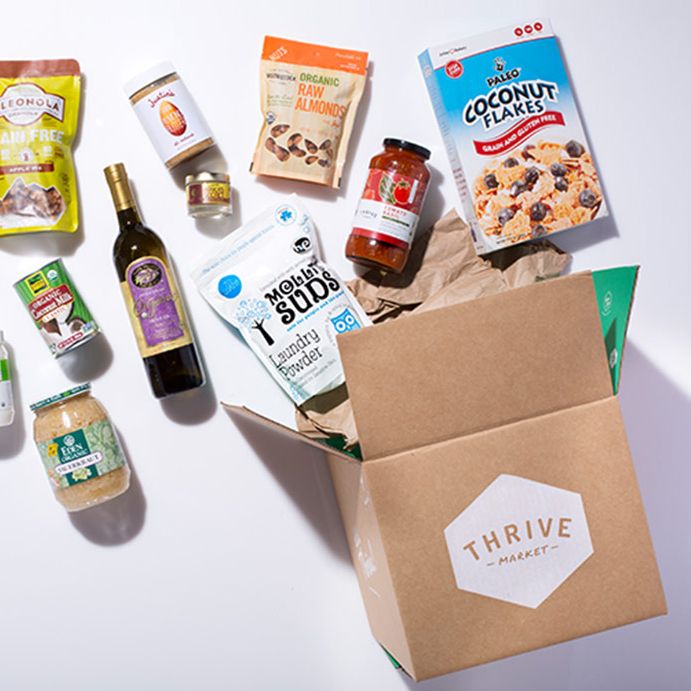 A box of Thrive's below-market goodies.
Photo: Thrive Market
So many food memberships exist these days, it's easy to lose track — you may or may not still be paying for Amazon Prime, Costco, Postmates Unlimited, Blue Apron, or a kimchee-of-the-month club. There's a new online-grocery start-up, however, called Thrive Market that's trying a new approach: By joining, they say, you will also help out families in need.
Consider Thrive the Toms of the food-delivery industry: For $60 a year, you can buy cheap food products from its online site that are all-natural and organic, and can cater to Paleo, vegan, and gluten-free diets. Every membership fee also subsidizes the full price of a second membership — which Thrive gives to someone in need. It partners with Feeding America, the United Way, and other nonprofits to identify low-income families; this allows the start-up to distribute the free memberships to hungry families living in food deserts. These people get a double whammy: On top of healthier food's higher costs, they often don't have a good grocery store around them anyway. Dinner often means a bag or box of something from the corner store, or whatever they can pick up in a drive-through on the way home.
With a Thrive membership, they can order things like pasta, spices, cooking oil, nuts, and canned vegetables at affordable prices, and have the box dropped off at their home. Customers also have the option to donate directly to these families at checkout. Thrive says it currently gets enough money this way to give stipends to more than 1,000 needy families each month.