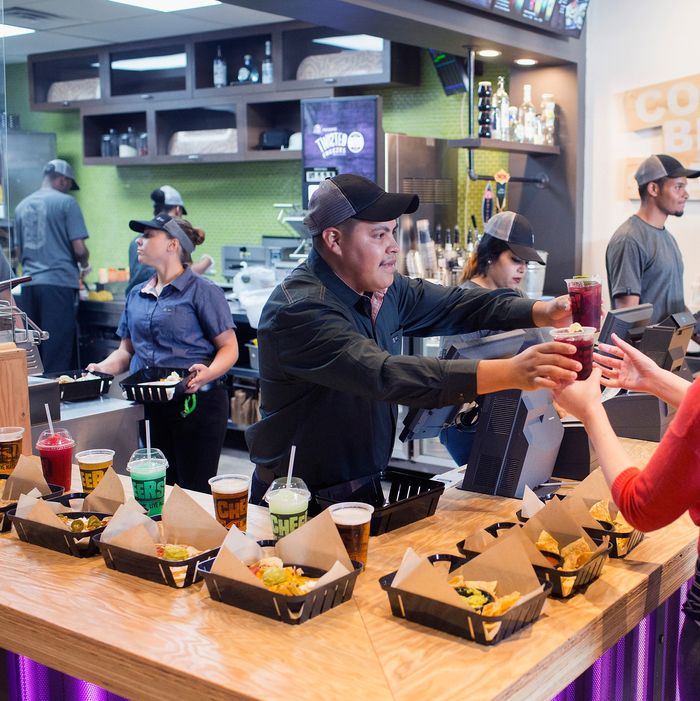 The company says that these benefits are now available on day one.
Photo: Scott Olson/Getty Images
You won't make a killing working at Taco Bell, but a job there just became a surprising college-financing plan. The chain has partnered with a higher-ed start-up called Guild Education to help all 210,000 Taco Bell workers at its 7,000 U.S. restaurants pay for tuition. The nationwide rollout follows a six-month trial run of the program at 700 locations, and Taco Bell says that during this brief period, more than 2,000 employees took advantage of the aid.
"When we surveyed our employees, education support was one of the top three things they asked for," Frank Tucker, the company's chief people officer, says in Taco Bell's press release. The educational barriers workers say they run into are "time, money, and support," and he adds that the Guild program "delivers on all of these needs." Under the program, employees can receive $5,250 per academic year for tuition, and access to their own personal college adviser. There are also tuition discounts that help reduce the cost of thousands of bachelor's and associate's degrees, online classes, and different certificates. (They even apply to some master's programs.)
In addition, Taco Bell throws out that all funds are "paid upfront so employees don't have any out-of-pocket costs." Taco Bell says this way, workers can spend the money on books and school supplies, too. Employees can also get college credit for on-the-job restaurant training, something the company says could save them up to an additional $5,000 a year.
Worker turnover is a problem right now for the chains (it's up by 150 percent, according to one recent survey), and Taco Bell's powers that be say that employees who got tuition assistance in the pilot program were 98 percent likely to be around six months later, versus 64 percent for workers not enrolled. Considering that the chain has very ambitious expansion plans in the works — supposedly, it will open 250 new restaurants this year alone, and add 100,000 more employees by 2022 — it's banking that this tuition-assistance perk is one way to "attract and retain top talent."