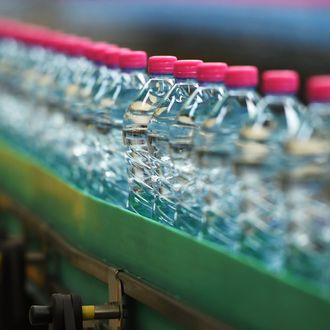 You can't even make an "Mmm, extra protein" joke here.
Photo: Sebastien Bozon/AFP/Getty Images
Startling news if you're pro-hydration: New evidence suggests that most of the world's bottled water could be contaminated with tiny bits of plastic. Orb Media, a nonprofit journalism outfit, asked scientists to test 11 top water brands in nine different countries; they say microplastics turned up in 93 percent of the samples, which included bottles from Dasani, Evian, Nestlé, Aquafina, and even San Pellegrino. The study's researchers say many of the particles appear to be seeping in right under the companies' noses at the factory.
They identified three main types of debris floating inside bottles: polypropylene, nylon, and polyethylene terephthalate. Coincidentally, those are materials used to make bottle caps. The lead researcher says these contaminants are almost certainly coming from "the industrial process of bottling the water," and adds that two-thirds of the pieces they collected in their samples were "actually fragments and not fibers." She says particle concentration reached as high as 10,000 parts per bottle in some cases.
What's unknown is whether these invaders pose an actual health risk. Microplastics taint all kinds of things we eat nowadays, especially if they're from the ocean, where disintegrated plastic bottles now help form multiple garbage patches the size of Texas. Previous studies even found that most tap water contains at least some microplastic, and scientists aren't exactly sure about the provenance.
This study's authors note that past research has also shown vague "connections" to pretty awful health effects, like higher odds of getting cancer, decreased sperm counts, and increased rates of conditions like ADHD, but the jury's obviously still out. Regardless the risk, it's still jarring to learn that plastic is in a fancy bottled water being sold under a tagline like "Nothing but pure refreshment" (Aquafina), "Pure life begins now" (Nestlé Pure Life), "The essence of purity" (Evian), or "The secret is in the Alps" (also Evian).
Orb Media's study is causing some alarm already: The World Health Organization announced today that it would open its own separate review into the potential risks of microplastics in drinking water, given the fact that almost everybody now gets a steady diet of them.