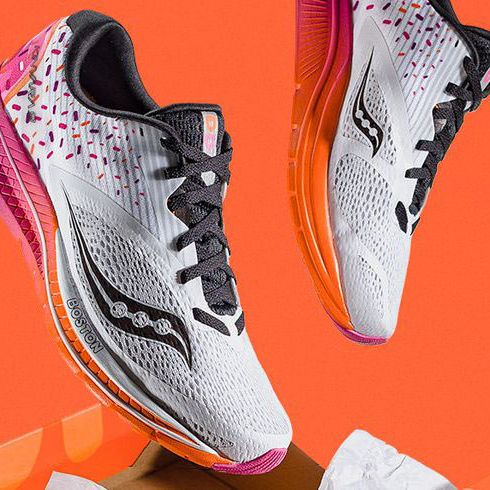 Wicked.
Photo: Courtesy of Saucony
This is absolutely the Most Boston Thing since Ben Affleck and his crew robbed Fenway in The Town. Massachusetts-based Saucony designs a new pair of sneakers each year for the Boston Marathon, and this year it's taken inspiration from the city's unofficial (but also very official) caffeine source: Dunkin' Donuts. (Yes, that was the sound of everyone in Boston collectively shouting, "Fack you and your fackin' Nikes.")
Using the Dunkin' color scheme, the shoes feature most of the essentials: hot and iced coffee, a pink frosted doughnut, and sprinkles. Granted, there's no Dunkaccino — huge oversight! — or Wake-Up Wrap. But, to ensure that no one is confused about where you stand, there is the chain's "America Runs on Dunkin'" slogan, and the Dunkin' logo on the shoe's tongue.
Which, great, but can somebody please send Gisele Bündchen and Tom Brady a couple pairs? Bündchen has very relatably outed herself as a Munchkin Enthusiast in a new WSJ. magazine profile, and all right, maybe this is just a way to mend ties with the town after Brady lost the Super Bowl. But the news was lent some credibility in that it was verified by writer Jason Gay, a noted Dunkin' superfan.