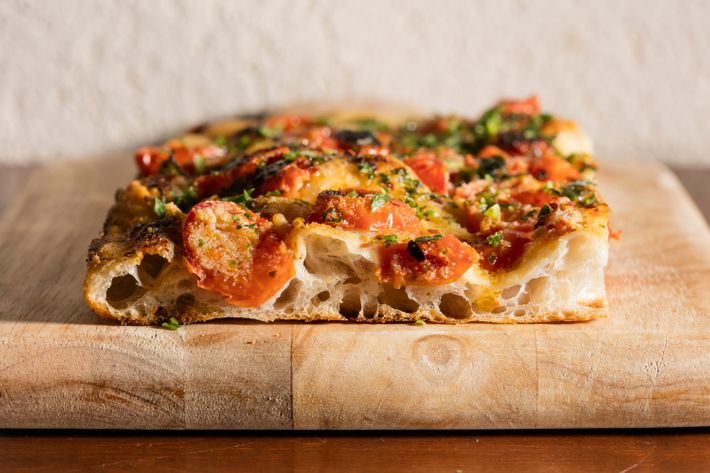 Despite the enduring Neapolitan-pie digression of the last 15 years or so, New Yorkers still like their pizza by the slice. They just do. No point in debating it. They like mobility. They like to eat pizza on the move like Tony Manero in Saturday Night Fever. Of course, they like sitting down to a whole pie every now and then, but if they had to choose between the two, if they had to decide one or the other for the rest of their lives, they'd take the slice every time. It's much the same situation in Rome, where the "regular," pizza al taglio, is a crisp rectangular pan-pie piece snipped with scissors and sold by weight (tagliare means to cut; al taglio means "by the piece"). Just like here, it's portable street food for the people eaten any time of day, and just like here, it varies widely in quality.
The most famous contemporary purveyor is Gabriele Bonci, whose masterful dough and inspired toppings have attracted the likes of Anthony Bourdain and the baker Pam Yung to his al taglio mecca Pizzarium, and who recently opened his first American outpost in Chicago.
Before there was Bonci, though, there was Angelo Iezzi, the man who revolutionized pizza dough and pizza-making by taking a contrarian, science-based approach to the status quo, and founded a school to spread the gospel. And at 6 p.m. tonight, Iezzi establishes a Stateside presence in Yorkville, where he has partnered up with San Matteo owner Fabio Casella to open the new pizza al taglio slice joint PQR.
Iezzi is little-known here, but regarded as a pioneer in his hometown, where he runs a popular pizzeria called Angelo & Simonetta and is the president of the Associazione Pizzerie Italiane, which has branches around the world. (It seems that anyone who's anyone in the world of Italian pizza is also the president of one pizza association or another and also the leader of a pizza school.) In a nutshell, Iezzi's dough-making breakthrough came when he discovered that long, cold fermentation combined with high hydration led to pizza that was easy to digest. It's hard to imagine today, but when he set about the practice in the late 1980s, he says, it was seen as outrageous and un-Italian and possibly dangerous: The local health department even tried to shut him down.
"He's one of the pizza gods," says Casella, who met Iezzi in Rome while searching for the ultimate pizza flour, in hopes of upgrading the dough at his two Upper East Side Neapolitan pizzerias. With Iezzi's input, Casella noticed an immediate improvement in the texture and digestibility of his pies. They were crisper, lighter, and more flavorful. He sent his nephew Raffaele Volpe to train with Iezzi, and when the apprentice returned, he asked his uncle to open a Roman pizza al taglio slice joint next.
PQR, short here for Pizza Quadrata Romana, is a narrow space with stools up front and a small dining room in the back. A display case holds between 8 and 12 variously topped pizzas a day, from a classic Margherita D.O.P. to one with grapes, goat cheese, and prosciutto. There's also an Amatriciana slice, and what talk on the street (or at least talk coming out of Casella's mouth) is saying will be a signature: a pizza plank split in half, stuffed with porchetta and topped with thinly sliced potatoes. In addition to the pizzas, which, unlike in Rome, will be sliced into uniform squares ($4.50 to $10) rather than sold by weight, there are fritti like potato croquettes and the rice balls called supplì; Casella expects his wine-and-beer license to arrive in a month.
Iezzi flew into town for the opening, and will be leaving a couple of deputies behind to run the show along with Raffaele Volpe. "Before [me] pizza was heavy and boring," Iezzi says, attributing his dough's delicately crisp crust and undulating hole structure to the methodology that's spelled out on a chalkboard behind the counter: "96 hours fermentation, 80% hydration, extra virgin olive oil, buon appetito."
Here's a look at some of the pies in the rotation.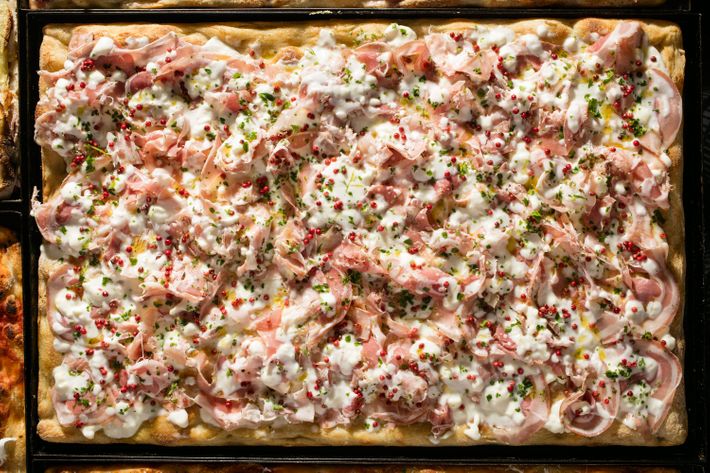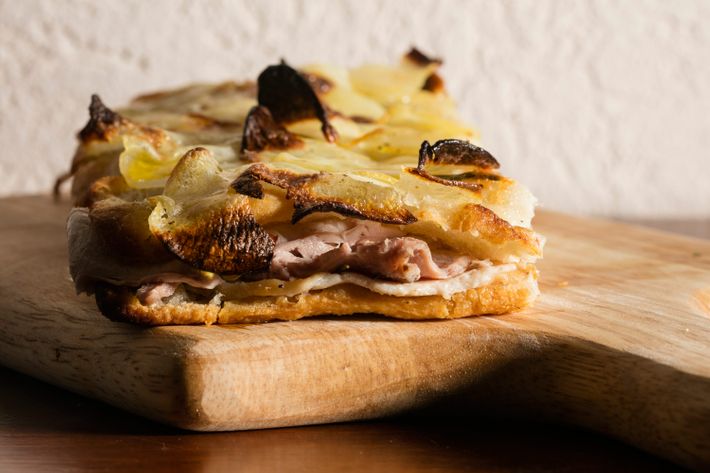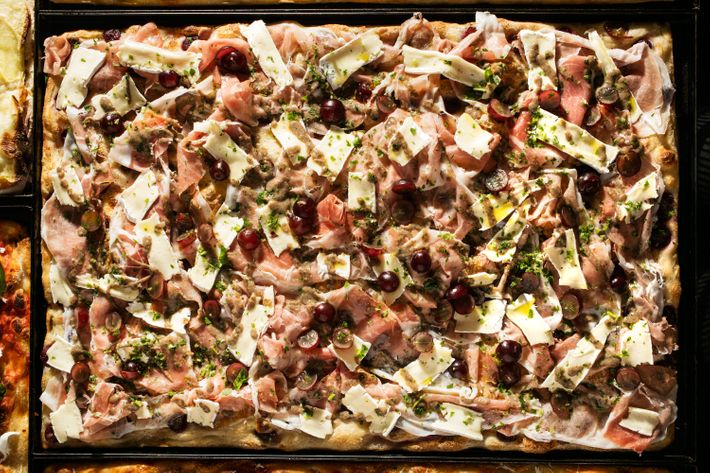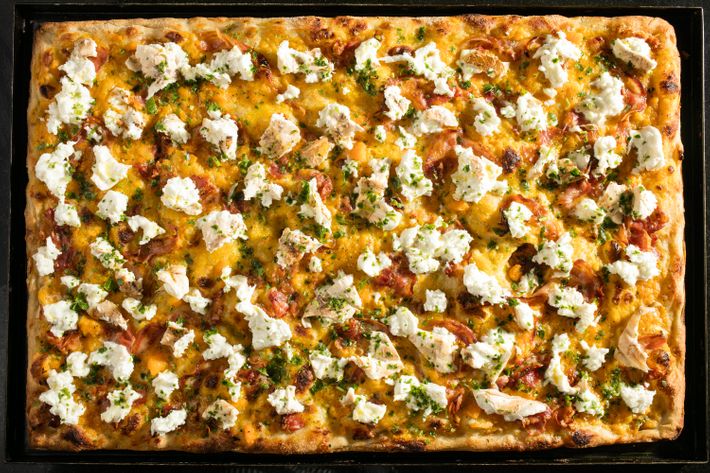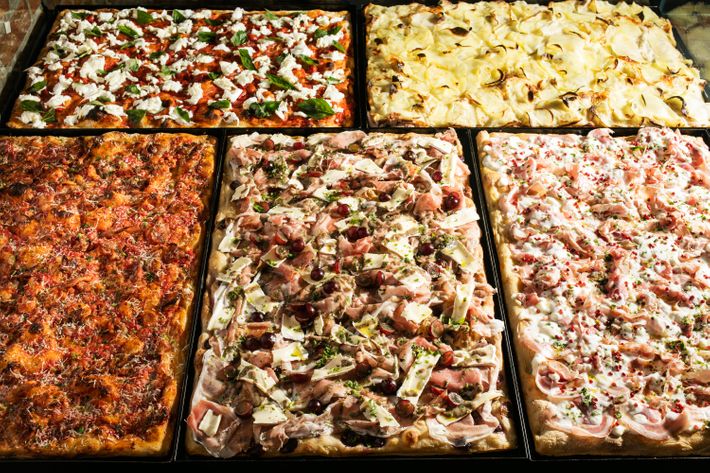 1631 Second Ave., nr. 85th St.; 646-449-0889