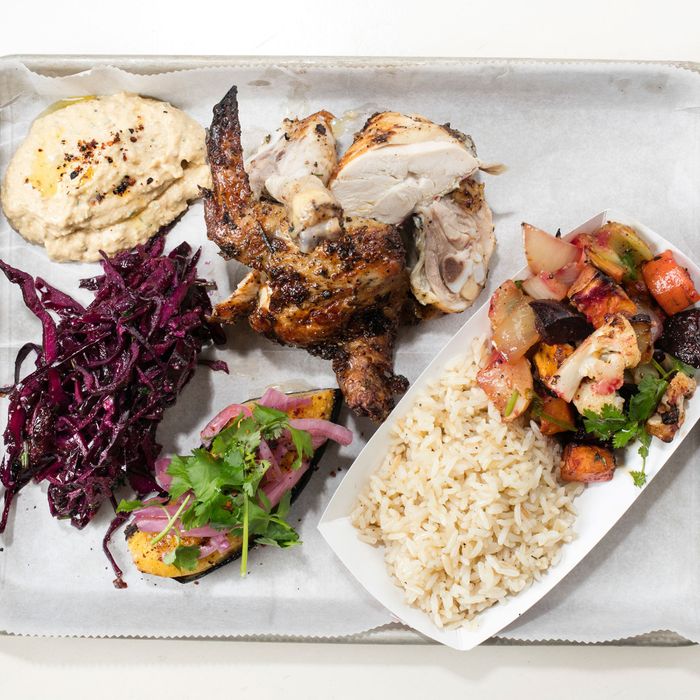 A Risbo platter is like a southern meat and three, plus two.
Photo: Melissa Hom
As New York's dining scene grows ever faster and more casual, and as it becomes increasingly difficult to tell one counter-order bowl-slinger from the next, it's interesting to note the ways restaurateurs are attempting to distinguish themselves from the competition. Paris-born, Brooklyn-based chef Boris Ginet, for one, has met this market-sector challenge not with a better buzzer or a snazzier app but with a weapon previously undeployed in this arena: the Vibe. At Risbo, his ­Prospect-Lefferts Gardens "chef-driven rotisserie," Ginet uses the word as a noun, a verb, and as the first category heading on the restaurant's website, well before he gets around to "menu."
Sure, Ginet would very much like you to partake of his rotisserie meats and eclectic sides, but more than that, he wants you to vibe.
Hence the relaxed, low-lit, garage-door room; the weekend DJ spinning French electro-pop, reggae, and hip-hop at lively but non-deafening decibel levels; the Ginet-built communal tables intended to transform strangers into fast friends over the course of an evening; and the cozy bar dispensing tropical-sounding cocktails like vodka bissap and "Boris's Ginger Rum Drank."
That all of this engineered atmosphere doesn't devolve into a nightclubby scene or come off as forced is much to Ginet's credit. The overall effect is not so much like going out to eat but rather stumbling into a worldly dinner party hosted by a stocking-capped man who just so happens to be a French-trained chef who lives in a garage–slash–art gallery equipped with a $27,000 Rotisol rotisserie.
In other words, whether it's the sweet staff, the shared seating, the diverse crowd, or the fact that Boris is there hobnobbing with friends and neighbors and generally oozing Gallic charm, Risbo is that rare New York establishment where you find yourself dropping your guard and almost involuntarily smiling at everyone who crosses your path. Bonhomie suffuses the room as thoroughly as the wafting aroma of roasting meats.
Those meats are the centerpiece of the menu and the open-kitchen counter, where platters of lamb, beef, pork, and duck are lined up for the carving. Any of them, or a whole fish like branzino, can be ordered à la carte, with mix-and-match sides and sauces, or as part of the Risbo platter, a $20 paper-lined tray loaded barbecue-joint style with five fixed sides — a southern meat-and-three (plus two) reconceived for Flatbush Avenue appetites with West Indian and North African accents.
As great as all this glistening meat looks, the beef and lamb, while full of herby, garlicky flavor, had just a bit too much chew on a recent visit. But the duck and chicken sprang from the rotisserie racks juicy, salty, and tender, while the branzino's supple texture and subtle flavor enhanced by a swipe of chermoula rewarded the effort required to fillet it on a crowded metal tray. No matter which way you go — Risbo platter or à la carte — you want the rich and creamy "mac five cheese," and the invigoratingly spicy red-cabbage salad to cleanse your palate. Also of note: berbere-spiced hummus, plantains served unsliced in their peels, and perfectly messy rotisserie-meat tacos.
Risbo is not immune to the lure of the fast-casual bowl, either: A weird-sounding but nevertheless terrific shepherd's-pie version is a rib-sticking foil to the greens-beans-and-grains-packed "Healthy One." For dessert, warm apple cobbler and fudgy chocolate-chip cookies are pure comfort, and project a homey vibe all their own.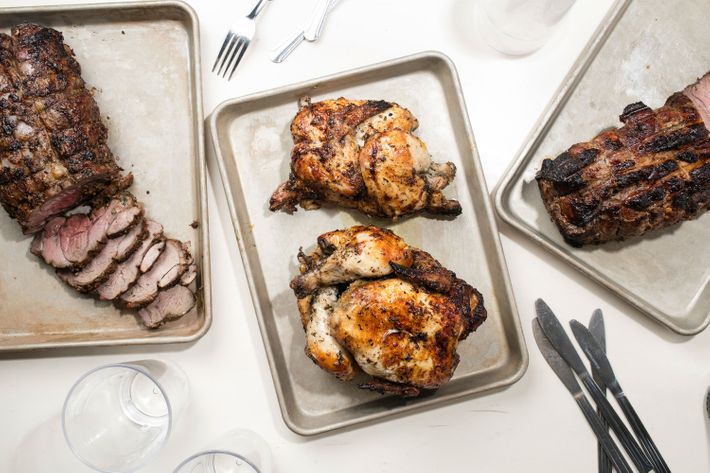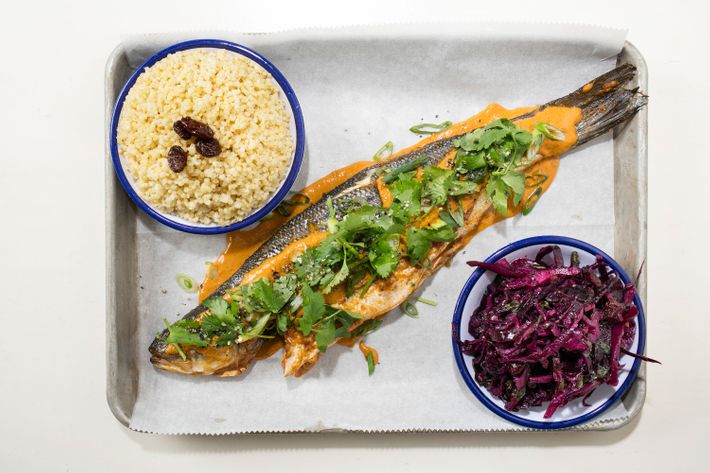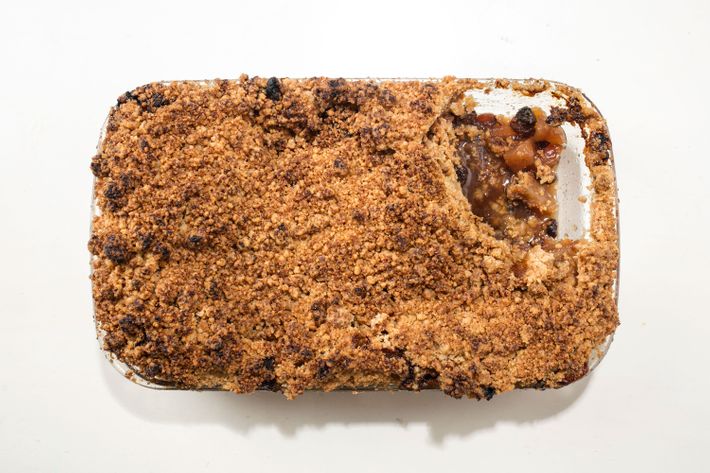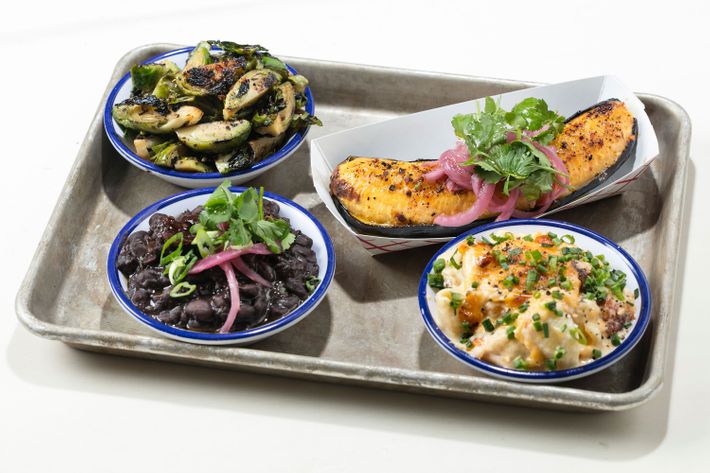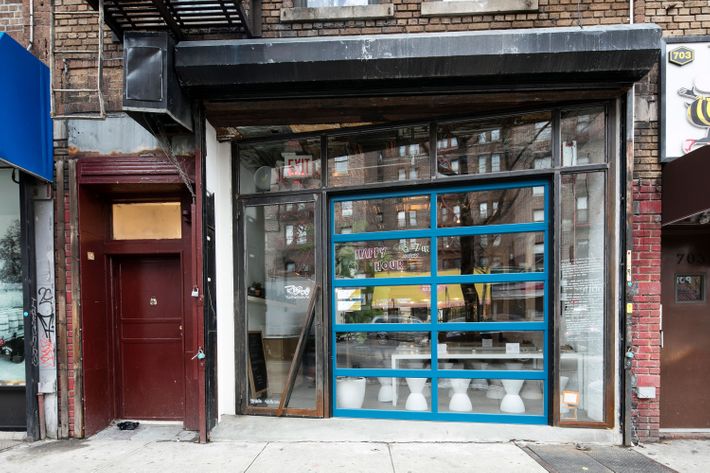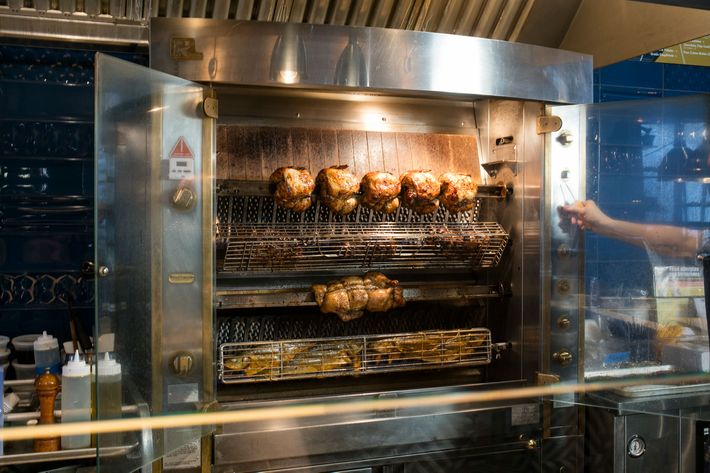 Speaking of vibes, New York's first Tender Greens has a pretty good one, no easy feat for a fast-casual chain with 27 branches and counting. The staff here is so overtly friendly and solicitous of your every fast-casual desire that it can be a little discombobulating. The first time one of several roving bussers or cooks or cashiers stops by to ask if you need anything, you're surprised; the second time, you're delighted; the fifth time, you begin to wonder if you're being punk'd.
Another notable thing about this quick-serve contender is that in an era of brimming bowls, it seems happy to have reclaimed the plate.
Sure, the Flatiron store has its share of sprightly lettuce leaves on hand. And, yes, you can get a meal-size salad (we especially like the Salami, a zingy, antipasto-like mingling of cured meat and lacinato kale, and the taco-salad-esque Barbecue Chicken). But Tender Greens' raison d'être seems to be an unabashed embrace of what used to be called American home cooking — chicken, steak, tuna, nicely done and deftly seasoned, and artfully served with a choice of greens and sides on a china plate as flat as a pancake. This meat-and-two approach positions the chain as both more substantial and, in a way, more old school than the plant-­pushing salad set, harking back to the days of square meals and blue-plate specials and — lordy be! — mashed potatoes (they serve those, too). In short, it's homestyle food for when you're nowhere near home, served with a smile (or five).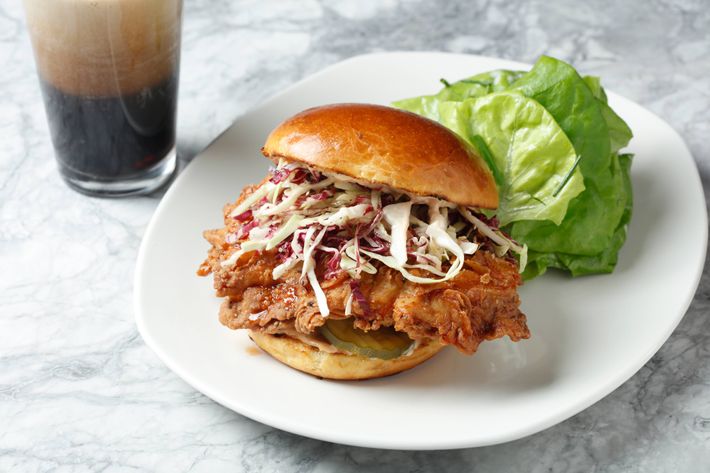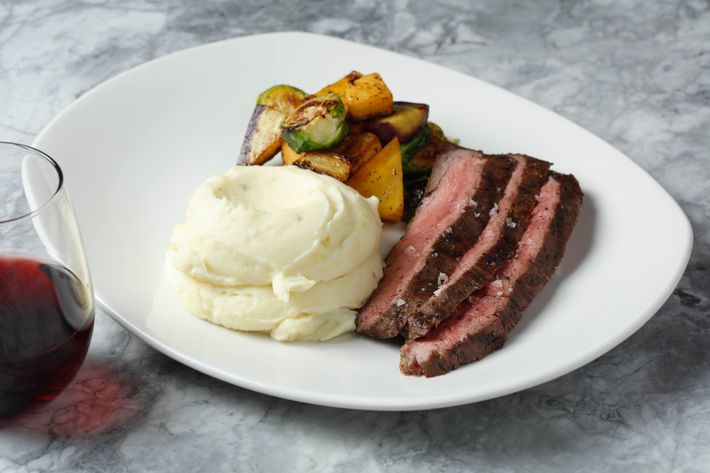 Risbo
701 Flatbush Ave., nr. Parkside Ave., Prospect-Lefferts Gardens;
347-425-9116; risbobk.com
Open: Dinner, seven days.
Prices: Single-serving rotisserie meats, $7 to $22; bowls and platters, $13 to $29.
Ideal Meal: Boris's Ginger Rum Drank, Risbo Platter with chicken, mac and cheese, apple cobbler.
Note: The sauce called "the Hot One" is no joke.
Scratchpad: One star for the food, one for the drinks, and one for, yes, the vibe.
Tender Greens
900 Broadway, nr. 20th St.; no phone; tendergreens.com
Open: Lunch and dinner, seven days.
Prices: Plates, salads, and sandwiches, $12.50 to $16.
Ideal Meal: Chipotle Barbecue Chicken plate with butter lettuce and sprouted rice, or fried chicken sandwich.
Note: If beef brisket is the special, get it with mashed potatoes.
Scratchpad: One star for the food, two for the alarmingly friendly service.
*A version of this article appears in the March 19, 2018, issue of New York Magazine.