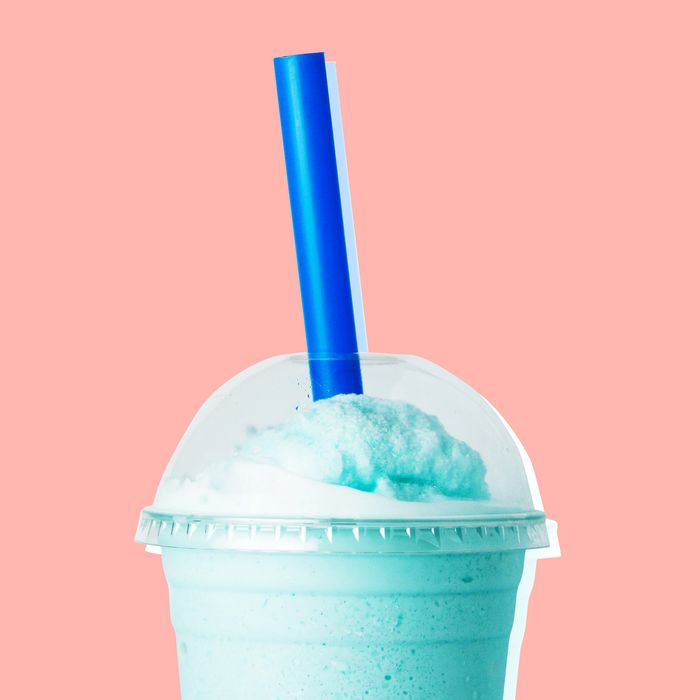 With multiple straw bans soon to go into effect, bubble-tea vendors will be forced to become environmental pioneers.
Photo: Kimberlee Reimer/Getty Images
With its hot, humid climate and venerable street-food tradition, Taiwan is home to an on-the-go beverage culture that is among the best in the world. Fresh fruit juices, soy milk, and beautiful smoothies are readily available, while the country's most popular culinary export is boba, or bubble tea — the sweet tea drink studded with bouncy tapioca balls that fans slurp up through famously oversize, technicolor straws. Now, however, that plastic bubble is about to burst because Taiwan and other regions have vowed to ban plastic straws in the next few years. That puts boba shops around the world at a unique precipice: Without plastic straws, how will people actually drink bubble tea?
The move to eliminate straws — which invariably end up in our waterways, choking wildlife and mixing with our food supply — is happening more quickly than you might realize: In Taiwan, plastic straws will be gone by 2020. The island's EPA rolled out an aggressive new plan to eradicate all plastic waste. The first step: straws. The plan is to ban them from most fast food by 2019, before eliminating them completely the following year. The EU has pushed its members to eliminate disposable plastic products (including straws) by 2030. California is contemplating a statewide measure, and plastic straws are now outlawed in parts of Florida.
Taiwan's ban is nevertheless the clearest sign of the impending plastic straw–pocalypse, and boba vendors all over the world are watching to see how it plays out. The ban all but guarantees that a steady supply of biodegradable-straw innovation will have to hit the market. And that means, interestingly, that this small, straw-dependent segment of the beverage market could end up being environmental pioneers; they simply have no other choice. "It's not like everyone's just going to stop selling boba," says Terry Hung, an owner of Tapio tea bar in Charleston, South Carolina. "Someone's going to come up with a solution."
"Environmental impact has been an important issue for the people in Taiwan for some time now," says Jenny Hung, the founder and vice-president of Shiny Tea, a shop with two locations in Flushing, Queens. Many vendors understand the environmental problem with disposable plastic cups and straws, but also don't have any alternative.
The main hurdles are that ecofriendly straw solutions either don't work for boba or are too costly to be a realistic option for most vendors. "It pains me to have to use plastic cups and straws for everyone, but right now it's the only economic solution for my business," explains Elton Keung, founder of Labobatory in San Gabriel, California. He says that, because he is an independent operator with one location, he simply can't afford to explore more sustainable options.
Biodegradable plastic straws aren't available in boba-size options; paper straws are problematic because they become saturated with moisture too quickly. Reusable options, like silicone and metal, are prohibitively expensive at around $1 apiece, and niche products like bamboo boba straws can cost twice that. (And at least one shop that explored the idea of asking customers to bring their own reusable "boba kits" discovered that cleanliness is an issue, as customers often bring back kits that are unusably dirty.) "No single boba shop or manufacturer is going to take on the risk of converting over to compostable when the price premium is so high," says Andrew Chau, a co-owner of Boba Guys, which has nine locations in San Francisco and New York.
Chau says his company pays about 3.5 cents per straw, and that they'd be willing to pay double that for a suitable replacement. Keung, of Labobatory, says he would be very interested in options that cost less than ten cents apiece. Meanwhile, a representative for Kung Fu Tea — which has 150 locations around the world — says that in addition to price, they would need to thoroughly vet any new technology: "It's all about remaining aware of potentially harmful products and conducting proper research to determine the right alternatives for the public and the environment."
At the same time, the popularity of boba is growing worldwide. According to Joe Garber at Datassential, a food-business consultancy that tracks menu trends, the term "boba" has grown more than 200 percent on menus over the last four years; "bubble" tea has jumped more than 150 percent in the same time. And when it comes to Taiwanese food as a whole, this cuisine has been broadly pegged as "one to watch" by the American media in recent years. In other words, whoever solves the straw problem stands to become an incredibly important part of the boba economy.
Right now, the most promising player in the biodegradable-boba-straw business just might be Loliware, a U.S.-based start-up that introduced compostable seaweed-based cups in 2015, and launched a successful Indiegogo campaign in January for "the world's first edible, hypercompostable straw aimed at replacing plastic straws." (Loliware, however, is not to be confused with Lollicup USA, the country's biggest supplier of boba drinkware; there is also a major U.S.-based boba chain called Lollicup.)
Loliware co-founders Chelsea Briganti and Leigh Ann Tucker say that boba-straw replacements have been part of their plan from the beginning, and in fact, they're aiming to replace the entire boba-tea architecture: the cup, straw, and the plastic film application on the top of some vendors' cups, or a plastic top. (They will also offer the straws in multiple flavors, and say they were inspired by Asian ingredients: Yuzu-citrus and matcha are two options.)
Whether they actually work, however, remains to be seen. Samples of the product, to be called Lolistraws, won't be available until June. Still, in Taiwan, EPA Minister Lee Ying-yuan has recently recommended Loliware in outlining the island's plans to go plastic-free. And Loliware's founders told me that they've set a goal to replace 1 billion plastic straws, cups, and lids by 2020, the same year that Taiwan has pledged that the plastic straw will go the way of the dodo.
For vendors not affected by Taiwan's ban, opting for nonbiodegradable plastic would be optional. But from the boba-shop owners I spoke with, that's an option they'd eagerly take. This could mean that when, or if, U.S. lawmakers decide to seriously challenge plastic straws, there will be a strong precedent for its replacement already. If boba-tea vendors in the U.S. start using affordable biodegradable alternatives, then maybe other retailers will follow in their footsteps.
"Taiwan and its manufacturers are generally pretty savvy when it comes to consumer preferences," said Chau, of the Boba Guys. "After all, they invented boba."