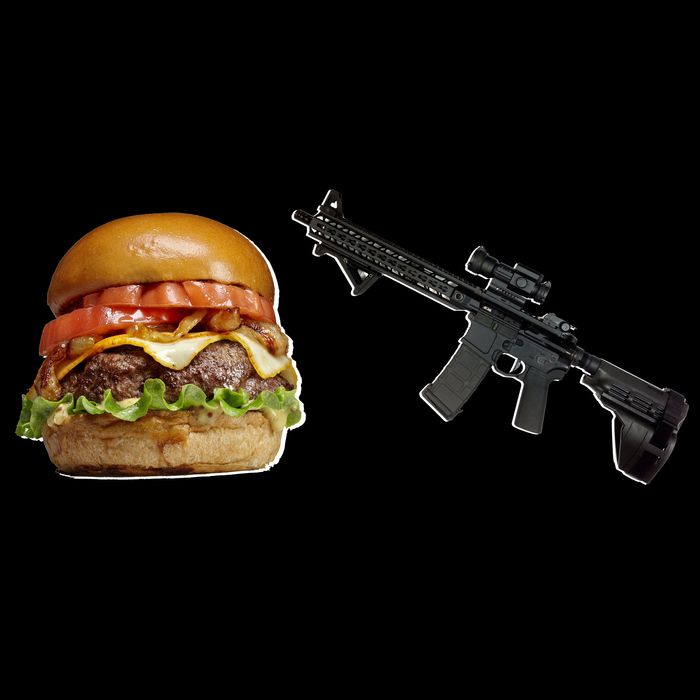 The bun lobby, or the gun lobby?
Photo: Getty Images
Isis Chocolates probably feels for America's biggest restaurant trade group right now: The National Restaurant Association has gotten sucked into the debate on gun control due to the total coincidence that it shares the National Rifle Association's initials — and it's apparently just too tough to Google the difference. The silly mix-up is forcing Americans to politely (or sometimes not so politely) explain that the 100-year-old business organization that supports some 380,000 restaurants in the U.S. is not the outfit that, in the Florida school-shooting aftermath, corporations have been fleeing like the plague.
Thankfully, for many people this confusion is lasting for about 15 minutes, or however long it takes for them to go, "Hm, it can't be," and do some research:
But at least one politician hasn't been as lucky. Tammy Duckworth, the double-amputee Iraq War veteran who is Illinois's junior senator and a vocal NRA critic, had to school people who were getting thrilled thinking they'd outed her secret hypocrisy:
The mistake occasioned jokes about "the infamous bun lobby" and Duckworth being a "gluten for punishment," and her spokesperson eventually clarified that she "was never confused about which organization supported her." But some internet sleuths were, and even still are:
A National Restaurant Association spokesperson tells CNBC that "every once in a while" this confusion does happen.
In some ways, the restaurant group sounds hilariously innocent when juxtaposed with a gun-rights group that's cool with 19-year-olds having semi-automatic weapons: It oversees the Pizza Industry Council and runs the Kids LiveWell healthy-eating program. But supporters of both groups aren't entirely ideologically dissimilar: The "other NRA," as the restaurant-industry group is often called, used to be led by Herman Cain (yes, that one), and it's spent decades blocking attempts to raise the minimum wage, which has been $2.13 an hour since 1991 for servers, and ensuring workers don't get paid sick leave.
Just wait till the internet learns who's quietly received campaign donations from the CIA.