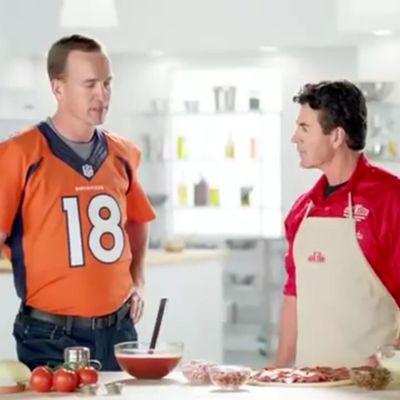 "Got some bad news for ya, Papa."
Photo: Papa John's
Besides forfeiting its status as the "official pizza of the NFL," Papa John's has now lost its most famous franchisee. The Denver Post reports that Peyton Manning has quietly cashed in his franchises — all 31 of them.
Things haven't gone so well for John Schnatter or the chain since, though. He quit his CEO job on January 1 after citing the protests during the national anthem as the reason people weren't consuming more Papa John's pizza. Neo-Nazis liked this accusation, but the NFL, go figure, did not. Last week, it announced that the league's new pizza sponsor would be Papa John's rival Pizza Hut.
Perhaps the most interesting part of the story is Manning's timing: The Post reports that he sold his Denver-area stores two days before news broke about the NFL ditching Papa John's. The chain's spokesperson Peter Collins says that this was purely coincidental, if very convenient. Collins adds that a different Denver-area franchisee has acquired Manning's locations, and this person is said to be "excited about the future of" Papa John's, whatever direction that might be. And yet, despite this transaction, Manning remains locked in as celebrity spokesperson for now, thanks to a "long-term" agreement with the chain.