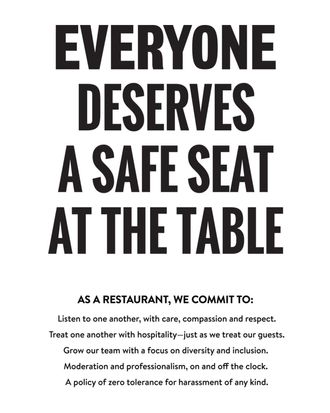 The campaign's pledge poster.
Photo: OpenTable
Months into #MeToo, there's still very little accountability in the restaurant industry. At South by Southwest yesterday, OpenTable unveiled a campaign that could very well help: The reservation service is asking chefs and restaurateurs to publicly commit to running an "Open Kitchen," by which the company means a "safe and respectful workplace" that stresses gender equality.
It arguably marks one of the most extensive anti-harassment campaigns yet in an industry that's been roiled by it. And OpenTable has broadened the commitment to include publicly displaying a commitment to fixing the hospitality industry. There are "pledge posters" that chefs are encouraged to either hang inside their restaurants, or post as a badge on their OpenTable profile pages.
At the top, the signs read, "Everyone deserves a safe seat at the table," followed by smaller text that says:
As a restaurant, we commit to:

Listen to one another, with care, compassion and respect.

Treat one another with hospitality — just as we treat our guests.

Grow our team with a focus on diversity and inclusion.

Moderation and professionalism, on and off the clock.

A policy of zero tolerance for harassment of any kind.
A number of well-known chefs have also shot a video telling their colleagues to get onboard with this.
The group includes Ed Lee, Mary Sue Milliken, State Bird Provisions' Stuart Brioza and Nicole Krasinski, and Top Chef's Tanya Holland. It's a good start, especially given the relative silence of prominent figures in the industry.