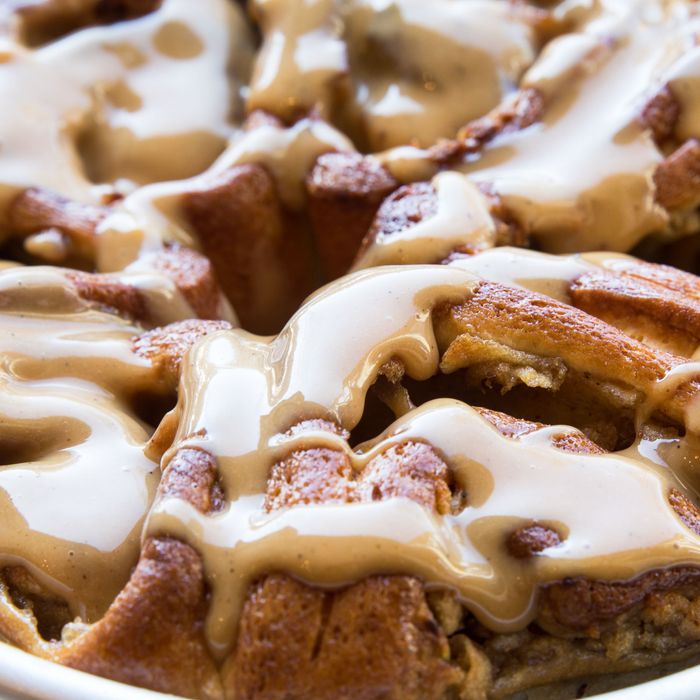 Apple-strudel sticky rolls with milk jam.
Photo: Nitzan Rubin
If you are the type to debate — with friends, co-workers, or strangers — topics like "the New York restaurant of the moment," you will inevitably talk about Olmsted. Since opening in 2016, the neighborhood restaurant has gained a legion of fans for its ambitiously idiosyncratic cooking as well as its laudably affordable pricing. As New York's Adam Platt wrote, its owners "provide a blueprint for ambitious young restaurateurs" who want to open a comfortable place. So it makes sense that when the restaurant launches brunch service this coming Friday, it won't be with a menu full of scrambled eggs or lukewarm French toast.
"We didn't want it to just be brunch. Probably to a little bit of a fault, we went a little crazy with it," says chef Greg Baxtrom. "There is without a doubt as much work going into this as the dinner menu."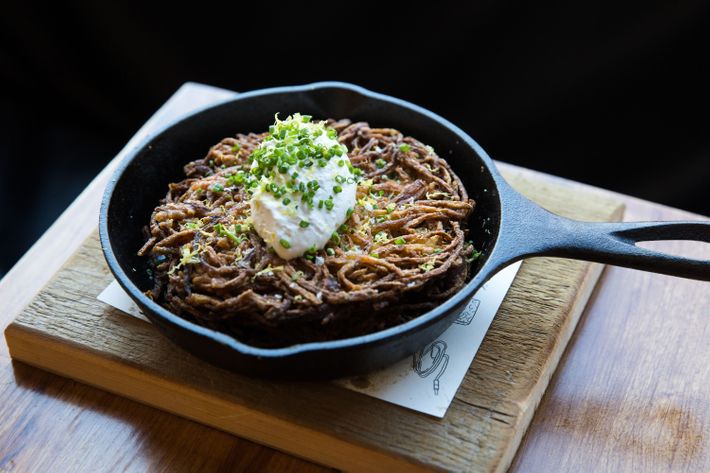 Before opening his restaurant, Baxtrom worked at some of the world's most acclaimed restaurants (Alinea and Blue Hill at Stone Barns among them), and he knows how to playfully tinker with food in smart ways. "There aren't eggs Benedict or any staples. But we still want to hit all the notes," Baxtrom explains. Which is to say that the brunch menu is full of fun dishes that feel like they've been updated and tweaked just enough to make them feel fresh. A duo of duck is crisp duck sausage and a poached duck egg. The homemade gravlax is a stunning shade of pink. And the restaurant's Instagram-famous carrot crêpe has been reimagined into a carrot kati roll — made with carrot pulp and cilantro stems.
The dish that best captures how they approached the menu, though, is the "egg roll," an idea that originated out of Baxtrom's youthful taquitos habit. Filled with steamed egg, bacon, and Jasper Hill clothbound cheddar, the rolls are served in boxes for which a friend designed an image of a skateboarding egg. Homemade green-tomato ketchup and hot sauce are served on the side.
"Hours of work are going into these silly little egg rolls. That's for us — we like to cook that way," the chef says. "But for the guests, we just want it to be this silly little thing they enjoy. There's purpose and yada yada yada, but I don't want to hear a story when I'm ordering potatoes in the morning. I just want them to be crispy."
So there you have it: brunch that doesn't feel like brunch. The whole thing kicks off when the restaurant opens Friday at 11:30 a.m. Start making your plans now, and check out everything else on the menu, below.