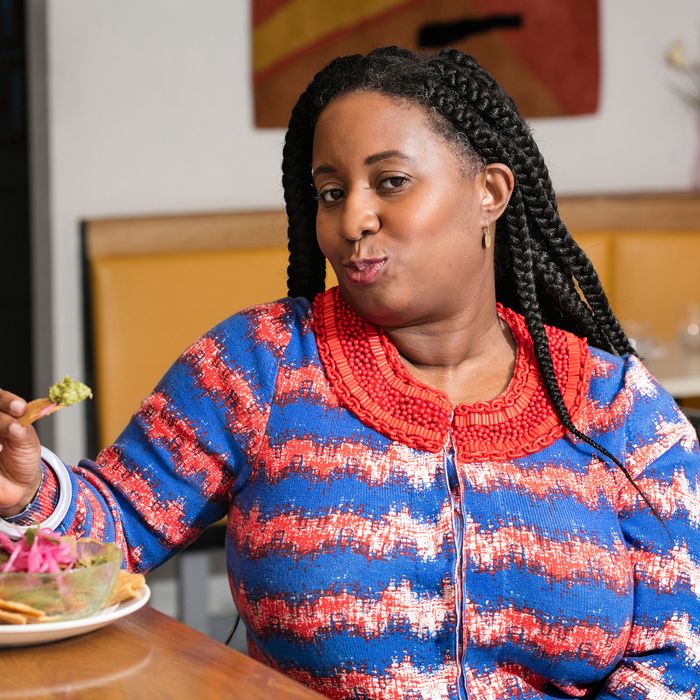 Nicole Taylor at Lalito.
Photo: Melissa Hom
Nicole Taylor made her name writing thoughtfully about the larger issues surrounding food, particularly as eating relates to her southern and African-American heritage. (The Georgia native's The Up South Cookbook is about rediscovering her roots.) Taylor has done audio projects (she was the host of Heritage Radio's Hot Grease podcast), and written for publications like the New York Times, Saveur, and the Undefeated. Over the last year and a half, she's worked at Claus Meyer's Brownsville Community Culinary Center. This week, Taylor juggled the many obligations of her freelance life — but still found time for a trip to Hart's, made her usual visit to Sahadi's, and ate lots and lots of nuts. Read it all in her Grub Street Diet.
Thursday, February 22
I woke up around 7 a.m. but lay in bed for over an hour. I typically drink water with a few splashes of vitamin D water before going to bed, but the night before had been my friend J.J. Johnson's cookbook party, and I'd jumped straight into bed after talking too much to him. So I drank some before my morning ritual of lighting my palo-santo stick and getting dressed. I do it, basically, every morning and night. I made a quick decision to have breakfast at home before heading out. Freshly cut pineapple, a dollop of Seven Stars Farms yogurt, and red-pepper flakes.
My life is always about juggling. So I ate while tracking my yellow cab through the Curb app. I've also learned that I'm not fun to be around when hangry and grabbed a Big Spoon Roasters Cherry Pecan Bar for later.
I ate half the bar on the cab ride to Brownsville. I work part-time as director of special projects for a supercool culinary center and café, the Brownsville Community Culinary Center. I've been there a year and a half, when we were still in the church, and was involved in determining what the programming and the curriculum would be.
For lunch, I ordered the Caribbean fish stew because our chef, Charlene Johnson, has updated it with yucca, plantains, and pumpkins. Mastering food consumption between meetings and answering emails is my superpower. I sat in the dining room; our playlist is straight '90s R&B. Music is a must while I work and eat. I don't like working in the basement here; I just work upstairs so I can listen to my music. The new Janelle Monáe is on rotation right now, and I saw that Rae Sremmurd was trending on Twitter, so I listened to all of their stuff.
I had a cucumber-ginger fresh soda before I finished up part one of my workday. I was tempted to take a few bakery items home for later. Brownies with almonds for dinner? I passed. Every day, I'm fighting my sugar addiction!
Before I left the center, I ate the remaining Big Spoon bar. It was raining, and I contemplated taking the train or a cab for 30 minutes. Verdict: cab to Whole Foods 365. To stay on budget, I sat down and ate brown-rice-salmon-avocado rolls. These are my must-buys at any Whole Foods every time I've gone the last 15-plus years. It was really my gateway into eating sushi, when I lived in Atlanta. I have no idea what I like about the rolls, it's the weirdest thing ever.
It took me two trips to get my goods to my fourth-floor apartment. I was praying to the gods that my bags would hold up. My biggest fear is cleaning up sesame oil and safflower oil on our building steps.
Back home, I devoured a slice of Whole Foods' berry-chantilly cake before dinner. Radicchio and romaine were staring at me, but I looked deep in the fridge for pickled vegetables. I get a CSA and I'm always trying to figure out how to stretch stuff. I always have Mason jars of pickled beets, pickled carrots, and pickled jalapeños. I didn't make the salad, but before bed, I did drink water with vitamin D.
Friday, February 23
I finished my bedside glass of vitamin D water and then shared fresh carrot-ginger juice with my husband. Days before, I'd used my Vitamix to break down a superlarge bag of carrots from the Clinton Hill CSA. I still had another large bag in the fridge, which I got the idea to use for carrot fritters.
This was my day to focus on writing projects. I have three freelance stories due in March, one has to do with my hometown. But I made breakfast first. I peeled and boiled kohlrabi. I'm always searching for new ways to use this root veggie, but went ahead with my usual routine. I cooked up chorizo and onions. In the same pan, I crisped up the kohlrabi and fried eggs. I guess this was a weekday breakfast hash. Those kohlrabies had been in the fridge and I was like, I need to do something with this.
Golda's charcoal-activated latte stays in my Instagram feed, so I finally tried one. I live four blocks from it, so, yes, I go there too often, but this time was to meet an artist and aspiring food writer, Iris Bennett. The good thing is that both of my favorite baked goods were gone. I wasn't even hungry … but someone had the potatoes with kokkari vinaigrette, a green-herbs-and-caper mixture, and I was like, Damn those look good. So I went back for them. The vinaigrette is what makes them so deadly.
After answering a few more emails, I made an Old North Shrub muscadine drink. It's a wild grape. I love the color, especially the red. It's like you're drinking Kool-Aid. When you make a syrup, it's really beautiful. I had like three bottles of Old North. Anytime I can get my hands on some southern food, I'm all over it.
Dinner was a romaine-and-radicchio salad, along with grilled scallops, grilled pineapple, onions, and jalapeños. I added avocado on top. I'm the kind of cook who is not going to go out a million times to buy more things. I can eat the same thing almost every day. It's about not wasting food.
Then I spent the night at home with my husband catching up on recorded TV. We watched all of BET's Death Row Chronicles documentary.
Saturday, February 24
Breakfast was a smoothie: yogurt, hemp seeds, frozen berries, fresh mango, and pineapples. I like my smoothies with fresh ginger, but I was out. Also had a half-cup of Brooklyn Roasting Company Coffee (splash of cream and no sugar) while tending to my plants and creating an errands list. Then, I ordered my husband around a bit! He bagged up the compost for the farmers' market.
Went off to Hart's for book-club brunch. I ordered grapefruit juice first. We read Gabrielle Union's new book. My friend Lesley Ware and I both heard Gabrielle on the Death, Sex, and Money podcast. We were like, I was never really a big fan, but I was really interested in reading the book. Lesley suggested that we read it together. We started reading it and one of her friends joined, so we all decided to get together.
I suggested Hart's because they have fried chicken now. The recipe is inspired by Shannon Mustipher's. I've had hers a million, gazillion times. We all share the fried chicken with fermented hot chili over yellow grits, cranberry beans, ham, and eggs, along with sourdough bread with ricotta and honey and hash browns with paprika and aïoli.
After, I went shopping at Sahadi's and discovered that Cook's Companion closed. How did I miss this announcement? Where will I sharpen my knives? Twenty years old and done.
At Sahadi's, I ordered dried star fruit, roasted unsalted peanuts, a small clear tub of hummus, and tabbouleh. Sahadi's is definitely, 100 percent a regular spot. Usually, I go in and spend way too much. I was so proud of myself: I stuck to my list. It's a hard thing to do there!
I arrived home around 7:30 p.m. and snacked on Mary's Gone Crackers and hummus. For dinner, I made a grass-fed burger on a gluten-free English muffin, and sprinkled it with Point Reyes blue cheese.
After the burger, I decided to Netflix and chill. I watched David Chang's Ugly Delicious "Fried Chicken" episode twice and fired off a bunch of texts about the fine details. I probably shouldn't have texted a few people so late at night, but I'm in a documentary called Holy Bird and it's all about fried chicken and its history. The director, Daniel Thoennessen, texted me that he was curious about my thoughts. So I saw the stuff about Dave's show and wasn't sure if I wanted to watch it or not. Then, I watched Somebody Feed Phil's "New Orleans" episode.
I went to bed thinking about fried chicken and gumbo, but only had my vitamin D water.
Sunday, February 25
Three days and no sun in NYC. The vitamin D water is my fake sunshine. Breakfast was a yogurt bowl with the last of the fresh pineapple and a sprinkle of hemp seeds on top. Then I jetted out to get my hair braided.
Pulled out my snack, a Big Spoon Roasters Apricot Pepita bar, while sitting. Braiding calls for patience.
I was at my friend's when the breakfast and snacks wore off, so I ordered enchiladas for lunch. One vegetarian and one meat. GrubHub to the rescue: Not a place I normally would've ordered from, but I was in a friend's office, it was raining, and that was the only place. It worked.
I needed to write more, so I listened to Jenna Wortham's Longform podcast and got to work. Afternoon snack was peanuts and hazelnuts — I love, love, love, love nuts. Then dinner was another romaine-and-radicchio salad — this time with hot honey, raw turnips, beets, and dressing I made with tabbouleh. I always get it from Sahadi's, and when it gets less fresh, I put some olive oil in it, some lime juice, and make a vinaigrette.
Monday, February 26
More vitamin D water, but I just sip a little because I was running behind. It was the opening day for The Wing Dumbo, a women's only co-working space. It's dreamy and has an in-house café. I was there to meet Lesley about a podcast project. It was great. The sun was out that day, it was beautiful, and we spent a lot of money eating food there. I ordered a hearty gluten-free breakfast sandwich with egg, bacon, pickled jalapeños, greens, avocado, and Berber yogurt. I devoured it!
Before beginning my daily writing, I got coffee. Listen, I didn't buy into the oat-milk hype. Then Lesley came in with a latte and told me that she got oat milk. Look, I stopped getting lattes a long time ago because I was like, I'm spending a lot of money for foam or creamy milk? I started getting black coffee; I can save some dollars. But her latte looked good, and she offered me a taste. It tasted different in a good way, much more body than a regular latte. You know, I liked it enough that I may have it at home.
I nibbled on a gluten-free cherry-almond muffin and drank tons of water throughout the afternoon. The gluten-free choices were left over from a no-gluten January. So now I'm just kind of gluten-flex. I'll try stuff. But, there's a lot of not-so-great gluten-free breads. Always down to try something, but they're usually mediocre. I feel like it has to have a lot of something on it to ignore it. Or if it's a gluten-free dessert or pastry, it's too sweet. I haven't found that right one yet.
We were there for like six or seven hours, and then I nibbled on my friend's fattoush salad and then caught the B25 home. I have this thread in my life where every day is, Am I going to spend money on a cab? I like riding the bus: I can read, get sunshine, not be late because of the subway. The B25 stops right by my house and takes you straight to Dumbo, so it's a no-brainer.
That night, I was cooking on a vibe. Working with the last of the chorizo and head of Romanesco cauliflower. I made that over Banza chickpea fettuccine. No vitamin D water before bed, though. I drink a Bruce Cost Passion Fruit Ginger Ale instead.
Tuesday, February 27
I worked from home and never left the house. It was emails, light cleaning, and writing all day. Breakfast was a smoothie with frozen berries, yogurt, hemp seeds, and fresh mangoes, and lunch was a soft-boiled egg, bacon, and a tabbouleh smear on half a gluten-free English muffin.
Friends were coming over that night, so I started testing the carrot fritters. That turned out not great. Oh my god, I don't even know what the fuck happened to those! I was using the hush-puppy recipe from my cookbook as a base. I made a batter with some blue cornmeal from Anson Mills and roasted chickpea flour from Sahadi's. The problem was probably the cornmeal. You're supposed to keep it in the fridge or freezer, and I think it was rancid. It just had a really not-great taste to it. The chickpea flour was good, I'm sure, but the blue cornmeal was suspect. I had to throw all of the batter out.
For a moment, I was kind of panicked. I took all this time and grated all these carrots! I looked in my fridge. I had two or three rutabagas, a plantain, beets, carrots, onions, and jalapeños. All good!
I nibbled on hummus and gluten-free crackers before my guests — my friends Aki Baker, a co-founder of Minka Brooklyn, and Naima Green, an awesome photographer and sometimes writer — arrived. I've known Aki since I moved here, and I met Naima at a storytelling class or program at Yale. We ran into each other at the farmers' market, the day the Obama portraits came out, and she had this photo series of black and brown people in gardens, so we talked. This dinner came out of that.
We started off with dried cherries, Point Reyes blue cheese, goat cheese, gluten-free crackers, hummus, tabbouleh, and olives. I used the last of my radicchio and romaine and dressed it with oil, rice vinegar, hot honey, and lime juice. I also made a big pot of coconut-jasmine rice, and deep-fried all of those vegetables and sprinkled them with cumin, salt, pepper, and red-pepper flakes. They loved them.
To drink, we had Rezpiral Espadin de San Baltazar Mezcal and Bozal Mezcal Ensamble. And for dessert, I wanted to make Smitten Kitchen's hot-fudge sauce for sundaes, but time ran out. So it was Van Leeuwen vanilla ice cream, toasted nuts, and shaved chocolate. We started at 7 p.m., and we talked about everything under the freakin' sun: Range Rovers, #MeToo, Afropunk, creative processes, Japanese food. I mean, a weeknight dinner party that goes until 11 p.m.?