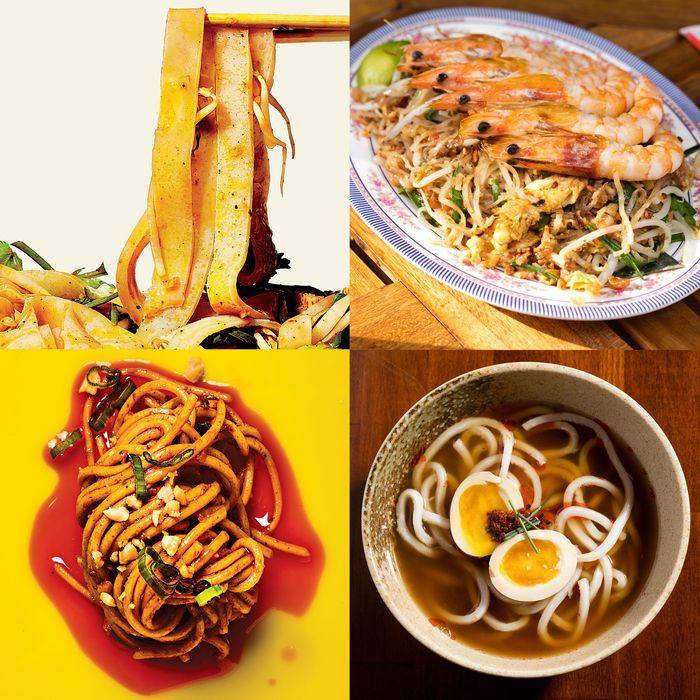 A true noodle town.
Photo: Melissa Hom; Bobby Doherty; Liz Clayman
In less than two decades, New York has seen a ramen boom (which, truthfully, still has not slowed down), a rise in legit Thai restaurants, and the proliferation of Sichuan spots, noodle-centric central and northern Chinese cuisine, and a mini-explosion of restaurants that specialize in the rice noodles of China's southwestern Yunnan province. Noodle nerds have it very good in this city, but you'd be forgiven if you've had a hard time keeping up. Here, a guide to some of New York City's newest and most notable noodles — as well as advice on the most interesting places to actually eat them.
Arrowroot Noodles
Where: Keum Sung Food, Han Joo
No noodles may be as chewy as the very long ones made from arrowroot in Korean cuisine, served in chilled broths (such as beef or seaweed) and dressed with dadaegi sauce, as in bibim naeng-myun.
Glass Noodles
Where: Pok Pok Ny, Her Name Is Han,
Nearly translucent and made from many starches (pea, mung bean, sweet potato, so on), these are thin like vermicelli and can, like rice noodles, be served warm or room temperature.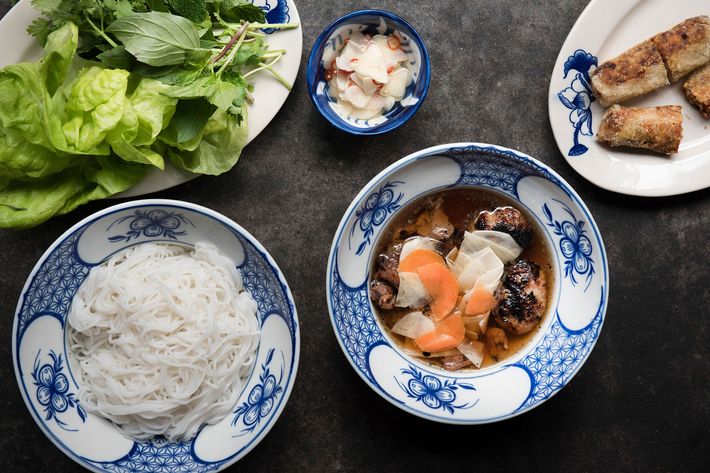 E-fu Noodles
Where: Great New York Noodletown, Royal Seafood, Amazing 66
Yellow and flat, Cantonese e-fu or yi mien aren't like other egg noodles: They're made with soda water, which lends them a springy texture. They're one kind of many egg noodles, which are served in dishes like Thai khao soi at Ugly Baby and Filipino miki bihon at House of Inasal.
Fermented Rice Noodles
Where: Lakruwana for string hoppers, Little Tong Noodle Shop for mixian, Uncle Boons Sister for khanom jiin
Fermented rice flour is used for noodles in Sri Lanka, Thailand, and Yunnan, with the last being the source of the current rice-noodle boom. These noodles don't often, actually, come over with the dishes they're used in, but dishes like Yunnanese crossing-the-bridge noodles and Sri Lanka's stacked string hoppers are worth seeking out, regardless.
Hand-Pulled Noodles
Where: Xi'an Famous Foods, Tasty Hand-Pulled Noodles, Very Fresh Noodles
La mian has become something of a staple in New York, thanks in part to Xi'An Famous Foods and a boom in businesses opened by northern and central Chinese immigrants. Made from a ball of wheat that's repeatedly stretched into strands that are thwacked like a jump rope you're really angry with. The result is a noodle that's chewy but thin, distinct from the regular wheat noodles used in dishes like dandan mian.
Jjolmyeon
Where: Insa, Kunjip
There are plenty chewy noodles to go around in Korea, likes these, which are made of wheat and other starch and served in a spicy and sour sauce.
Knife-Cut Noodles
Where: Lan Zhou Handmade Noodle, Tasty Hand-Pulled Noodles
The knife-cutting technique is used in both China and Korea for consistency, and the noodles you'll find at Chinese spots look not unlike Italian pappardelle.
Liangfen (or Mung-Bean Jelly)
Where: Cafe China, Legend Bar and Restaurant, Legend of Taste
Slippery, jiggly, and shaped more like rectangular building blocks, these are the broader, bigger cousin of cellophane noodles. Typically made with mung-bean starch, they're bathed in chili oil for the cold Sichuan appetizer called tears in eyes.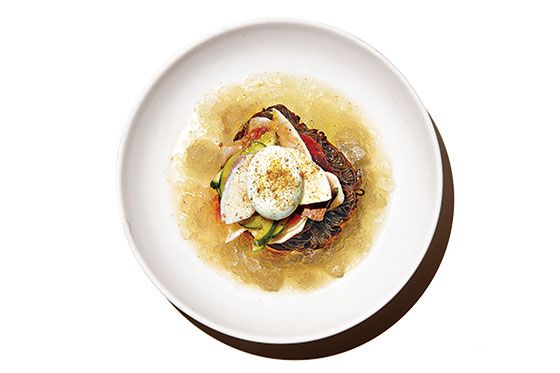 Liangpi Cold-Skin Noodles
Where: Xi'an Famous Foods, Liang Pi Wang
Another specialty of Xi'an Famous Foods, liangpi noodles are one of those bracingly delicious dishes you can't get enough of: chewy, steamed wheat noodles served dressed with variously crunchy and herbaceous things and a sauce that's sour, spicy, and refreshing.
Memil-guksu
Where: Hahm Ji Bach, Take31, Hangawi,
Korea's buckwheat noodles are, like arrowroot noodles, used in cold dishes such as mak-guksu, with its chilled beef broth and customizable seasoning (mustard, gochujang, so on) that leans spicy.
Ramen
Where: Nakamura, Ivan Ramen, Totto, and many more
The Japanese wheat noodles are considered among the hardest to master; even cooking geek J. Kenji López-Alt essentially advises against trying, saying it's a food best left to experts. The essential ingredient is kansui, an alkaline mineral water. Needless to say, the popularity of ramen in New York means there's a plethora of variations, and some of the newest entrants to New York's ramen scene include the Noodle Bar at Brushstroke, Karakatta, and Jeju, which serves Korean-style Ramyun.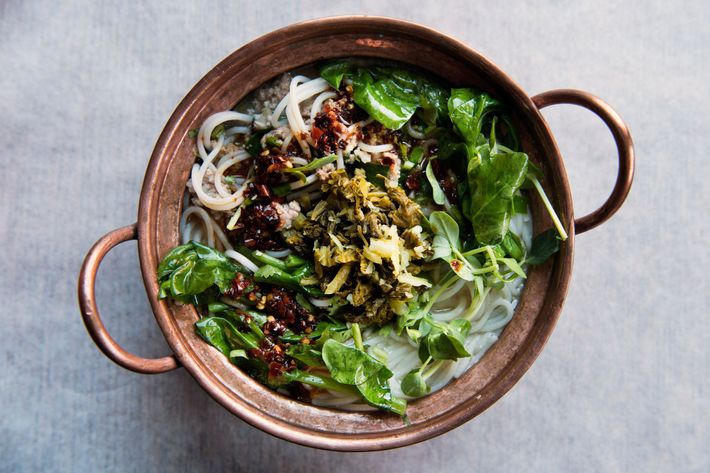 Rice-Noodle Roll
Where: Joe's Steam Rice Roll, Tim Ho Wan, Bamboo Garden
More like the sheet pasta of the rice-noodle roll, rice rolls are a staple of dim sum served stuffed with fillings like barbecue pork and crullers (fried bread) and doused in a healthy dose of sweet, seasoned soy sauce. They're smooth and pliant, and disappear into your mouth.
Rice Vermicelli
Where: Awang Kitchen for bakso, Hanoi House for pho
Pearly white, skinny as a stick, and mild in flavor, vermicelli go by as many names as places they are at (a lot). They're versatile and used in, roughly, a few billion dishes, served room temperature for bun and woven into bundles for banh hoi.
Shahe Fen
Where: Chomp Chomp for char kway teow, Chao Thai for pad see ew
These are the broader, flatter style of rice noodles that are infinitely stir-fry-able, as demonstrated by your obsessions with Thai pad see ew, Cantonese chow fun, and Singaporean char kway teow. (They're not only stir-fried but can also be used for pho.)
Soba
Where: Cocoron, Ootoya, Soba-Ya
A shade of gray ideal for Halloween-themed dinners, soba noodles are made from buckwheat and served in soup or chilled with a side sauce for dipping.
Udon
Where: TsuruTonTan, Raku, Karasu
If ramen is the popular kid of the Japanese noodle scene, udon is the reserved, shy one. Subtly flavored but thick, they're served in delicate broths both hot and cold.