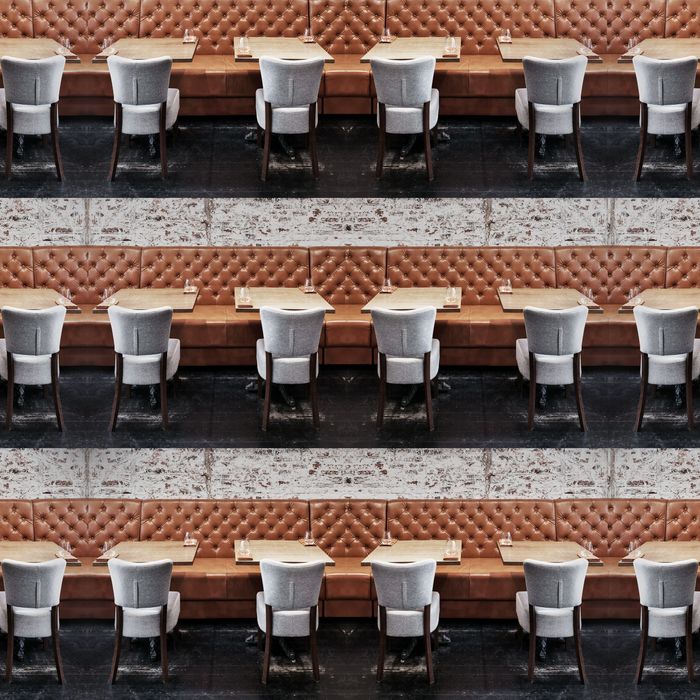 Photo: Frank Herfort/Vostok/Getty Images
As my quietly mortified daughters will tell you, their grumpy dad has nothing against a good Ed Sheeran ballad now and then, but even I had to agree with one exasperated gourmand I know when he recently groused, "There's nothing but Ed Sheeran restaurants out there, Platty!" Like me, he had just dropped several hundred bucks on dinner in a pleasantly agreeable new establishment in Brooklyn, which wasn't so different from the perfectly serviceable new place we'd both visited in the Flatiron District the week before, or the slightly less pleasant dinner we'd endured together at the ridiculously loud, unaccountably popular new Italian-themed noise box in the Village the week before that.
I wouldn't have made the Sheeran connection at the time, but upon hours — okay, several minutes — of reflection spent listening to some Sheeran songs I could find online ("Perfect" and "Happier," for the record), I think I know what he meant. He meant that more and more new restaurants around town seem to be comfortable and well-crafted, in a focus-grouped, middle-brow kind of way. He meant that, like a popular Sheeran song, these restaurants are technically proficient and tailored to please the broadest possible audience in the most purposely inoffensive way. And, like the music critic whose duty it is to listen to an endless stream of pop hits, if you sit through too many of these good-natured, narrowly focused meals in a row, you might quietly go insane.
Any dedicated New York City restaurant-goer can tell you that these gray, post-holiday months are the traditional dog days of the dining calendar. As in the parallel worlds of art, theater, movies, and music, this is a time of the year filled with half-hearted revivals, second-rate releases, and concepts that, if you squint your eyes, all tend to look more or less the same. Nevertheless, I hope you'll forgive your jaded critic for observing that this groundhog season seems grimmer than most. Sure, there are a handful of hopeful reboots opening here and there (Floyd Cardoz's Bombay Bread Bar, for example). You'll find the usual influx of star-crossed out-of-towners hoping to revive their franchises or searching for fame and fortune. There is the familiar rabble of randomly themed hotel restaurants. And lofty, Bigfoot chefs still attempt to expand their franchises with more populist, affordable outposts (see, for example, Masa Takayama's Tetsu).
The more-and-more ubiquitous Ed Sheeran restaurant, on the other hand, takes the form of a well-mannered neighborhood joint. Chances are the rooms will be on the small side because in the manner of a soulful folk tune, intimacy promotes bonhomie and good cheer. The smiling, unfailingly competent waitstaff will often be casually dressed (in designer aprons, or some facsimile thereof). The style of food could be French bistro, or classic American bar and grill, but in this pasta-mad town, it leans most strongly toward the Italian trattoria. Your menu will be neatly stenciled on a single, accessible page, and may well contain oysters, a crudo or two, some pastas, and a tasteful selection of mid-price entrées — locally caught black sea bass, anyone? — designed to hit the same comfortably accessible notes again and again.
The casual-dining revolution is the story of our culinary age, after all, and even snooty, high-minded critics don't want to spend all their time deciphering the latest forager trends from Norway, say, or crouching fitfully in tiny omakase bars. But for all sorts of reasons — the high cost of doing business in the city, the erosion of the classic "gourmet" culture — agreeable trends like bar dining, neighborhood dining, and the farm-to-table craze have merged into a single, increasingly formulaic genre that is at odds with what's left of the city's cutting-edge dining culture.
With its high barriers to entry and traditionalist meat-and-potato tastes, New York City has never been an entirely hospitable place for rabble-rousing or avant-garde cooking, of course. But now more than ever, the big money at the top of the food chain seems earmarked only for safe, time-tested formulas, and destination ventures designed to attract out-of-town gastronauts. If you're a promising, boundary-pushing cook working in one of the big kitchens around the city, chances are you've also considered opening your promising, boundary-pushing restaurant somewhere else. (Or you're working overtime to develop the next great fast-casual scheme.)
Is this the end of the world as we know it? No, it's not. Even now, New York is in the midst of a great Chinese and Asian food renaissance, and we'll always have our pizzas, our bustling markets in Flushing and Jackson Heights, our endless supply of rib-eye steaks, and first-rate bars for ramen and sushi. Every now and then, no doubt, little miracles will occur, even in the most unexpected places. But those little miracles tend to happen with less and less frequency these days, so get used to the smooth, sentimental tones of the Ed Sheeran restaurant. Whether you live in a Bushwick loft, an East Village walk-up, a Williamsburg condo, a Prospect Heights brownstone, or one of the first glass boxes sprouting up in Hudson Yards, chances are you won't have to travel far to find it.