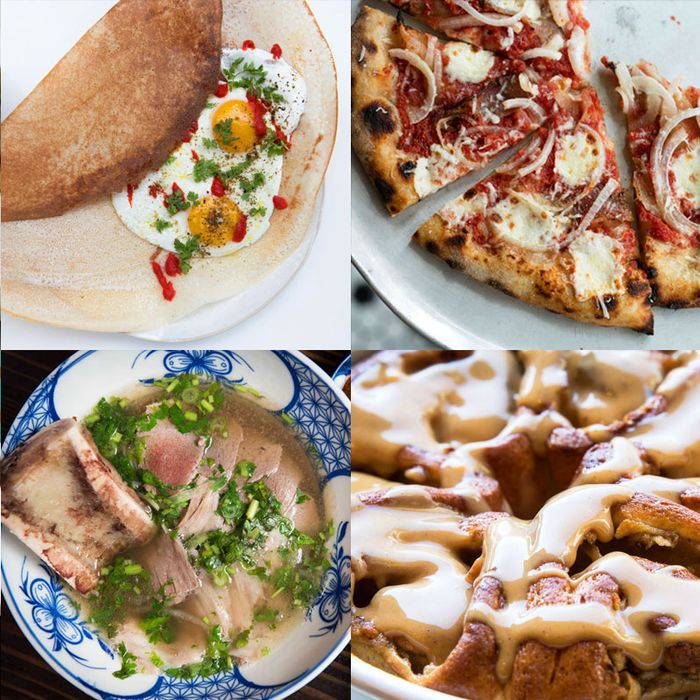 Photo: Melissa Hom; Nitzan Rubin; Liz Clayman
Is this the golden age of New York brunch? The city is filled with meals that will win over even the strongest brunch skeptics. Out with the same old eggs Benedict, and in with dishes like torta di scarola, apple-strudel sticky buns, and egg-filled Tunisian pastries brik. Here, a guide to everything that's new and notable in New York brunch.
abcV
Why It's Awesome: vegetarian and vegan so good, you won't miss the meat.
If you're exclusive with vegetables and also definitely don't want to fall asleep after, Jean-Georges Vongerichten's abcV is the obvious choice. There are dosas with yogurt and avocado, fresh steamed tofu with harissa and roasted cauliflower, and that excellent green-chickpea hummus with Thai basil.
Alta Calidad
Why It's Awesome: smart takes on Mexican cuisine.
On the menu at the Mexican-ish spot: chilaquiles with fideos or noodles, a chicken fried steak torta with jamón serrano, and a "Mexican roti" with chorizo and crema.
Casa Pública
Why It's Awesome: soul-satisfying dishes like pozole.
You could get cheesy with queso fundido, keep it light with a sea-scallop tostado, or try to recover with pozole verde, the pork and hominy stew with tomatillo.
Celestine
Why It's Awesome: Middle Eastern food that goes beyond the usual stuff.
Start by dipping into the red-pepper-and-walnut spread muhammara, dig into lamb kibbe with yogurt or hanger-steak kebabs served with za'atar flatbread and harissa, or go for something sweet like Moroccan doughnuts with clove syrup.
Chez Ma Tante
Why It's Awesome: It's an ideal neighborhood spot.
It's true, the pancakes are actually worth seeking out. But there's much more going on here: the Anglo-Indian dish of curried rice and poached cod called kedgeree, Caesar salad, and more.
Hanoi House
Why It's Awesome: It's the best Vietnamese restaurant in town.
The fried eggs come with shaking steak, in the style of shaking beef; the baguette with honey-roasted pork belly and bacon aïoli; and, for a morning pick-me-up, they even serve Hanoi's egg coffee, made with whipped, sweetened egg yolks.
Hart's
Why It's Awesome: There's great wine and fried chicken, too.
The Mediterranean restaurant's much-talked-about lamb burger is also available during the day, when you'll find dishes like sunny-side-up eggs with sardines, and fried chicken with fermented chili and yellow grits. And on April 1, its sister-restaurant Cervo's will open for Sunday brunch.
JeJu Noodle Bar
Why It's Awesome: a set menu of comforting Korean food.
No decisions are necessary here. Stroll into the Korean noodle house during the day, and you'll be served a procession of nine dishes, like pork bassam with romesco sauce, fried chicken, and broccoli coleslaw with sherry vinaigrette.
La Lonchería
Why It's Awesome: five words — a sandwich stuffed with chilaquiles.
There are just six dishes on this tightly edited menu, but two are the Mexico City specials that may have saved you (read: me) after a long night out. One is La Tamalera, a torta stuffed with mole tamale. The other is La Chilaquilera, a dream torta with green chilaquiles and the optional (but really necessary) addition of chicken milanesa for an extra $3.
La Mercerie
Why It's Awesome: The room is elegant, and so is the food.
Maybe have some taramosalata, the Greek dip made from salted roe mixed with olive oil, lemon, and starch; buckwheat crêpes with fillings like scallops and mussels; or, if you want to get real fancy, blini with caviar.
Meme's Diner
Why It's Awesome: The revamped comfort-food and inclusive vibe make this the rare spot that's worth the wait.
The charming restaurant gets lines out the door weekend mornings, courtesy of its sometimes cheeky high-low food: Texas migas made with fritos, a meatloaf sandwich on garlic toast, and a peanut-butter pie with pretzel crust.
Nur
Why It's Awesome: You're treated to a Middle Eastern feast.
Here's another option for the indecisive. In lieu of a menu, you're served a procession of meze served family-style for $42. Think eggplant carpaccio, kibbe-nayeh herb salad, a Jerusalem bagel with lima-bean dip, and malabi, a kind of creamy pudding.
Olmsted
Why It's Awesome: because this is one of New York's restaurants of the moment.
Olmsted has won a loyal following for its idiosyncratic cooking, and the brunch menu is as thoughtfully distinct. Egg rolls get the bacon, egg, and cheese treatment; bread is laced with ribbons of butternut squash; and the potato rösti comes with
preserved-lemon crème fraîche.
Ops
Why It's Awesome: It's just a great place to be, and who doesn't want pizza for lunch?
Ops opts to call it lunch, but let it slide. The appeal of dinner here translates into daytime, too, with a menu that's kept similarly simple. There are a few places, like crostini and frittata; a roster of pizzas that includes a lunch-only carbonara; and daytime cocktails including a Bloody Mary.
Roman's
Why It's Awesome: The simple Italian cooking never disappoints.
The Fort Greene favorite has reintroduced its weekend brunch, with a torta di scarola, a savory pastry stuffed with escarole; lasagna Bolognese with fried egg; and the Big Italian, an Italian combo riff with hot chile butter and giardiniera.
Studio
Why It's Awesome: They've even managed to make the club sandwich feel fresh.
There are lots of familiar things at this all-day hotel spot, but Middle Eastern and Moroccan touches make them distinct: The bagel is Turkish simit with optional everything labneh; eggs come via the Tunisian fried pastry brik; and, oh, there's a great club sandwich with crispy chicken skin standing in for bacon.
Sunday in Brooklyn
Why It's Awesome: It's classic brunch, done better.
Brunch here proved so popular, they extended service daily, and it's consistently packed on weekends. They're not reinventing the wheel, but the food also isn't overly familiar. There are pancakes, sure, but they're malted and come with hazelnut-maple praline; an egg-and-sausage sandwich tweaked with gochujang aïoli; and a cheesy roast-beef sandwich.
Win Son
Why It's Awesome: The food is a little bit Taiwanese, a little bit American brunch remade for Taiwan.
Taiwan's breakfast culture is only part of the picture here. There's the traditional dish of Chinese cruller with sweet or savory soy milk, plus turnip cakes, beef rolls, and dan bing with an egg omelette. But there are also more unconventional dishes like hash browns with tofu mayo, pillowy bao with stewed pork, and danzi noodles.