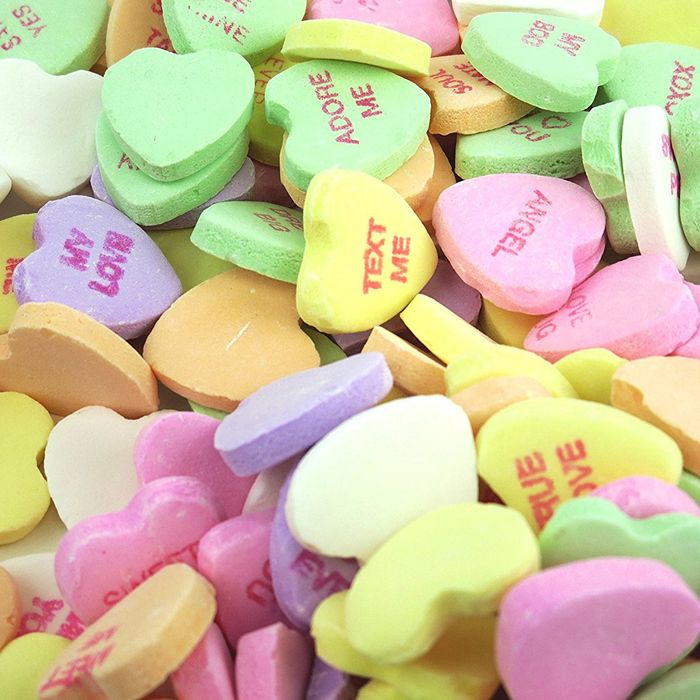 "MISS YOU"?
Photo: Courtesy of NECCO
Necco, an American confectionery institution and maker of the seminal valentine's candy Sweethearts, is in deep trouble. The century-old Massachusetts sweets manufacturer says it can't afford to keep its factory open, and while negotiations are "ongoing" that would "allow for its continued operations," a new report in the Boston Globe doesn't make them sound terribly reassuring. If they go south, the paper reports that Necco could lay off "most of its workforce" — as many as 395 workers, from the cooks and hard-candy-makers to truck drivers and machine operators.
In addition to the namesake candy wafers, Necco's claim to confectionery fame is, of course, its iconic conversation hearts (up to 14 million pounds are reportedly produced for the six weeks they go on sale each year). And if you're an adult, the company basically was your candy supplier as a kid. Remember Candy Buttons? Mary Janes? Slap Stix? Squirrel Nut Zippers? Clark Bars? Mighty Malts? In other words, Necco was basically the reason the Food Network invented Unwrapped.
Necco also calls itself America's oldest candy company. The name is technically an acronym for the New England Confectionery Company, and its origins trace back to 1847 — to two brothers, Oliver and Daniel Chase, who patented the first machine capable of cutting candy lozenges into different shapes, then figured out how to stamp messages onto them using red dye. Despite the runaway success for years, its last couple of decades haven't been what you'd call fantastic. In 2003, it relocated from Cambridge to cheaper digs in Revere, a Boston suburb to the north. Then last year, company headquarters were sold off to developers who eyed the space for robotics and biotech, but said there was still enough room "to continue making sweets." As part of the $55 million deal, they agreed to pay the $3 million Necco apparently owed the city in back taxes and water and sewage bills.
Necco's CEO Michael McGee now tells Revere's mayor that time's up at their plant on May 6, unless someone who dearly loves candy wafers throws a bunch of money at it. He's put out an SOS message to would-be buyers: "CALL ME."