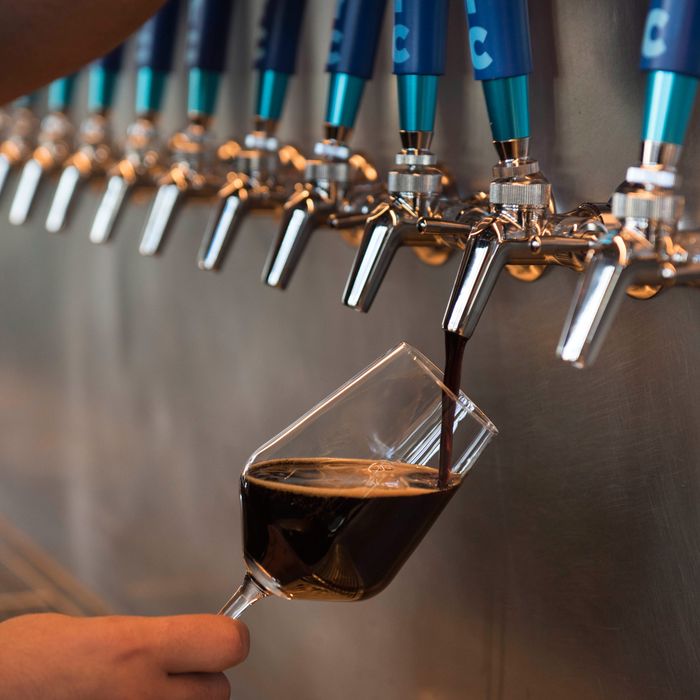 Pouring Mikkeller's Beer Geek Parlor.
Photo: Liz Clayman
For the kind of beer lovers who freak out over Imperial Stouts and New England–style IPAs, there aren't many names bigger than Mikkeller. Over the last 12 years, founder Mikkel Borg Bjergso has established his Danish brand as a trendsetter (it was early to the gypsy-brewer scene) and, arguably, one of the world's best brewers. Bjergso has made his name by taking aspects of modern craft beer (the big, sometimes weird flavors; limited-run creations) and pushing them to their least logical extremes. As a result, Mikkeller expanded from Denmark to Thailand, with breweries in Copenhagen, San Diego, and now New York. This past weekend, Mikkeller's first East Coast outpost opened in Queens, at Citi Field, and — to those people who love heft stouts and juicy IPAs — it's a very big deal. Here's why beer geeks in New York and beyond are so excited for this opening.
1. The new brewery will be a hub for Mikkeller's restless innovation. Mikkeller produces a lot of different types of beer. The New York Times once reported that Mikkeller produced 124 different beers in 2013 alone, and today, the website RateBeer currently lists 1,062 different beers and barley wines in the brewery's profile. Even the most dedicated Mikkeller superfan would never be able to track down everything, but with the new brewery, that superfan at least has a destination where they can go and basically always find something new to try.
2. Mikkeller's beers push craft beer's big flavors to the extreme. One reason Mikkeller makes so many different beers is that the brewery is willing to try things nobody else will: Among Mikkeller's many experiments are the so-called 1000 IBU; the Beer Geek series of flavored stouts like the Vanilla Raspberry Smoothie; and the Whenever Pilsner brewed with lime leaf, lemongrass, and ginger. Bjergso also goes all-in in collaborations (like with David Lynch) and small-batch beers, reportedly once purchasing $8,000 in truffles for a beer. (Not everything is so extreme, though. The Say Hey Sally, produced for the Mets, is a Czech-style pilsner.)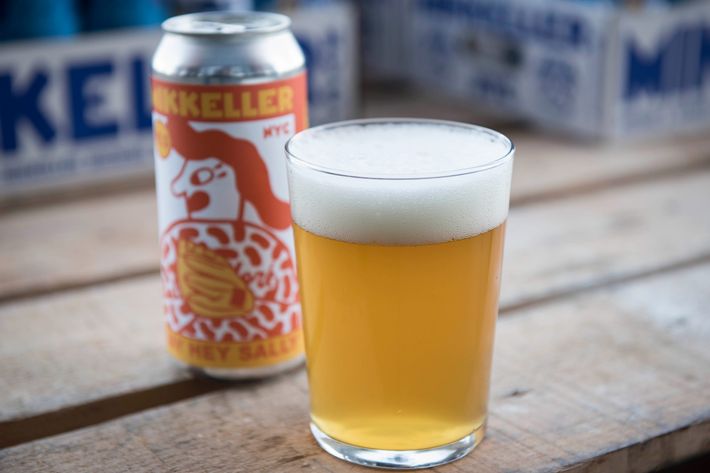 3. There will be plenty of new beers to try, always. The bar's 60 taps guarantee that you'll have something different to drink each time you go, and the list of drafts on the website suggests it's trying to cover lots of grounds. There's Hill Farmstead's Mary, a German-style pilsner; Mikkeller San Diego's Raspberry Blush (Berliner Weisse with raspberry and coffee); Thin Man Brewery's Curtis, a Belgian-style brown ale; and much more.
4. Bjergso may or may not have a long-standing feud with his identical twin brother (and fellow brewer). Part of the lore surrounding Mikkeller is the animosity between Mikkel and his identical twin brother, Jeppe, the man behind Evil Twin Brewing. The two are allegedly bitter rivals; the Times reported in 2014 that the two hadn't spoken for a year. Then last week, it published an entire article about the supposed rivalry and how their paths are colliding in Queens, where Evil Twin will also open a brewery. (As a bona fide fraternal twin myself, and Grub's resident expert on twin relations, I'm a bit skeptical of what seems like, ultimately, clever marketing — but it is a very good story that no doubt helps sell some beer.)
5. Oh, and the brewery is huge. The restaurant and brewery is 10,000 square feet, so there should actually be somewhere for you to sit. To ensure you won't stumble out totally sloshed, there's also food from Danish restaurateur Claus Meyer's Great Northern Food Hall, Korean fried-chicken spot Unidentified Flying Chickens, meat man Pat LaFrieda, and local burger chainlet Whitmans.