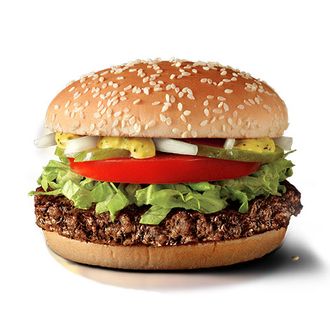 That beef definitely looks less cold.
McDonald's is almost ready to let the public at large sample the chain's never-frozen burgers. Today, it announced that the fresh beef it's been touting for almost two years will hit U.S. stores this spring. By not freezing patties first, McDonald's claims that it's found a way to serve "hotter, juicier" burgers — granted: It's hard to imagine burgers that could be less juicy or less "hot" — and soon everyone will be able to try them.
In fact, the chain has already started to quietly serve "fresh" beef at about one-fourth of its U.S. locations — among them, stores in Dallas, Tulsa, Miami, Orlando, and Nashville. Over the next month, the rollout will expand to L.A., Houston, and San Francisco. Everyone else will get to give this new hot, juicy beef a try in May.
As previously reported, the change only affects sandwiches that contain McDonald's larger four-ounce patty — any Quarter Pounder variant, basically, plus the burgers from the chain's Signature Crafted line. Everything else, Big Macs included, will continue using frozen beef. This of course means that Quarter Pounders will now be made to order.
But wait: Won't that slow things down? No, says Mickey D's, which reportedly spent 18 months on R&D. "When people come to McDonald's, they're not going to wait five minutes for a burger," the chain's U.S. president Chris Kempczinski stressed last night to reporters. Franchisees' biggest concern was the potentially devastating effect on drive-throughs — but, at least according to the boosters among them, McDonald's was "able to crack the code" with its year and a half of diligent tests. Progress!