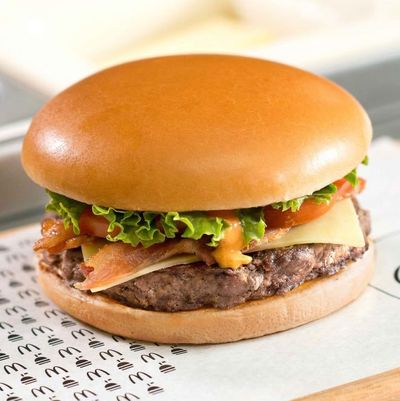 The McDonald's burger no one ever asked for.
Photo: McDonald's
The beef often ranked the world's best? It can now be yours at the restaurant that sells the most frozen beef on the planet: A 100 percent Wagyu-beef burger rolled out today in very limited quantities at McDonald's Australia locations. And, well, we should just give you the bad news now: It's called the Wagyu Beef Burger (boring), not a McWagyu (better).
Either way, it's still being touted as fast food's first sandwich made from the luxe, intensely fat-marbled meat celebrated for its buttery flavor. Traditionally, Wagyu refers to any of four different breeds of Japanese cow, but the chain says it used Australian-bred Wagyu as a "testament to McDonald's commitment to use local suppliers."
The burger itself involves a new "gourmet" bun and comes topped with lettuce, tomato, bacon, caramelized onions, a special sauce, and cheddar cheese. The chain knows that customers are already licking their lips, but cautions that they should "get in quick before we sell out." Noted!
Wagyu is, of course, expensive. A McWagyu is less expensive, the price is nevertheless raising eyebrows: The burger costs $10.75, in Australian dollars, qualifying it as one of the chain's all-time most expensive menu items in any market.
So, how does it taste? Some customers are posting reviews claiming that they can't even tell a difference from the usual burgers, while other people have used descriptors that are pretty clear in both American and Australian English: One guy bashed it in a Big Mac–style jingle ("unmelted cheese, tomato, bacon, a crapton of wilted lettuce, and a smear of nondescript sauce on a dry oversized bun"), and others have kept their attacks simple by calling the sandwich "rubbish," "dry," "cardboard," "cooked to death," and "inferior in every way to even a McFeast," an Australian menu item that costs $6 and is sort of like a Quarter Pounder with tomato.