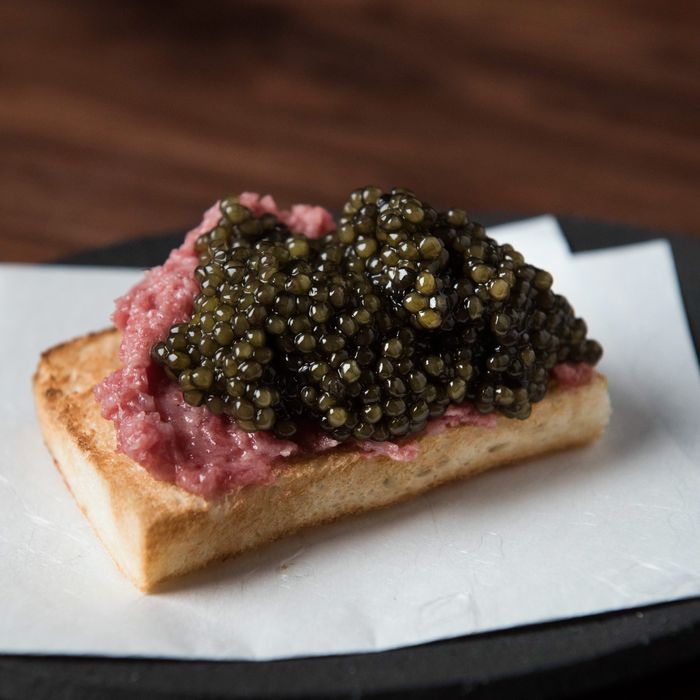 Garlic toast with Ohmi beef and caviar.
Photo: Liz Clayman
The last time I visited Masa Takayama's famous Columbus Circle sushi atelier, several months back, the restaurant was a pale version of the five-star establishment I'd reviewed more than a decade ago. The bountiful choice of fish has diminished all over the sushi world since then, of course, yet the price of his famous omakase dinner has only gone up (it now starts at roughly $600 per person, excluding tax). The coursing at our table was glacially slow, the service was slapdash, and every now and then my generous hosts were asked whether or not they'd like to pad their already absurdly high bill with a supplement of foie gras, perhaps, or a bottle of Champagne. Masa wasn't behind the bar that evening, or even, I'm guessing, in the building, and although the quality of the sushi was fine, it wasn't nearly as fresh or as inventive as the last time I'd visited, and it certainly wasn't two times better than the next most expensive sushi joint in town.
Masa's latest exercise in conspicuous omakase upselling opened a few weeks ago in the darkened basement room of his popular new "robatayaki" grill restaurant, Testu. The theme of Tetsu Basement's new $350 set-course dinner is grilled meat, mostly of the beef and poultry variety. The room is larger and more comfortable than the one uptown, with a stained wooden bar that seats 12 people in cushioned bar chairs covered in distressed leather, and several round wood tables arranged under pools of light. The bar faces a large, even cavernous, kitchen area that reminded me — with its steaming heat tray and strips of tinfoil spread here and there — less of a carefully arranged omakase stage and more of the random insides of a cafeteria kitchen. When I arrived for my early reservation, there were only a few other diners at the bar scrolling absently through their phones, and the great chef was nowhere in sight.
During his heyday, Masa pioneered the blending of snob-appeal signifiers (caviar, truffles, foie gras) with top-class Japanese ingredients and technique, so it's no surprise that there are several examples of this time-honored (and profitable) formula here. My dinner began with a shingle of warm, not very crunchy garlic toast, spread with beef from Shiga Prefecture ("It is cleaner than Kobe," the waiter intoned), a few shavings of semi-fresh truffle, and a generous spoonful of Osetra caviar that more or less obliterated the rest of the dish in a wash of salt. An entire, well-refrigerated snow crab appeared after that, carefully sectioned on a clay plate, followed by a few soft, appealing lozenges of braised, grill-fired short rib, which were dabbed with Masa's equally appealing, but familiar, version of tomato-based American barbecue sauce, which, at roughly $20 per teaspoon, is surely the most expensive barbecue sauce in the entire USA.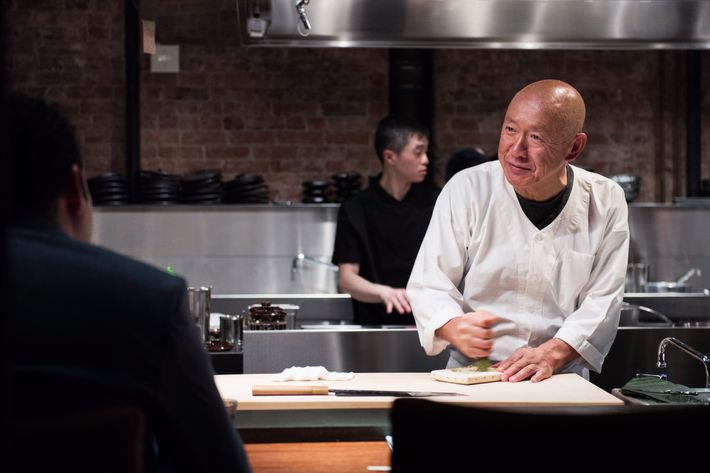 I counted nine courses in my dinner — ten if you include the ball of sorbet for dessert — but if you want a taste of the kind of sizzled, Kobe-style steak that is standard at most high-end Tokyo robatayaki joints of this kind, you have to fork over an additional $45 for every ounce. "We suggest three ounces," my waiter said a little sheepishly, as one of the cooks held up a couple of pale-looking cuts on a butcher's board, just like at a tourist steakhouse in Vegas. When I declined the offer, I sat twiddling my thumbs for several minutes, while my neighbor put down her phone, ate a tiny-size cut of fillet without much evidence of pleasure or emotion, and then picked her phone up again.
Later on, after some mushy, overcooked shrimp and a roasted marrow bone caked pleasingly in white miso, another supplement was offered — a lamb slider with melted taleggio, for the non-slider price of $18 — which we both politely declined.
I nursed a modest glass of Pinot Noir throughout my meal, but there are plenty of grander bottles and magnums to indulge in, if you have the cash, including trophy Burgundies like La Tâche and Richbourg, running into the thousands of dollars. These may be enough to invest your experience at Masa's latest branded luxury tasting venture with the qualities that can still make this kind of dining experience special, even in the age of peak omakase: a sense of performance and occasion, a certain wow factor, the chance for an audience with a master chef. But none of these little miracles occurred during my pro forma, connect-the-dots visit to the tasting basement at Tetsu, and when the check finally arrived, totaling upwards of $400, I asked as politely as I could whether a gratuity was expected.
"No, sir, I'm afraid the tip isn't included," came the whispered, slightly apologetic reply.