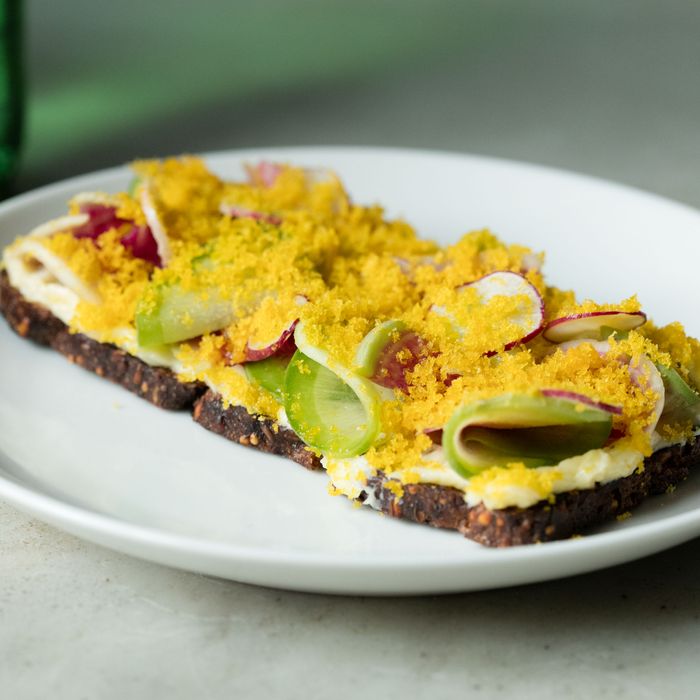 Bottarga on sprouted rye with cultured butter and radishes.
Photo: Melissa Hom
Williamsburg wouldn't be Williamsburg without Andrew Tarlow's restaurants Diner and Marlow & Sons. This is true even as the neighborhood's hyperspeed gentrification has made the neighborhood a very different place than it was when Diner opened in 1999 and Marlow & Sons in 2004. In many ways, of course, these neighborhood destinations came to define the neighborhood's values, at least as far as restaurants are concerned. Now, Tarlow has brought in a new chef, Patch Troffer, to run the show at Marlow — who knows he has to tread carefully if he's going to update the menu (here) without upsetting the restaurant's many fans.
A military brat who split his childhood mostly between Virginia and California, Troffer says that he came into his own as a chef while working at influential Bay Area restaurants like Camino. He also spent time cooking in Santa Cruz and Argentina. Those experiences have, of course, influenced his style, and yesterday he debuted his first menu at Marlow & Sons. He's switching things up, but not too much: The menu will no longer change daily, but the potato tortilla and (don't worry) signature brick chicken haven't gone anywhere. Meanwhile, as he explained, the chef is committed to finding "sneaky" ways to make the food a little more healthful.
You worked at Bar Tartine and Camino, two places that, respectively, were and are very representative of the Bay Area's food culture in different ways.
Completely. Camino isn't the same as Chez Panisse, but it's of that world of very austere, simple plating. Figuring out the perfect way to cook a turnip rather than dress it up with a bunch of stuff. Low salt, low acid, and really true flavors.
Bar Tartine was really big on acid, big on salt, big on sweet, big on balance. Just layers and layers and layers of flavor — and all different kinds of techniques. You'd get these really impressive and sometimes overwhelming plates of food. It was so invaluable learning all the different preservation and fermentation techniques and how to layer flavors, pull from all different cultures, and try to create a cuisine that's not of one specific place.
Do you feel you try to synthesize those two styles? Or lean more toward one?
I'm trying to synthesize. Each has what I think are strong points; it's all about preferences. I'm not going to use the word faults, but there are certain things about each that, given a restaurant of my own, I would do differently. Here, I'm trying to find where the balance lies between the two. How to have a fully stocked pantry and larder, but also how to create well-rounded meals that are very approachable, easy, and don't require a lot of thinking. This has always been a place to get your brick chicken and a side of veg. I want to honor that, but also have a little fun with things and create something that's more involved.
How do you approach coming into a place that's already so well-established?
It's always scary and daunting. But this place just feels especially special to me because it was the first restaurant I ever ate at on my first visit to New York City. I remember the meal, everything about it; I loved it. I'd never seen a restaurant designed like this. I love that aesthetic, that lack of aesthetic, and the casualness of it all. Over the years, I slowly became friends with the chefs — Ken [Wiss], Lee [Desrosiers], Nick Perkins, Aaron Crowder — and eventually Andrew [Tarlow].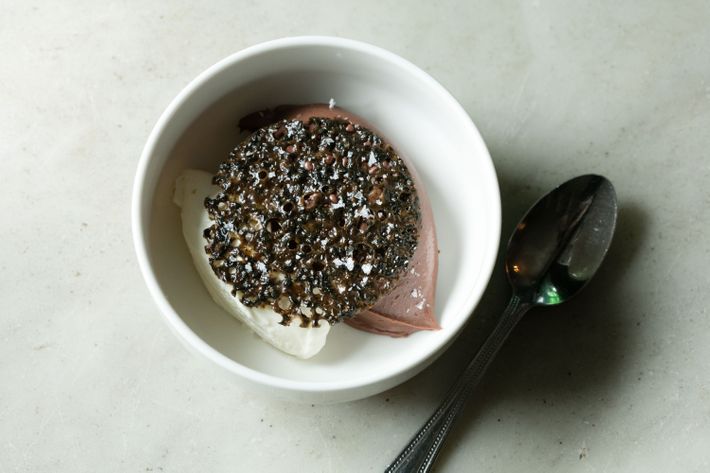 What was the conversation with Andrew like? Did he tell you what he wanted?
He said that he wanted me to be the chef here. He didn't really give me any rules or guidelines. I think one of the reasons he asked me is, he knew I'd keep an emphasis on the relationships we've developed. Beyond that, it was, "Go ahead. If you want to take off the tart or chicken, take them off. We can change." I'm not taking off the chicken!
What else did you feel like you couldn't change?
There are so many people who feel strongly about the brick chicken. There's also a farmer that we've been working with for about a decade, who we get these chickens from every single week. It's a very special relationship I wouldn't feel great about breaking. And, honestly, a crispy-skinned chicken with very little done to it and a side of vegetables is such a nice thing.
Before, it was always this appetizer and entrée kind of place. I'm expanding the menu, creating more options, and making dishes smaller. I hesitate to use the phrase "small plates," but making it so people can order more items. And to not feel overstuffed, have to be taken out on a wheelbarrow. I want you to feel really good. A lot of my approach to the food is "sneaky healthfulness." How do I add more nutrient-dense foods into your belly without you thinking that you're at some hippy California, crunchy café in Berkeley?
How do you do that?
Secrets.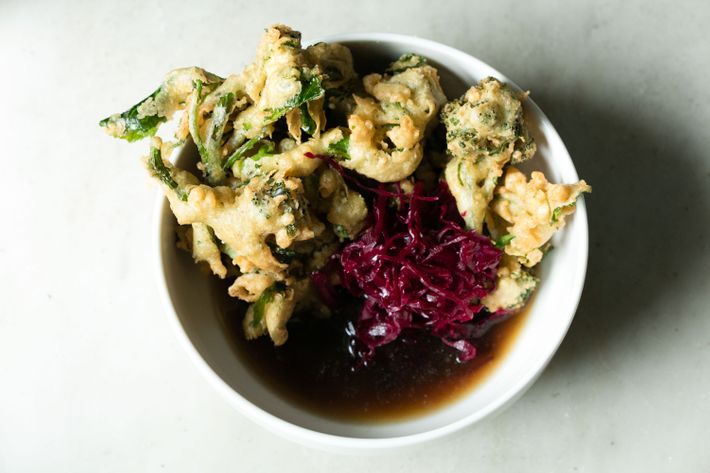 The fried broccoli sort of feels like an example of this.
Exactly. It is broccoli. The breading is chickpea and rice flour. If you're opposed to eating wheat, you can have that dish. My initial instinct was to serve it with an herby mayo. But then we thought, How else can we create something that's totally savory and totally satisfying without all that fat? We're doing it with the sauerkraut, with all its layers of flavors, and a really rich mushroom broth.
What dishes are the best representations of your style?
I'm really in love with this bottarga toast. We're taking the She Wolf sprouted rye, slicing it thin, and griddling it until toasty and crunchy. We're using a dairy kafir that's made into a sour cream and then churned into a cultured butter. It's really acidic and delicious, and it's where the sneaky healthfulness comes in. Culturing the lactose and converting it to lactic acid makes it more digestible for people who don't have serious dairy allergies, but don't feel stoked after they eat a bunch of butter. I don't think we're meant to have a lot of dairy our entire lives. And the rye is sprouted, which breaks down an enzyme inhibitor and allows us to soak in all those nutrients.
So you're trying to be conscious of people's dietary needs?
Totally. If you're dairy-free, vegan, or have gluten issues, you can come here and create a meal. There's more than one thing for you. Those are all real things. It's a very common, and hopefully dated, idea from chefs that gluten allergies are fake and they're just being jerks. I want to make sure that we respect the fact that people simply cannot eat wheat or don't want to eat meat. You can't come in here and change everything. But I do want to try to make a menu that is lenient and allows for substitutions.
There's a thing here with neighborhood places that don't accommodate people.
I think that's contradictory. We're not a destination place. We're not a tasting-menu place. I want to be able to accommodate. But back to the dish, I got on a tangent about the culture butter.
Who doesn't.
Right. [Laughs.] On the toast, there's also sliced radishes and a bunch of bottarga shaved all over that. Bottarga is delicious, salty, umami, and fishy. I love fishy tastes.
Do you try to use dairy and meat more as accents?
Definitely. Yeah. I'm not a meat-oriented kind of chef. At my home, you'll find some slab bacon, canned tuna, sardines, oysters, and smoked mussels. Maybe ground beef or something. I'm definitely more vegetable-leaning, but understand that's not how everybody wants to eat. There's the chicken, the lamb stew for you.