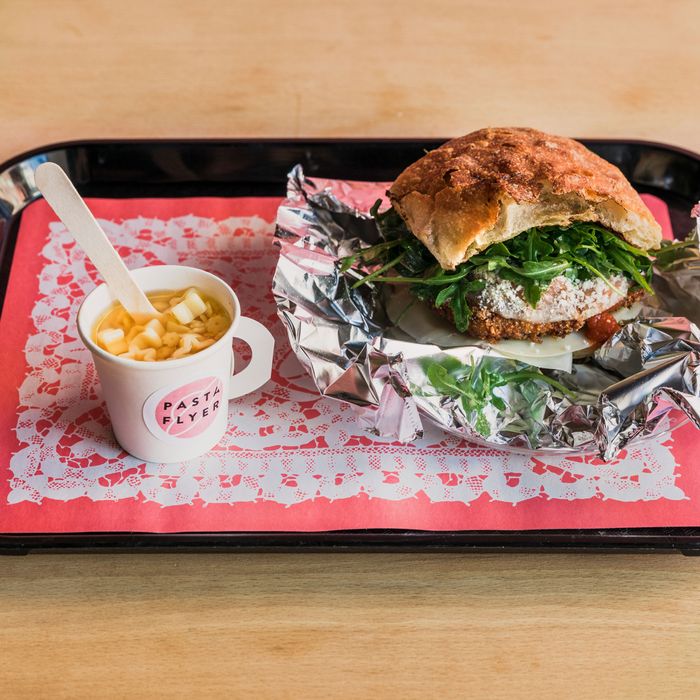 Although Mark Ladner's mission these days at Pasta Flyer is to serve pedigreed spaghetti to the people as quickly and affordably as possible, it has not escaped his notice that the city has gone fairly gaga over fried chicken sandwiches. And so the former Del Posto chef has come up with a new blue-plate special of sorts that fits right into Pasta Flyer's Italian theme.
Here's what this Happy Meal consists of: a shot-size cup of chicken-turkey-and-beef broth fortified with the tiny pasta stars known to Italian bambini as stelline, plus a plump and juicy Bell & Evans chicken-parm cutlet wedged in between rustic slabs of a pizza-bianca-like bread. The cutlet is expertly breadcrumbed, judiciously tomato-sauced, then radically — for a chicken parm — topped with melted provolone and a jumble of wild arugula.
It makes for a perfectly satisfying lunch that somehow does not induce a postprandial food coma — but Ladner didn't do it alone.
"I wanted to collaborate on something with friends," he says. And who wouldn't, with friends like Marco Canora of Hearth and Brodo, who provided the broth, and Jim Lahey of Sullivan Street Bakery who baked the "strecci doppio" loaves of bread? Credit must also be paid, says Ladner, to brainiac food-lab dude Dave Arnold and his flame-taming Searzall blowtorch-attachment invention that the kitchen uses to toast the insides of the garlic-buttered bread. And last but not least, to the great Wylie Dufresne, who is responsible for tipping off Ladner to the wonders of potato starch, which, as all modernist-food geniuses know, when applied to chicken cutlets post-brining but pre-breadcrumbing, makes all the difference in the world.
$13; Thursdays and Fridays only, from 11 a.m., or until the soup and sandwiches run out.